GP launches online shop for smart devices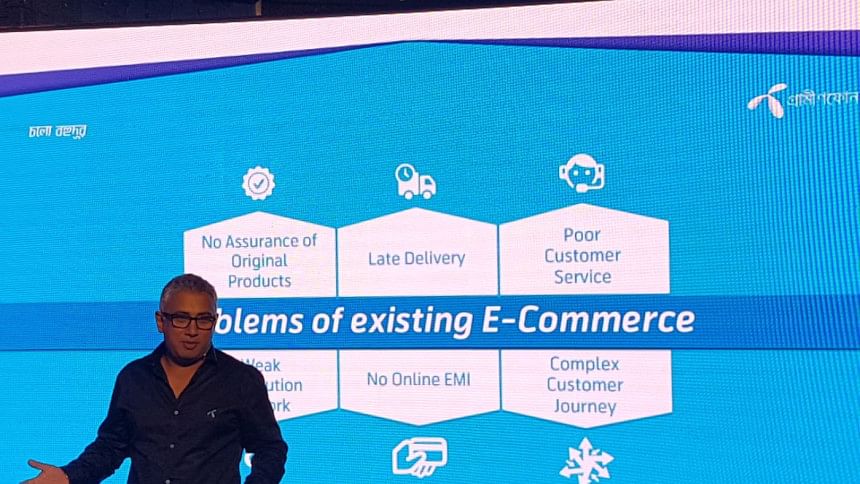 Grameenphone yesterday launched its online e-commerce site—GP Shop—mainly to offer smart devices to customers.
Customers can purchase the latest smartphones, wearable gadgets and internet modems with exclusive offers from the e-shop, officials of the mobile phone operator said at a press conference at the Westin Dhaka.
This is the first e-commerce site by a mobile operator in Bangladesh. Customers can order the latest gadgets with the manufacturer's warranty, pay through flexible monthly instalments and get nationwide home delivery, said Yasir Azman, chief marketing officer of Grameenphone.
Earlier in June, the operator launched its aggregated e-commerce platform Kidorkar, the sales volume of which has already reached Tk 75 lakh, he said.
The aim of the initiative was to bring all the e-shops and online service providers in Bangladesh on a single platform. Being a digital service provider, Grameenphone is committed to enriching people's lives with digital services, Azman said.
"GP Shop is one step further towards becoming the preferred digital service provider of our customers."
Currently, the local e-commerce market size is around Tk 450 crore and it has been growing at more than 50 percent a year.  Grameenphone's entry into the e-commerce business will intensify competition in the market, Azman added. The platform will also protect customer information and secure online transactions. The operator will introduce cash-on-delivery soon.
GP Shop allows its customers to pay through flexible payment gateways, including bKash, SureCash, Visa, MasterCard, American Express, DBBL Nexus, Mycash and IBBL mCash. All devices, purchased from GP Shop, come with one-year manufacturer warranty along with 24x7 customer services, the operator said.