Telcos spend Tk 104cr on digital marketing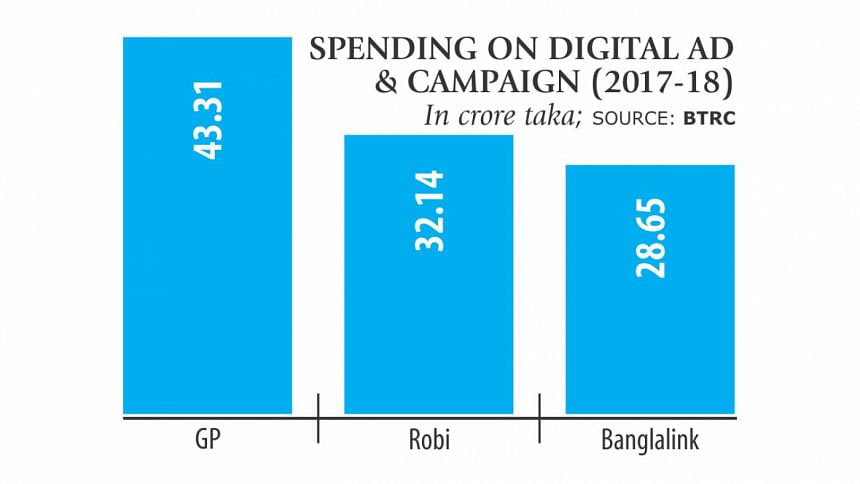 The top three mobile operators spent Tk 104 crore last fiscal year for reaching their target audience through digital platforms, with Facebook being the most popular medium.
This is the first time that the Bangladesh Telecommunication Regulatory Commission has collected data on the telecom service providers' spending on their digital campaigns.
"We assumed the number would be much higher," said Md Jahirul Haque, acting chairman of BTRC, adding that the Bangladesh Bank would be consulted to verify the authenticity of the data.
Globally, digital marketing is progressively taking up the lion's share of companies' advertising budget.
Locally, companies like Uber, Pathao and other e-commerce and digital service companies are riding on digital media; they never run a campaign on traditional media.
Start-ups also embrace the digital platforms as they are cost-efficient and effective. Fast-moving consumer goods companies too are running ads on the platforms currently.
Seeing that the number will only grow larger from here onwards, the telecom regulator will push for a guideline on advertising on social media platforms like Google, Facebook, Instagram, Viber, Imo, WhatsApp, Twitter, YouTube and so on, Haque said.
Of the mobile operators' expenditure on digital marketing in fiscal 2017-18, Grameenphone spent the most (Tk 43.31 crore), followed by Robi (Tk 32.14 crore) and Banglalink (Tk 28.65 crore), according to BTRC.
Senior executives of mobile operators said they have spent the most on advertising through Facebook in recent times.
Other than mobile operators, three internet service providers -- ADN Telecom, Chittagong Online Limited (COL) and Systems Solutions & Development Technologies (SSD-TECH) -- spent Tk 1.77 lakh on digital marketing in fiscal 2017-18.
The digital platforms do not have any physical presence in Bangladesh, meaning they get away with not paying any tax to the government, unlike the traditional media such as newspapers, TV and radio.
In April, a High Court bench comprised of Justice Moyeenul Islam Chowdhury and Justice Md Ashraful Kamal issued a rule asking the authorities concerned why a directive should not be issued to impose tax on these and other internet-based service providers.
The HC in its order named secretaries of finance, law, information, and telecom ministries; BB governor; National Board of Revenue chairman; BTRC chairman; and Newspaper Owners Association of Bangladesh's president as respondents along with the authorities of Google, Facebook and YouTube.
"Undoubtedly, large sums of money are being drained out of the country," said Barrister Md Humayun Kabir Pallab, a Supreme Court lawyer, who filed the writ petition.
The NBR is responsible for finding a solution to the conundrum, he said.
Subsequently, after the budget, the NBR wrote to all banks asking them to deduct value-added tax and other taxes from the source and then move the process.
The NBR will also place a report to the court shortly about their move and the higher court will examine the process, Pallab added.
As of August, there are 3.10 crore active Facebook users in Bangladesh and more than four crore Google users.
Digital marketers said this is a huge market and time has come for Facebook and Google to open local office.
The government should legalise the process to ensure transparency in ad expenditure, said Razib Ahmed, a director of e-Commerce Association of Bangladesh (e-CAB).
"Most of our members are spending $5 to $10 a day. As they do not have credit cards, they need to go for unauthenticated channels," said Ahmed, a former president of the e-CAB.
Currently e-CAB has around 1,000 members, while the number of e-commerce vendors is about 2,000.
Meanwhile, mobile operators said they are facing different challenges in paying the digital platforms.
For instance, a leading operator sought permission from the central bank to transact directly with Facebook and Google, avoiding third parties.