NBR receipts grow 20pc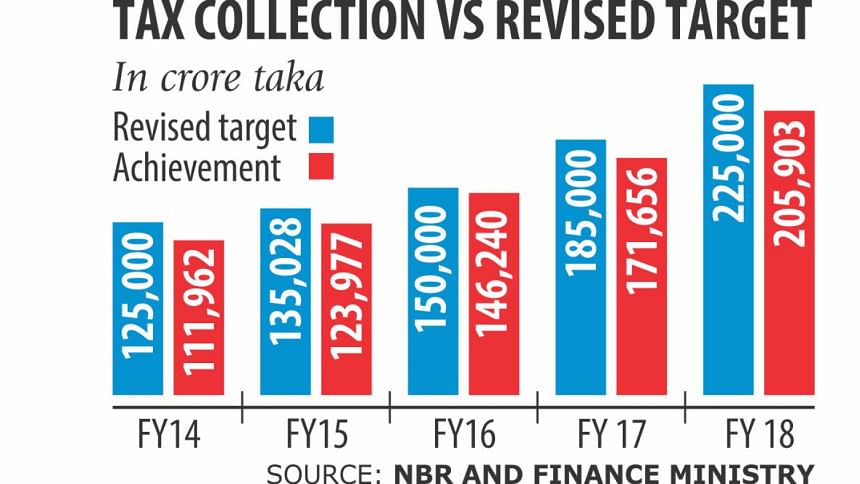 The National Board of Revenue missed its collection goal in the just concluded fiscal year despite logging about 20 percent growth in receipts, said an official citing provisional figures.
The final collection could be Tk 205,903 crore in 2017-18 against the revised target of Tk 225,000 crore, said the official, requesting anonymity.
This was the sixth year the NBR missed both the revised and the actual revenue mobilisation targets set by the government.
The official said the NBR had expected some state agencies, especially Petrobangla, to pay arrears amounting to Tk 42,000 crore but none came forth.
In 2017-18, VAT and income tax accounted for 70 percent of the overall collection.
Collection of VAT, a type of consumption tax collected mainly from domestic trade and economic activity, grew 23 percent to Tk 78,335 crore from a year ago, according to provisional data.
Income tax receipts soared 22 percent to Tk 66,003 crore in the last fiscal year while collections from import tariff rose 13 percent to Tk 61,565 crore, said the official.
The government has given the NBR the task of collecting Tk 296,201 crore for the new fiscal year, up 43 percent from the provisional collection in the last fiscal year.
The Centre for Policy Dialogue, in its analysis on budgetary measures, called the target ambitious as the tax authority failed to meet the goals in previous years.
The think-tank said the budget would rely on individual income tax and VAT at domestic level to collect the extra revenue. Also there was no reflection of revenue mobilisation-related reforms, it added.