StanChart seeks nominations for agriculture awards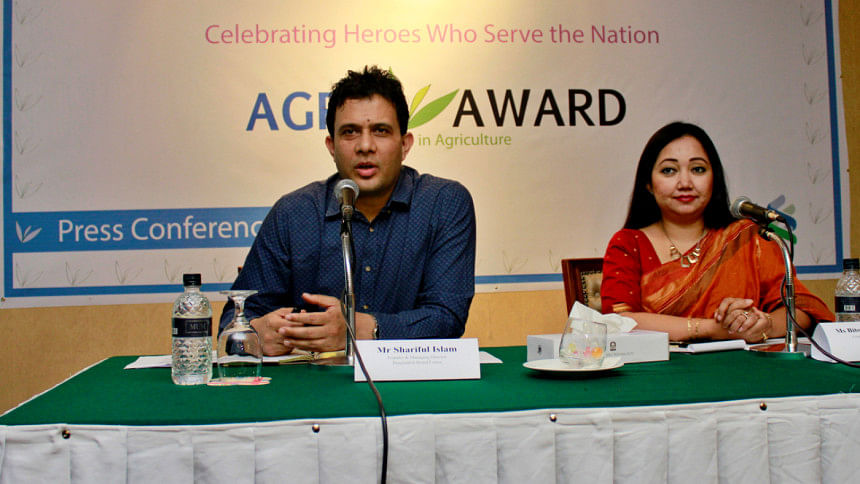 Standard Chartered yesterday called for nominations for the Agrow Award that recognises the contributions of farmers and organisations in agriculture. Individuals and organisations can submit nominations until March 5.
"We hope we will be able to motivate thousands of farmers and entities by recognising the growers for their exemplary contributions," said Bitopi Das Chowdhury, head of corporate affairs of Standard Chartered Bangladesh, at a press meet at the capital's Sonargaon Hotel.
The SCB in association with the Bangladesh Brand Forum will give the awards in seven categories, with the winners taking home Tk 5 lakh each in prize money.
The categories are: Best Agricultural Organisation in Research & Innovation, Best Agricultural Organisation in Support & Execution, Best Agricultural Exporter, Farmer of the Year (Male), Farmer of the Year (Female), and Farmer of the Year (subsistence market farmer group) and Best Use of Technology in Agriculture.
Bitopi said SCB launched the award in 2014 as part of its corporate social responsibility.
SCB said it aims to connect with an area that is at the heart of the Bangladesh economy and its people.  The focus is to recognise the best practices of the agriculture industry and promote them, and assist the sector with knowledge and information for further development, it added.
Shariful Islam, founder of Bangladesh Brand Forum, said the country has achieved near self-sufficiency in agriculture mainly because of the efforts of its farmers.
The government, development partners and other stakeholders also played a part.
He said the winners for the awards will be selected by a jury comprising government officials, agriculture experts, economists, development   activists, scientists, bankers, professors and high officials of agricultural institutions.
The winners are expected to be awarded by the end of March this year, he added.
Last year, seven awards were given. Of the winners, Md Bilal Sikder, who was recognised as the Farmer of the Year, said the prize money enabled him to grow tomato, guava and other crops on higher acreage. "I will be able to do better if I get loans at low interest," said Sikder, a small farmer from Jessore. Fatema Zohora, who won the Farmer of the Year award in female category, said she invested the money on high-value crops such as modern jujube, locally named as Bao Kul.
But the grower from Chuadanga has to sell the seasonal fruit at very low prices to wholesalers as she cannot bring the produce directly to Dhaka for dearth of fund to invest in proper transport vehicles. "It will be tough to bear the losses if I face a blow in other crops like I have with Bau Kul," she said.