Skypower to invest $4.3b in solar power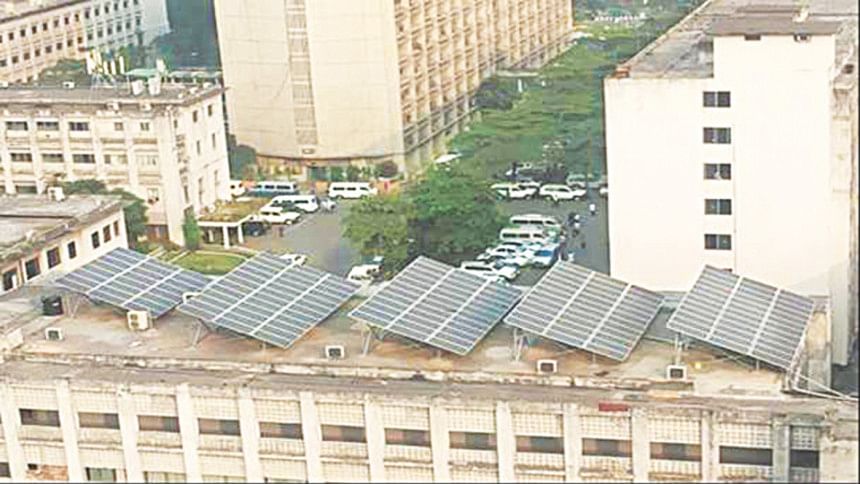 Skypower Global, one of the world's largest and most successful utility-scale solar power producing companies, would invest 4.3 billion US dollars in solar power sector in Bangladesh.
Kerry Adler, president and CEO of the Canada-based multinational company, announced this at a roundtable meeting of Business Council for International Understanding (BCIU) with Prime Minister Sheikh Hasina at Hotel Waldorf Astoria here on Friday.
PM's Press Secretary Ihsanul Karim said the company agreed for the investment to set up a 2000 megawatt solar power plant in next four years in Bangladesh.
The company will set up its office in Tungipara, the birthplace of the Prime Minister, which would create job opportunities for 42,000 people. Besides, the company will donate Bangladesh 1.5 million home lanterns.
Addressing the meeting, the Prime Minister focused on booming investment potentials of Bangladesh inviting the conglomerates to invest in Bangladesh. She urged the BCIU to support Bangladesh's cause to get duty- and quota-free access of its products to US market.
Sheikh Hasina said her government has ensured food security and basic needs of the people. "We have now attached priority to infrastructure development and how to increase agricultural production.
For development, she said, Bangladesh needs investment in every sector from domestic and foreign sources particularly in the priority sectors like ICT, gas and power. That's why Bangladesh has opened its door for foreign investment, she added.
The Prime Minister said opportunities are enormous for investment in Bangladesh's shipbuilding, pharmaceuticals, jute and jute good production, light engineering and sea resources exploration sectors. "The government has attached importance to blue economy after settlement of the dispute on maritime boundary with India and Myanmar."
Sheikh Hasina said her government doesn't do business, rather acts as a good facilitator of real entrepreneurs and companies for doing business.
Finance Minister Abul Maal Abdul Muhith, PM's ICT Advisor Sajeeb Wajed Joy and State Minister for Foreign Affairs Shahriar Alam also took part in the discussion.
Heads and CEOs of as many as 27 large global companies including president and CEO of BCIU Peter J. Tichansky, President and CEO of Skypower Global Kerry Adler, Vice President of American Power Corporation Sanjay Agarwal, CEO of Zephyr Management Thomas Barry, Executive Vice President of Mastercard International Edward Brandt and Chief Development Officer of Excelerate Energy Daniel Bustos joined the roundtable.
Foreign Minister AH Mahmood Ali, Expatriates' Welfare Minister Nurul Islam, LGRD and Cooperatives Minister Engineer Khandakar Mosharraf Hossain, PM's Advisors Dr Moshiur Rahman and Dr Gowher Rizvi, Bangladesh Ambassador to the US M Ziauddin, Bangladesh's Permanent Representative to the UN Dr Abdul Momen and President of Federation of Bangladesh Chamber of Commerce and Industry Abdul Matlub Ahmad were present, among others.
Conveying the decision of her government to set up 20 Special Economic Zones (SEZs) in the country, she said the government would give land to any country interested in setting up the SEZs. The government would act as facilitator while the intending company would build necessary infrastructure for investment, she added.
PM's Press Secretary Ihsanul Karim said BCIU had a broad-based discussion with the Prime Minister on opportunities and prospects of investment in Bangladesh.