Role of foreign aid in Bangladesh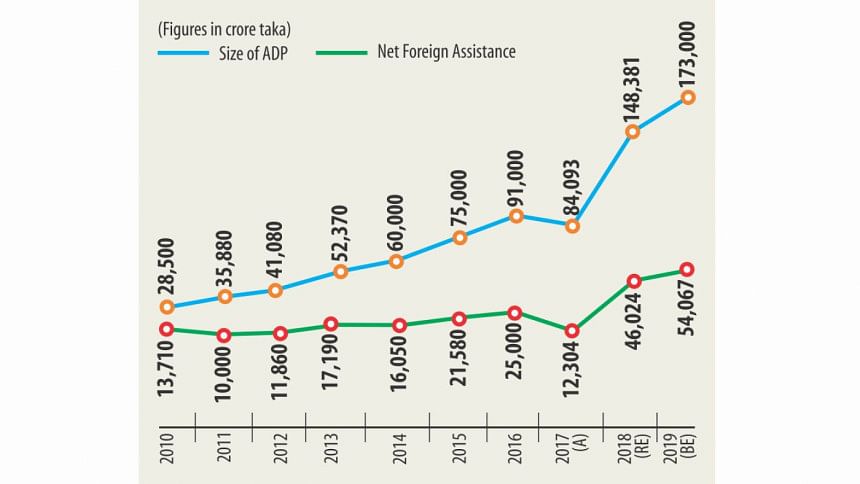 Foreign aid and development partners (donors) have played an important role in Bangladesh's growth story. Its importance has also been acknowledged by successive governments in Bangladesh.
For instance, in his 2018 budget speech, Bangladesh Finance Minister AMA Muhith noted the importance of improving the utilisation of net foreign assistance (foreign aid) in Bangladesh.
In this column, I will take you through a quick overview of foreign aid in Bangladesh's budget numbers – outlining the role of aid in the macroeconomic scenario of the country. All figures used in this column are from the Bangladesh Economic Review (2017) and the 2018 Bangladesh Budget.
AID FUELS PUBLIC INVESTMENT
Typically, aid complements a government's tax receipts, a large part of which goes towards funding the annual development programme (ADP).
The ADP is the government's outlay of investments for the year. It represents the bulk of public investments in the form of new infrastructure that is vital to the growth and development of the country.
The size of the ADP has continued to grow at a steady place – and reflects the ambition of a country that has clocked successive years of 6 percent plus growth rates and is widely celebrated globally as a development miracle.
Net foreign assistance (gross inflows of grants and loans, net of repayments) have continued to rise gradually over the years, except for an uncharacteristic dip in utilisation in 2016-17, possibly as a result of the terrorist attack in Dhaka on July 1 in 2016.
Dependence on aid has decreased over time, as demonstrated by the fact that government spending has increased at a far higher pace than aid.
Aid expenditure amounted to 48 percent of the ADP in 2009-10, and reduced to 27 percent in 2015-16. But the quantum of aid remains important – making up, on average, 12 percent of total revenues since 2010-11.
The government has projected higher levels of aid, set to form 18 percent of total revenues in 2017-18 and 16 percent in 2018-19.
Correspondingly, aid funds have remained an important instrument of financing the budget deficit – in 2017-18 and 2018-19, 31 percent of the projected budget deficit is to be met from foreign aid, both significantly higher levels compared to recent years.
These figures need to be read in conjunction with annual aid commitments made to Bangladesh. In several statements made around the time of the 2018 budget presentation, government officials have emphasised the need to improve utilisation of aid funds.
This is mainly because of the fact that aid inflows (as commitments) have outpaced the utilisation of aid. When budget expenditures are accounted for, it has been found that in recent years, around half of aid funds go unutilised.
If more aid is utilised as intended, more of the budget deficit can be financed by aid, without the government having to resort to domestic borrowing. There is significant room for improvement on this front.
IS ACCOUNTABILITY BEING AFFECTED?
In a democracy, a critical element in the engagement between citizens and state is "accountability".
There are several definitions—one among them from the World Bank reads: "Accountability exists when there is a relationship where an individual or body, and the performance of tasks or functions by that individual or body, are subject to another's oversight, direction or request that they provide information or justification for their actions".
In short, it is the ability of citizens to hold governments to account, directly through elections or indirectly through elected representatives and democratic institutions.
Improving aid transparency is important. It can help improve the utilisation of aid spends. It can also help improve the quality of aid spending, by incentivising better targeting and monitoring of how funds are spent and what benefits accrue.
At the same time, research on accountability highlights the importance of domestic taxation as opposed to aid.
When governments and citizens are tied into a taxation-public service delivery cycle, and when information on taxes collected and spent are available widely, accountability mechanisms in a democracy are strengthened.
And when large parts of government spending are financed by aid, accountability is weakened – because in a country with significant income inequalities, aid matters little to a large proportion of the population; where a prosperous middle-class does not see obvious benefits of aid projects on their own lives and therefore, does not care to question how much aid is received and how it is spent.
With this perspective in mind, it is important to strive to consistently reduce the share of aid in public spending. In Bangladesh, tax revenues have hovered around 10 percent of GDP over the last decade, and the government has emphasised the need to increase tax collections sharply.
Given the urgent need to expand the size of its ADP, it is evident that Bangladesh will need to increase tax revenue significantly, even as the proportion of aid remains the same or declines.
CONCLUSION
Bangladesh is not particularly dependant on aid as an economy, with aid currently forming about 2 percent of the country's GDP. However, taking into account its role in plugging the budget deficit, one can conclude that its role in financing development projects remains significant.
The amount of aid spent has increased steadily over the last decade, and the government is currently targeting an unprecedented increase in the utilisation of aid in the current year and the next year.
Higher utilisation of aid funds will make it easier for Bangladesh to balance its budgets. However, this should not lead to complacency on the revenue front.
The primary engine of government revenue is taxation, and the government should make every effort possible to expand its tax base, and enhance tax collections.
As Bangladesh targets graduation out of less-developed country's category, aid inflows will gradually start declining. This government needs to prepare the country for this future.
The writer is the country manager for Bangladesh at Adam Smith International.