Rice prices finally declining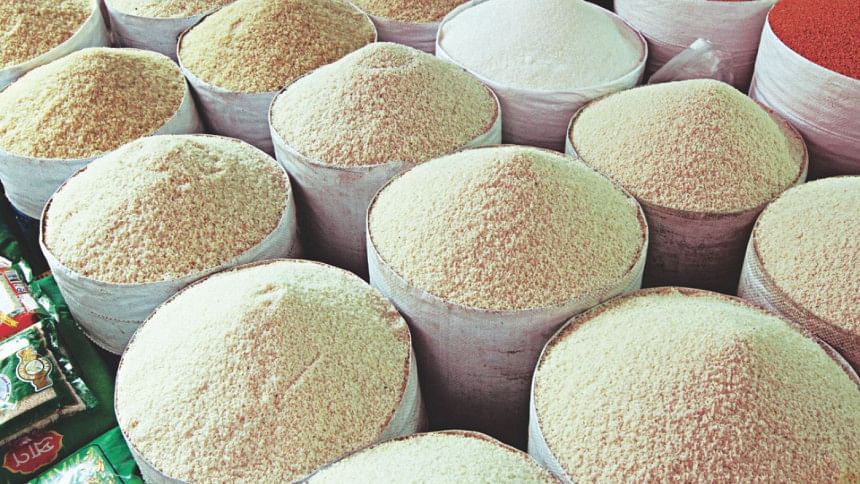 Rice prices have finally started dropping off in the face of ample supply brought about by huge imports and arrivals of the fresh staple from the Boro harvests, said farmers and traders.
In the last two weeks, the prices of fine rice declined 1.54 percent to Tk 60-68 a kilogramme and that of coarse rice 3.65 percent to Tk 38-44 per kilogramme, according to data from the Trading Corporation of Bangladesh.
Newly harvested paddy prices also marked a decline owing to increasing supply and speculation of good harvest if weather remains favourable over the next three-four weeks.
"The crop is looking very good. We will be able to harvest all within a week if the weather remains like this," said Jyotimohon Das, a farmer in the north-eastern district at Sunamganj.
But the acute shortage of farm labourers to harvest the paddy could derail the plan, he said.
Last year, farmers could not bag the full crop for floods up north, particularly in the haor region.
The dry season crop Boro was harvested from 44.75 lakh hectares after crop on 2.96 lakh hectares was damaged by flash floods in the northern and north east districts.
Overall, production fell 4.87 percent year-on-year to 1.80 crore tonnes in fiscal 2016-17, according to the Bangladesh Bureau of Statistics.
Growers planted paddy during this Boro season on 49.50 lakh hectares against the target of 47.25 lakh hectares, according to the Department of Agricultural Extension.
Das could not harvest paddy last year as flood wiped away his Boro paddy crop. But this year, he is hopeful of recovering a portion of the losses.
Rajib Talukder, who hails from Netrokona, another north-eastern district, also faced the same problem. 
"A huge amount of land is yet to be harvested for shortage of farm labourers," he said, adding that the prices of fresh harvested paddy have dropped recently. Talukder sold fresh harvest of paddy at Tk 650 each maund (40 kilogramme) in the middle of this month. For the same amount, traders are offering Tk 600, he said.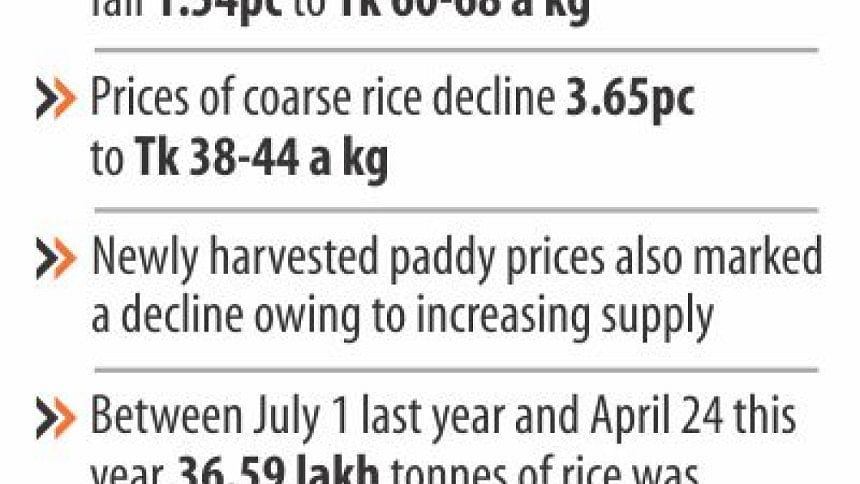 "Traders are shifting blame to millers for the falling prices," he added.
The prices of paddy are declining because of the low demand in the market, which saw a glut of the staple thanks to a surge in imports, said Nirod Boron Saha, president of Naogaon Dhan O Chal Arathdar Babshayee Samity, an association of rice wholesalers and commission agents.
Between July 1 last year and April 24 this year, 36.59 lakh tonnes of rice was imported, in contrast to 1.33 lakh tonnes during the course of fiscal 2016-17, according to data from the food ministry. "Import is much higher than demand. And as there is adequate stock in the market, demand remains lukewarm."
Saha said harvesting would be complete by May 15-20. "It appears that farmers will bag a bumper crop if the weather remains favourable for the rest of the days." But, a good yield may not ensure fair prices to small and marginal farmers unless the government takes step to curb imports ahead of completion of harvests, he added.
The government has slashed the rice import duty to 2 percent in August last year from 10 percent to contain the soaring prices of the staple.
Owing to the huge import from India, many mills are yet to clear their stocks. "So, they are slow in buying," said KM Layek Ali, general secretary of the Bangladesh Auto Major and Husking Mills Association.
The prices of rice may drop further in the next two weeks owing to the increased arrivals of fresh harvest of dry season paddy, said Abdul Matin, a rice trader at Mohammadpur Krishi Market.