Remittance rises slightly in April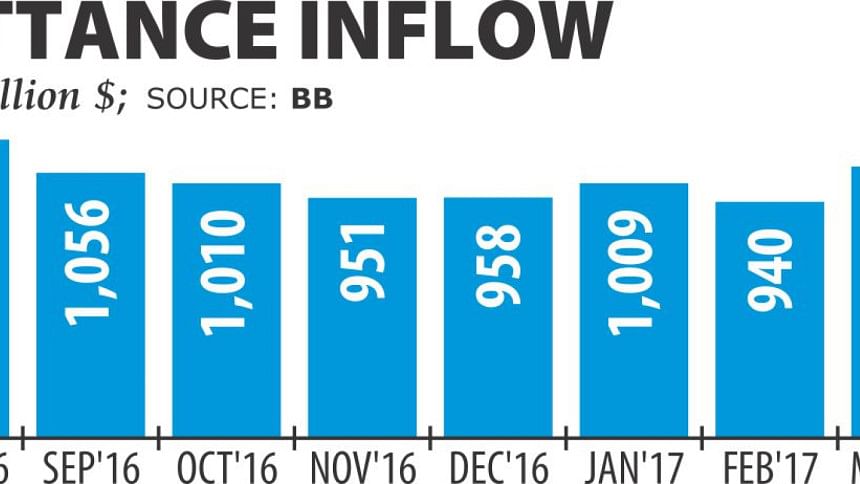 Remittance flow to Bangladesh grew marginally in April from a month earlier as low oil prices, weak global economic growth and fiscal tightening in the Middle East continue to hurt the key source of foreign exchange.
Some $1.09 billion flew in as remittance, up 1.9 percent from March but down 8.4 percent year-on-year, according to Bangladesh Bank statistics.
In fiscal 2016-17, remittance inflow has been lower in every month from a year earlier, meaning the full-year receipts could be way below last fiscal year's $14.93 billion.
April's receipts take fiscal 2016-17's tally to $10.28 billion, down 16.08 percent year-on-year.
Globally, remittance has fallen.
Workers' remittances to developing countries fell for a second consecutive year in 2016, a trend not seen in the last three decades, said the World Bank's Migration and Development Brief last month.
The WB said low oil prices and weak economic growth and fiscal tightening in the Gulf Cooperation Council countries and the Russian Federation were taking a toll on remittance flows to South Asia and Central Asia.
Besides, weak growth in Europe reduced flows to North Africa and Sub-Saharan Africa.
The decline in remittances, when valued in US dollars, was made worse by a weaker euro, British pound and Russian ruble against the US currency.
Remittances to Bangladesh slumped 11.1 percent to $13.7 billion in 2016, as per the WB report.
The amount though made Bangladesh the eighth largest remittance recipient of the year.
Remittance is the largest source of foreign exchange in Bangladesh after exports.
Money sent by Bangladeshi workers, which accounted for about 6 percent of the gross domestic product in fiscal 2015-16, also supports growth through their impact on household income and consumption.
Remittances accounted for about 30 percent of current account receipts in fiscal 2014-15, more than offsetting the trade deficit.
However, inflows have declined as labour demand from the GCC economies, the source of about 55 percent of all remittances, has eased, said global credit rating agency Moody's last month.
The ratings agency expects remittance flows to stabilise near current levels, and potentially pick up in line with future increases in global oil prices.
It said an increase in Bangladeshi overseas worker emigration in 2016 should provide some support to inflows later this year.
"Nonetheless, if the current trend of falling remittances does persist, it would likely have a negative credit impact by dampening consumption and widening the current account deficit."
Moody's expects the recent decline in remittances, along with a rise in import demand, to result in a very small current account deficit of about 0.2 percent of GDP in fiscal 2016-17.
In January, the BB said the recent decline in remittance reflects a combination of global and local factors. But, it was mainly driven by weaker economic activities in the Middle East.
The slow growth in remittance flow stands in stark contrast to the huge number of people taking jobs overseas in recent years.  
In 2016, some 749,249 workers went abroad compared to 555,881 a year earlier, according to the Bureau of Manpower, Employment and Training.
The Global Human Development Report suggested Bangladesh set up a remittance bank for easy and transparent inflow of foreign wage earnings into the country.