Regent Airways to raise Middle East flights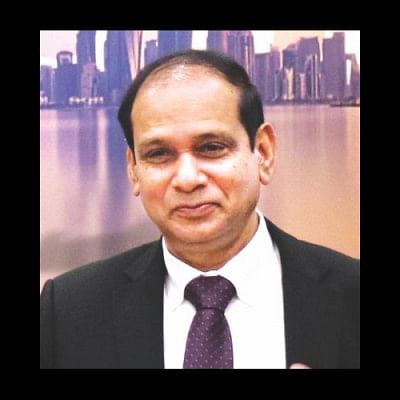 Regent Airways plans to add three new Boeing aircraft to its fleet in order to expand its operation to all countries in the Middle East by next year.
"Our main aim is to let our expatriate Bangladeshis enjoy a comfortable and smooth journey at an affordable price," said M Fazle Akbar, chief executive officer of Regent Airways.
He talked about his company's plans on the sidelines of a programme at the Doha Marriott Hotel in Doha on May 21. The programme was organised on the occasion of Regent's inaugural flight to the capital of Qatar.
Recently, a new Boeing 737-800 aircraft has been added to Regent's fleet to take the total number of carrier to seven -- five Boeing and two Bombardier Dash.
Akbar said the airline is going to begin its flights to Dammam, Saudi Arabia and plans to fly to Abu Dhabi.
"We are planning something big for the future to fly to Dammam and Riyadh in Saudi Arabia and Egypt."
"At the end of 2017, we will be working to operate our flights to tourist destinations such as Colombo. We are also eyeing Chennai. We have many Bangladeshi there."
He said Regent Airways offers cheaper fares compared to other airlines.
"The fares of other airlines are quite high. In many cases, the passengers are also not happy with the food. Even though our fare is not high, we try to offer the best service, including better food, to our expatriate workers because they contribute so much to our economy."
The passengers can also carry heavier luggage while returning home, Akbar said.
The company plans to cash in on the FIFA World Cup to be held in Qatar in 2022.
"We hope many Bangladeshis will come to Doha to be a part of the historic moment. We are planning to contact an agency to offer an attractive package to the Bangladeshis who would like to watch the games," said the CEO.
Akbar also touched upon various problems confronting the private airlines in Bangladesh.
"We pay a lot of taxes. The fuel price is very high. The truth is the private airlines are not growing that much. We don't get any subsidy, whereas in countries such as the UAE many airlines are government-backed."
He said in Bangladesh airport charges and the tax on imported spare parts are also very high. "So, airlines usually don't survive in Bangladesh."
The CEO said the Bangladesh market is being taken over by the foreign carriers.
He said Qatar and Etihad airways fly a significant number of flights to and from Dhaka and they are full.
"If the airlines from our country can grow and operate more flights, the earnings will remain in the country."
The airline employed some 5,000 Bangladeshis, directly and indirectly. "They are our people," said Akbar. 
He said if the government encourages the local airlines, they would be able to prevent foreign airlines from taking "our money". "But all depends on the support from the government."
Akbar said airport charge, handling charge, surcharge and fuel prices have to be lowered. "A foreign carrier and Regent are paying the same charges. It isn't good."
The CEO is hopeful, saying the government seems to be sympathetic towards the local airlines.
"We are hopeful of a solution."
Regent Airways is a wholly-owned subsidiary of Habib Group, a Chittagong-based conglomerate engaged in a diverse portfolio of business endeavors, including power, steel, readymade garments, textiles, spinning, cement, paper and fertilizer.