Private credit growth on downward slope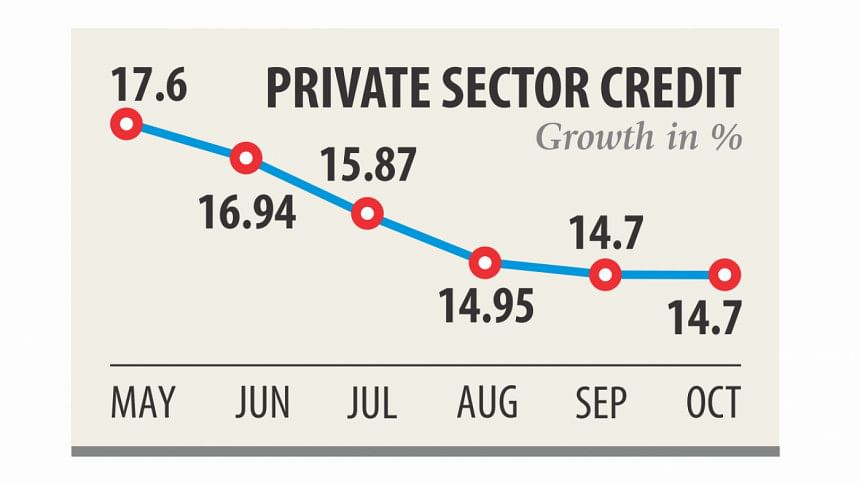 Private sector credit growth remained slow in October as bankers lent cautiously ahead of polls.
In October, credit growth stood at 14.7 percent, which is the same as in the previous month, according to data from the central bank.
Slow business expansion ahead of the national election convinced bankers to reduce lending, said Syed Mahbubur Rahman, managing director of Dhaka Bank.
Moreover, the market remained tighter as government borrowing started picking up again ahead of the polls.
The government is likely to borrow about Tk 13,000 crore from banks in December, which will make the money market tighter.
Thanks to the rise in borrowing the interest rate of deposits surged to 9 percent in recent months, he said.
On June 21, the Bangladesh Association of Banks, a forum of directors of private banks, decided to lower the interest rates on lending and deposit to 9 percent and 6 percent respectively. The new rates came into effect on July 1.
The average interest rate on deposits stood at 5.25 percent in October, up from 4.89 percent a year earlier, according to the central bank.
Slow import growth also helped in keeping the credit growth steady, he added.
Import growth in the first quarter of fiscal 2018-19 stood at 11.48 percent, in contrast to 28.39 percent recorded a year earlier.
Public sector borrowing, which remained negative for long, logged in 2.6 percent growth in October, but it remains well below the 8.60 percent ceiling set for the first half of the fiscal year.
Anis A Khan, managing director of Mutual Trust Bank, echoed the same as Rahman about the cautious stance of bankers ahead of the polls.
"Moreover, the slow deposit growth made bankers coy about lending," he said, adding that the credit growth will start looking up soon after the polls.
The deposit growth is slow because cash circulation amongst public ramps up ahead of election, according to Khan.