British High Commission, USAID celebrate Bangladesh's progress in maternal and child survival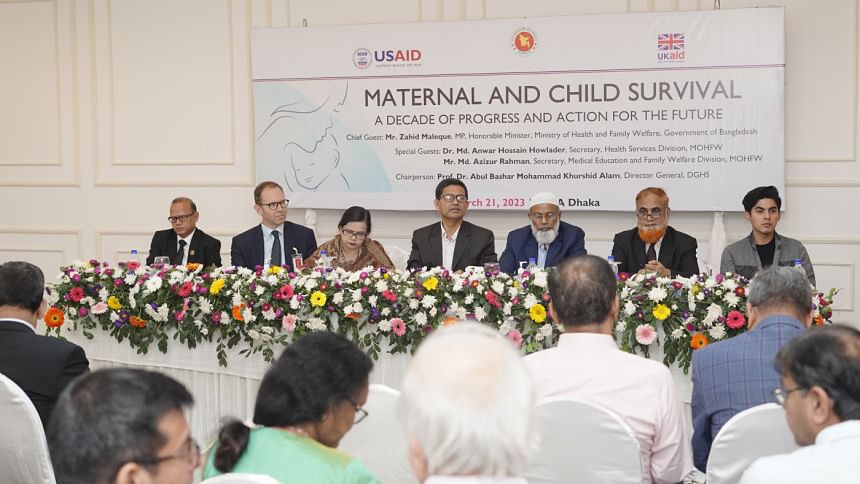 United States Agency for International Development (USAID) and British High Commission (BHC) co-hosted an event celebrating Bangladesh's progress over the last decade towards ending preventable deaths of mothers, newborns and children.
USAID and BHC co-hosted the event jointly with the Ministry of Health and Family Welfare.
The 2012 Call to Action was a groundbreaking event that catalysed a global movement to dramatically improve maternal and child survival, said a press release.
Following Bangladesh's Call to Action launch 10 years ago, the government reiterated its commitment to end preventable child deaths by 2035 by building on its previous successes in reducing child mortality, the release added.
This remains a priority for both USAID and the BHC, as evidenced by the UK's 2021 Ending Preventable Deaths of Mothers, Babies and Children approach and USAID's Getting to 2030: Maternal and Child Health and Nutrition Technical Roadmap and their annual Acting on the Call reports.
The event was organised to mark the 10th anniversary of Child Survival Call to Action.
The British High Commission Dhaka's Deputy High Commissioner and Development Director Matt Cannell noted: "The U.S and the U.K are strong allies and we are joining forces to be an even more reliable and effective development partner for Bangladesh."
USAID Bangladesh's Office of Population, Health and Nutrition's Deputy Office Director Marvin Crespin-Gamez highlighted how, "Working together, we've seen how the Government of Bangladesh has intensified efforts to fulfill its commitment toward ending preventable maternal and newborn deaths to achieve Sustainable Development Goal 3 by 2030."