Walton launches trade in rupee with India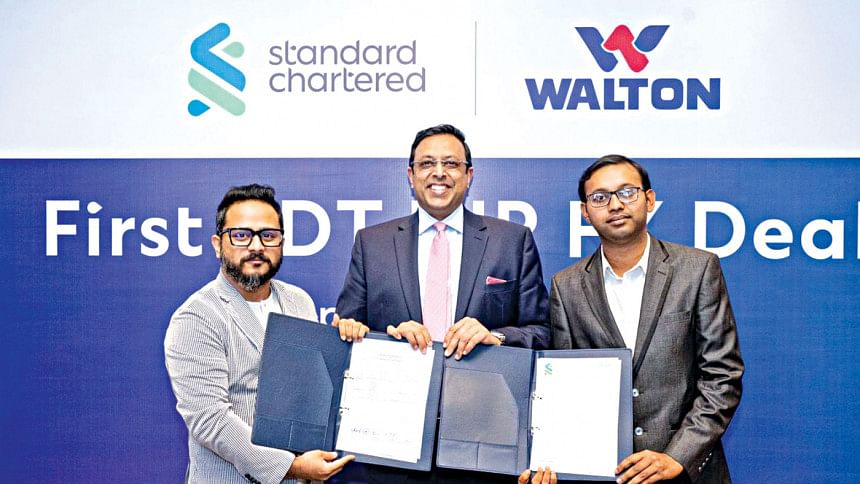 Walton, an electrical, electronics and technology product manufacturer in Bangladesh, has started export trade operations with India in rupees.
Standard Chartered Bangladesh executed the first Bangladesh-India export transaction for the manufacturer.
Walton Hi-Tech Industries PLC signed the first Bangladesh-India foreign exchange deal with this multinational bank at a hotel in the capital on Monday.
Golam Murshed, managing director and CEO of the hi-tech company, and Naser Ezaz Bijoy, chief executive officer of the bank, inked the deal in this regard, said a press release.
"Since the beginning of the Russia-Ukraine war, we have been facing a dollar crisis. The value of the dollar against the taka has been appreciated sharply, which has had a significant impact on the country's foreign exchange reserves. In such a situation, India and Bangladesh bilateral trade settlement in rupees has been introduced," said Murshed.
"Walton has started export trade with India in rupee to make this initiative of the two countries successful," he added.
The bilateral trade between Bangladesh and India was about $16 billion dollars in the financial year 2021-22 whereas Bangladesh's export was $ 2 billion.
Under the new system, Bangladeshi traders will be able to settle bills of up to $2 billion for imports from India in rupees. Walton's initiative to start export trade activities with India in rupees will play a vital role.