Stop complaining, start fixing
Ayman Sadiq, co-founder and CEO of 10 Minute School, says in an interview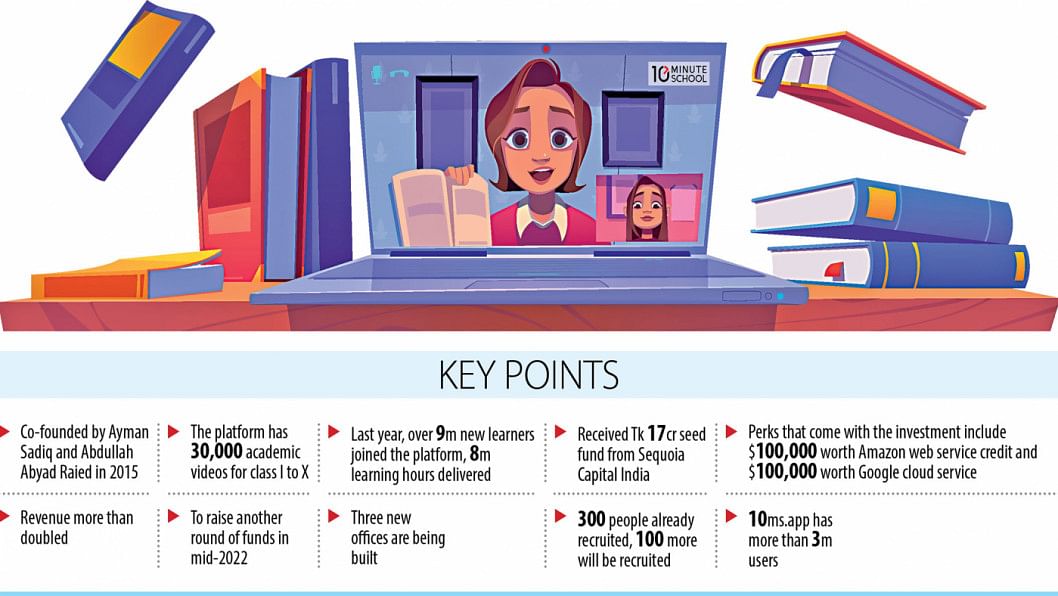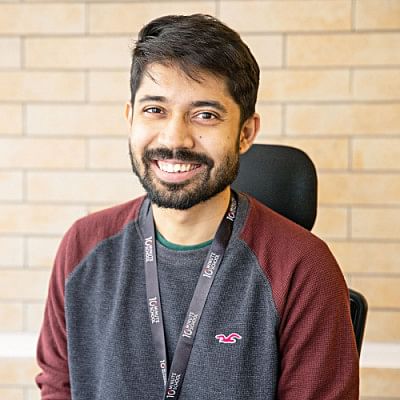 "We are in an expansion mode now. We are building offices in three places and have already recruited 300 people and will recruit 100 more"
Bangladesh would be a much better country if people stop complaining about its various problems and try to fix these issues instead by figuring out the root causes, according to Ayman Sadiq, co-founder and chief executive officer of 10 Minute School, an online learning platform.
"I see many people complaining about things all the day. This does not help. Rather, we should stop complaining and start fixing," he said.
The recipient of the Queen's Young Leaders Award in 2018 also urged those leaving Bangladesh to at least try to fix the country's problems, even if it is from afar, by telling others the solution.
"If we all do it, Bangladesh would be a much better country to live in," Sadiq added.
The young entrepreneur made these comments during an interview with The Daily Star shortly after announcing that his online education platform received Tk 17 crore as seed money from a globally renowned investor.
The idea of establishing 10 Minute School came from his search for a way to ensure education for students who may leave school due to their inability to bear the high cost of formal education.
"Ever since it was made available to the public, 10 Minute School has made 30,000 free educational videos on all subjects from class 1 to 10 that are available on its mobile app," Sadiq said.
To expand its capacity to make free content, the Bangladeshi EdTech firm sought investment from Sequoia Capital India, one of the biggest venture capital firms in the world.
"We chose Sequoia as it has investments in tech giants like Google, Apple, the world's biggest EdTech firm Byju's, and the second biggest firm Unacademy," said Sadiq, who also featured on the Forbes 2018 list of "30 Under 30 - Asia - Social Entrepreneurs".
"Our revenue has more than doubled and we are currently utilising the fund," he added.
Sadiq informed that his firm now looks forward to raising another round of funds in the middle of 2022.
"We could have raised Tk 1 crore or Tk 2 crore at best from local investors but that amount would not have been of much help to 10 Minute School as the firm's monthly revenue was already more than Tk 2 crore," he said.
So the firm, co-founded by Sadiq and Abdullah Abyad Raied in 2015, made a list of the world's biggest investors and then started sending them "cold emails".
"Among many international proposals, we chose Sequoia as we believed it would strategically be the best investor for us as it genuinely knows how to develop an EdTech company from scratch."
Along with the Tk 17 crore investment, Sequoia is also providing the Bangladeshi firm with perks worth Tk 17 crore, which include free Amazon web service credit worth $100,000 and free Google cloud service worth $100,000.
 "We are in an expansion mode now. We are building offices in three places and have already recruited 300 people and will recruit 100 more," he said.
Sadiq's journey towards establishing an EdTech company began in 2012, when he was a student of the Institute of Business Administration under the University of Dhaka.
At the time, the young Sadiq used to conduct IBA coaching classes after learning from different online math classes such as crash courses of MIT, Harvard, and popular educational videos.
He then thought to apply those methods on his own students.
So in 2013, he first shared the idea of making an online teaching platform with his students. The next year, nine students who got enrolled in IBA started working with Sadiq.
"As an IBA coaching class teacher, my monthly income was nearly Tk 150,000. I spent all Tk 15-16 lakh I earned as a teacher during IBA life for establishing 10 Minute School. That was the initial investment."
Since 2016, 10 Minute School started receiving sponsorships from fast-moving consumer goods companies, telecom operators and banks.
"We have experienced an unprecedented twelvefold business growth in our platform in 2021 during the pandemic and the number of our employees now stands at 300, up from 60 by the end of 2020," Sadiq said.
The past year marked a significant year of growth for 10 Minute School with more than 9 million learners joining the platform,
8 million learning hours being delivered and over 17,000 new videos added to its educational ecosystem.
The 10 Minute School app (10ms.app) recently surpassed 3 million users, making it the largest learning app in Bangladesh.
"We made 90 per cent of the 30,000 academic videos with university students as they are very tech savvy and passionate about teaching," he added.
The 10 Minute School started taking Facebook Live classes in 2016 and this year, it has brought live classes to its mobile app.
A teacher takes the live class, where students can comment or raise questions in a separate tab. Three other teachers who remain on standby during the class then write the answers instantly.
Participating students are provided with the lecture sheets, resources and slides on which the teacher wrote during classes and real-time, distraction-free exams are taken online.
"We have conducted a study on the Bangladesh market following the TAM SAM and SOM approach," Sadiq said.
TAM means Total Addressable Market, SAM means Serviceable Addressable Market and SOM is Serviceable Obtainable Market.
The firm started making videos following an elaborate list of skills a person needs in different ages of his life.
The parents are now starting believing in the quality of the content and classes provided by 10 Minute School.
"So, it is very encouraging for us to find out that over 90 per cent of participants are now completing the whole online classes regularly," he said.
"We have a simple subscription model too. We take 12 paid live classes a month on science subjects, such as math, physics, chemistry and biology, of class V to XII and upwards and we charge Tk 750 per subject."
There are technical courses on graphics design and digital marketing as well that cost Tk 950 for a three-month course.
"We love to take all kinds of constructive criticism because we believe we still have a lot of scope to improve and be the best international EdTech company," Sadiq added.