Punish egg market manipulators
FBCCI demands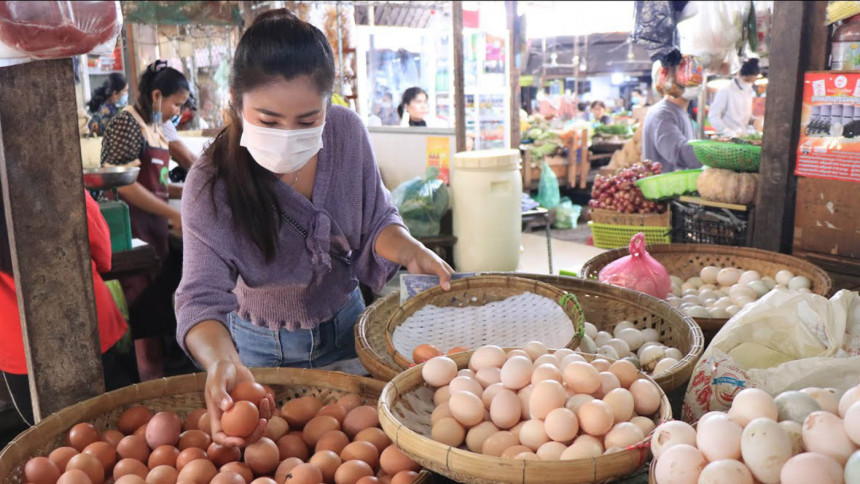 The Federation of Bangladesh Chambers of Commerce and Industry (FBCCI) has demanded punitive measures against anyone found manipulating prices in the domestic egg market.
Leaders of the country's apex trade body came up with the demand during a discussion with market players at the FBCCI office yesterday.
Md Jashim Uddin, president of the FBCCI, said although the price of each egg recently went up by Tk 3, it came down again following drives by government agencies.
This shows that the market was clearly manipulated, so traders have to rid of this culture, he added.
He urged the Directorate of National Consumer Rights Protection (DNCRP) to go for punitive measures against anybody found to be liable for the recent hike in egg prices.
AHM Shafiquzzaman, director-general of the DNCRP, said drives were carried out across the country for three consecutive days since August 18.
Through the three-day drives, egg prices were reduced by Tk 30 to Tk 35 per dozen, proving that manipulation had taken place.
"Several traders' groups recently manipulated the market for 8 to 10 days to make huge profits," he added.
The DNCRP chief went on to say the government has taken various steps to improve the market situation but a few traders keep destabilising it whenever they get an opportunity.
Shafiquzzaman warned that his office would file cases against such unscrupulous traders.
Mostafa Azad Chowdhury Babu, senior vice-president of the FBCCI, said the market manipulation had distorted the image of the business community.
"If there is any breach of law and any inconsistency, the government must take punitive measures and the FBCCI would stand by its decision."
If there is any irregularity in the egg market and any activities against the law, the government will have to take action according to the prevailing law of the country, Babu added.
Taher Ahmed Siddiqui, president of the Bangladesh Egg Producers Association, said although they produce eggs, they cannot determine the price.
"We are helpless in this regard," he added.
Siddiqui claimed that the price of eggs was fixed by traders in Dhaka's Tejgaon area and increased the prices at an unprecedented rate.
Moshiur Rahman, president of the Bangladesh Poultry Industries Central Council and managing director of Paragon Poultry Ltd, said this sector is very big but there are some gaps in the legislation.
"If the legislation was strong, the situation that we recently witnessed would not have happened," he added.
Quazi Abdul Hannan, editor of Voktakantho, said consumers were charged an additional Tk 268 crore in the egg market and Tk 225 crore in the broiler chicken market in the last 14 days.
Recently, the price of brown chicken eggs increased to Tk 160 from Tk 125 per dozen. Farmers and traders say that people have never had to buy eggs at such a price.
But following the raids by various government agencies, eggs are now being sold at Tk 135 per dozen.