Workers to get paid digitally soon: BGMEA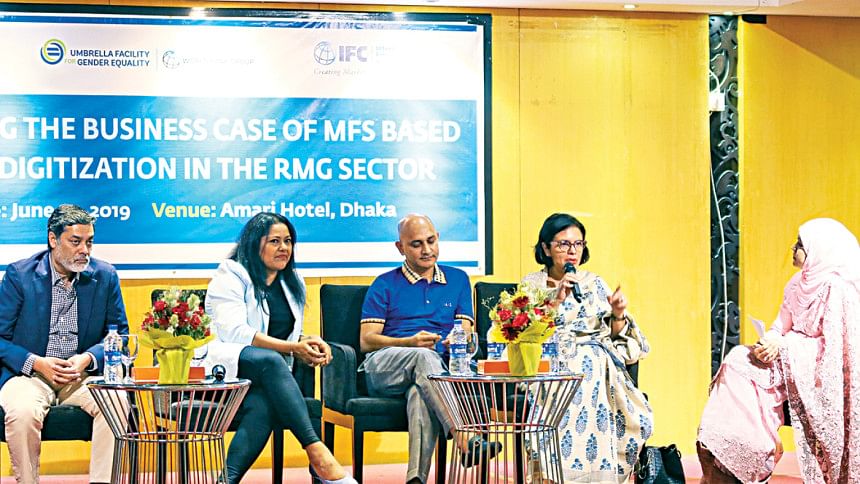 Garment factory owners will introduce digital salary disbursement to ensure female workers get full ownership of their earnings and more transparency in payment, said Rubana Huq, president of the Bangladesh Garment Manufacturers and Exporters Association (BGMEA) yesterday.
Female workers do not always see their hard-earned money come to them; they are either extorted of the sum or their guardians, which mostly happens to be their husbands or brothers, gets hold of it.
The digitised payment will start on a pilot basis ahead of Eid-ul-Azha, said Huq at a discussion styled "creating the business case of MFS based wage digitisation in the garment sector", organised by International Finance Corporation (IFC) at the capital's Amari Hotel.
"I can say that all 35 members of the current BGMEA board of directors will start paying digitally from the Eid-ul-Azha. We will motivate the other factory owners to do the same as soon as possible," she said.
The BGMEA will sign an agreement on Thursday with the ICT ministry to introduce e-wallets for the garment workers.
In so doing, the female workers will have full ownership of their hard-earned money, which they do not always have, Huq added.
Sajjadur Rahman Mridha, chairman of ABA Group, said he introduced digital payment in his factory a few years ago after he learnt that one of his female workers was killed by her husband as she was refusing to hand over her salary to him.
"It was the most tragic incident," he added.
Shwapna Bhowmick, country manager of Marks & Spencer (M&S) for Bangladesh and Myanmar, said some 50,000 workers in the various factories from which the British retailer sources are paid digitally.
Since 2007, the M&S affiliated factories have been paying their workers through the digital platform, which have helped cut operational costs by 3 percent in a year.
"We have a target to bring all the affiliated factories under the digital payment system gradually. We have to make the garment sector of Bangladesh sustainable as it is a very important source for us," she added.
M&S gets nearly $1 billion worth of garment products in a year from Bangladesh, which is about 40 percent of the company's total sourcing.
There is a stark gender gap in access to financial services in Bangladesh, where only 36 percent of women have a formal bank account compared to 65 percent of men, according to the IFC.
However, about 90 percent of the factories pay their workers in cash, which is a missed opportunity for both the financial and garment sectors, said Ananya Wahid Kader, senior financial sector specialist of the IFC.
Through the IFC's initiative, over 70,000 female workers benefitted from digital wage payments to their mobile financial service accounts between 2016 and 2018, and they can now use their accounts to send money, build savings and make payments securely.