WiFi Haat enlivens rural areas
Innovative business model can narrow the digital divide in rural Bangladesh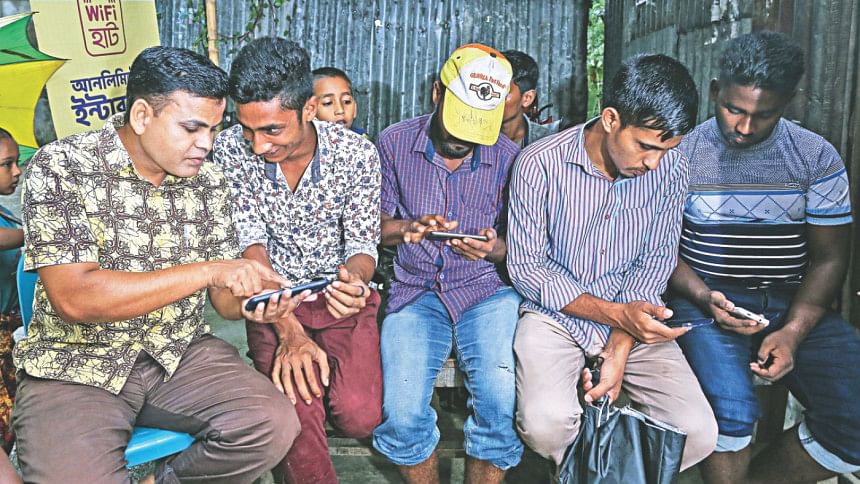 Carnival Internet, a local internet service provider, has brought internet access to remote parts of the country, where people are hungry for internet but have next to no access, by way of WiFi Haat -- an inspired move that will help thousands of locals.   
Most of the places where the Haats are located hardly had any internet coverage. People could access internet from their mobile phones but the network is very patchy, so the speed is very slow.
Carnival has partnered with traditional shopkeepers and tea stall owners for the WiFi Haat, where they have installed their systems.
"We are aspiring to completely redefine the internet experience across rural Bangladesh with 50,000 Carnival WiFi Haats covering 10,000 villages of Bangladesh," said Zaman Khan, chief executive officer of Carnival Internet.
Since March, rural users could access high-speed internet by purchasing scratch cards for certain durations that contain unique passwords from the shopkeepers and tea stall owners.
One has to pay Tk 7 for internet access for two hours, Tk 15 for the whole day and Tk 25 for two days.
"We found the villagers are internet hungry and that encouraged us so much," Khan told The Daily Star recently.
The average mobile internet use as of June was about 1.2 gigabyte (GB) per month but in a Carnival WiFi Haat users' monthly consumption is more than 20GB.
"We are quite sure the need is even more," Khan added.
Talking with The Daily Star, Md Aminul Islam, a grocer in Tungipara, Gopalganj, informed that he sells about 30 to 40 scratch cards every day.
"There are a few routers in Patgati Bazar with coverage of a hundred-metre radius, so people can access internet while lounging in any shop in the bazar," he added.
Young and old alike flock to Ikram Hossain's WiFi Haat in Halsha Bazar in Patikabari, Kushtia in the corner of his motorcycle servicing shop every day.
"After installation of this Carnival WiFi Haat, I see good changes around my service shop. Youngsters are discussing productive things like who is doing what, what can be done, what is happening where and many more."
Sometimes, aged people come to get connected with the internet and chat with their expatriate relatives.
The correspondent saw one such elderly man visit Hossain's WiFi Haat to purchase a scratch card to speak to his son, who has been residing in Malaysia for the last eight years. He brought his grandson Osman with him as he knows how to navigate a smartphone.
Osman buys the scratch card, puts in the credentials on the smartphone and then the internet is unlimited, said the gray-bearded man.
"My son had sent this big screen phone and we could not find much use for it other than taking pictures and watching music videos that Osman used to download from the town. But we can do much more than before now," he added.
Carnival Internet first introduced the concept of WiFi Haat in Baniachong -- the largest village in Asia – in Sylhet division. It has since installed more than 350 such haats across the country.
Over the next three years, Carnival plans to set up 50,000 such Wi-Fi Haats across the country -- touching 10,000 villages and more than one million unique users.
Khan said they believe the initiative will dilute the rural verses urban digital divide and play a large role in ensuring that the rural population does not have to step out of their villages or communities to achieve success in their respective fields.
With this service internet users' unique numbers will definitely increase, Carnival hopes.
As of June, there are about 9.62 crore internet connections in the country, 57.34 lakh of which are broadband connections, according to Bangladesh Telecommunication Regulatory Commission.