Weavers in a bind as Covid continues rampage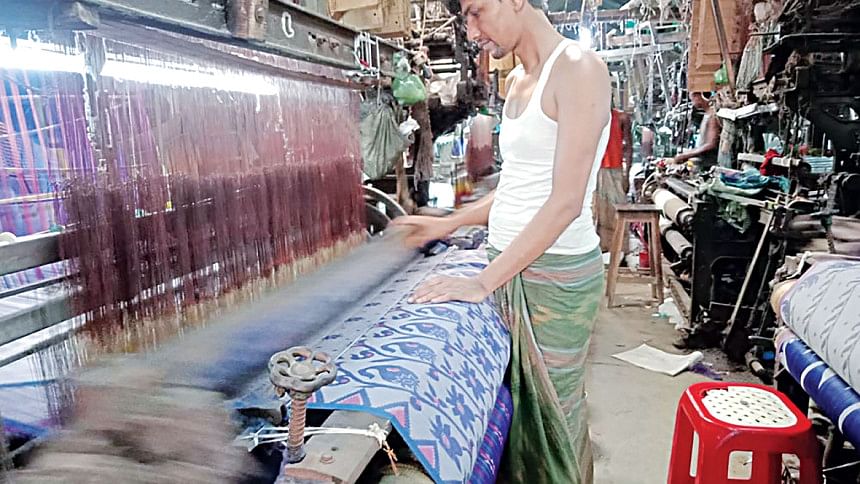 Rahmat Ali, a leading producer and trader of handmade garment items in Sirajganj's Shahzadpur upazila, made around 2,000 pieces of clothing for Eid-ul-Fitr, the largest sales season of the year.
However, poor customer turnout at Shahzadpur Tant Kaporer Haat, one of the biggest garment markets in the country, has left traders like Ali disappointed with their dwindling sales.
Handloom weavers in Rajshahi's Sirajganj and Pabna districts expected to recover some sales after shops and markets were allowed to reopen on Sunday, but an alarming rise in Covid-19 infections continues to prevent a return to normalcy.
"I have sold just 120 saris as of Sunday afternoon while I would sell 400 to 500 items each day in normal times," Ali said.
Traders used to come from far and wide to source handmade garment items from the market but a recent countrywide lockdown aimed at curbing the spread of Covid-19 halted their visits.
As the coronavirus situation continued to worsen, the government imposed strict measures on public movement on April 14.
"Since these measures were recently relaxed, I expect to see an increase in business in the coming two weeks," he added.
Under normal circumstances, around Tk 200 crore worth of handloom products were sold each week ahead of Eid at Shahzadpur Haat.
But due to the alarming Covid-19 situation, the sale of handmade clothes is no more than 10 to 20 per cent of its pre-pandemic levels as most traders are unable to visit the market, according to Md Haidar Ali, director of the Bangladesh Specialized Textile Mills and Powerloom Industries Association (BSTMPIA).
"As the shops and markets have reopened, we expect sales to reach 40 to 50 per cent of previous levels ahead of Eid," added Ali, also vice president of the Bangladesh Handloom and Powerloom Owners Association.
The local handloom industry in Pabna and Sirajganj employs around 25 to 30 lakh people, all of whom have faced hardships amid the ongoing coronavirus crisis.
Md Alamin Hossain, a handloom weaver of Rooppur village in Shahzadpur upazila, has 30 looms at his factory which has been shuttered for the last few months due to a cash crunch.
Hossain took out Tk 10 lakh as bank loans in an attempt to reopen his factory but the resurgence of Covid-19 has dashed his hopes once again.
"When I tried to reopen the factory ahead of Eid, the second lockdown was announced and I became uncertain about being able to keep the festival production," he told The Daily Star.
Pabna and Sirajganj are the country's largest handloom cloth producing districts but local weavers have hardly bounced back from repeated pandemic-induced losses.
"Our clothes used to sell across the country during the Eid market, when we would register 60 to 70 per cent of our yearly sales," said Md Rahamat Ali, another weaver of Shahzadpur upazila.
Rahamat's factory has 20 looms, of which only 12 are being operated this year as he already has a large stockpile of unsold clothing,
Local garment makers now fear for their livelihoods if the situation prolongs.
"Every year we wait for Eid but this year, there is no festive mood due to the alarming Covid situation," said Md Abdul Jalil, a handloom weaver in Sirajganj said.
The two districts in Rajshahi account for nearly 48 per cent of the country's total handloom clothing production.
And considering the importance of this industry, association leaders have demanded government support.
There used to be more than six lakh handlooms in Pabna and Sirajganj but approximately 3.5 to 4 lakh of them have been abandoned, said BSTMPIA Director Ali.
The country's biggest handmade cloth producing region could now lose its inherited profession in the face of continuous loss and dept.
As such, most weavers will be unable to recover their businesses without government support.
"Big factories got financial aid amid the pandemic but small weavers, who need it to stay afloat, received nothing," he added.
Other than Covid-induced losses, weavers are also suffering from the soaring price of raw materials.
Each pound of 60-count thread sold for about Tk 150 a couple of months ago but now the same amount of thread costs around Tk 200, said Md Shamsul Alom, a leading handloom weaver of Shahzadpur.
The case is similar for 80-count thread, which rose from about TK 220 per pound to Tk 340, he added while urging the government to monitor raw material prices for the sake of the weavers.