Walton has great prospects. But questions hang over its IPO prospectus.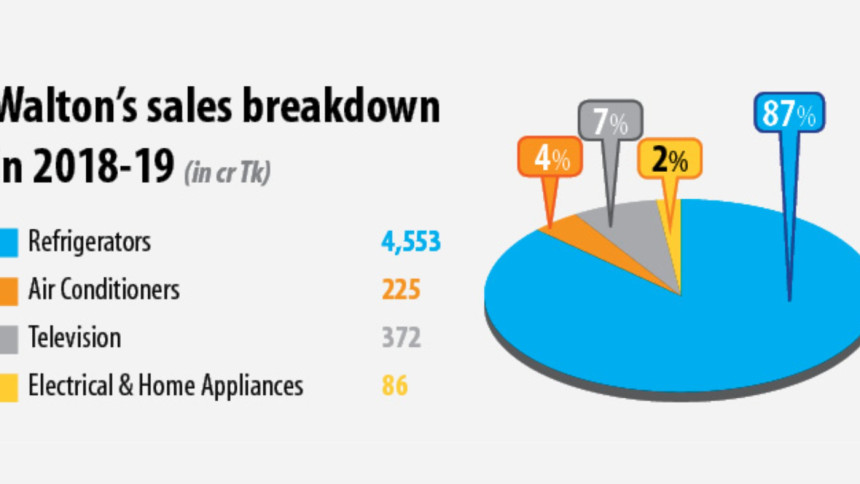 Local electronics giant Walton is, arguably, going through a purple patch.
For instance, earlier this week, it flagged off shipments of 26,000 air conditioners to India's Hyundai and also inaugurated its sprawling lift manufacturing plant, both of which are firsts for Bangladesh.
There appears to be no end to its ambitions.
But, funding is needed to achieve those goals, which is why the trailblazing homegrown electronics manufacturer has decided to turn to the capital market to raise Tk 100 crore.
There is tremendous excitement around Walton Hi-Tech's debut on the Dhaka Stock Exchange, which is why it is reasonable to assume it would be commanding a good premium. However, a deep dive into its financial reports doesn't paint a clear, rosy picture.
Walton Hi-Tech Industries showed a staggering 290.6 per cent surge in profits and 89.4 per cent jump in its turnover in the 2018-19 financial year -- just before its listing on the stock market.
In the 2017-18 financial year, the company's profits and turnover had dropped 52 and 14.4 per cent year-on-year respectively.
A chartered accountant preferring anonymity asked: "Is this high jump in turnover really because of demand from consumers? What was the miracle last year that it witnessed such an incredible growth?"
On closer look it appears Walton shifted large volumes of products in its last financial year -- but on credit to distributors, for the most part.
Curiously, despite the higher profits and turnover in the 2018-19 financial year, the company's closing cash and cash equivalents dropped 9.78 per cent to Tk 102 crore, according to the prospectus.
At the same time, overall trade and receivables trebled to Tk 1,184 crore, which means the sales were made mostly on credit.
And, most of the sales were to Walton Plaza, a sister concern of Walton Hi-Tech Industries. Walton Plaza buys products off Walton Hi-Tech to sell to sub-dealers and end users.
In the last financial year, Walton Hi-Tech's sales to Walton Plaza rose 138.6 per cent to Tk 1,602 crore.
After the sales, Walton Hi-Tech's receivables from Walton Plaza stood at Tk 1,048 crore, which was Tk 440 crore a year earlier.
"Walton's sudden sales on credit, especially in the listing year, are doubtful sales," said Mohammad Mohiuddin Ahmed, executive director of the Financial Reports Monitoring Division at the Financial Reporting Council.
If the company shifts the products to its distributors, it is fine -- legally.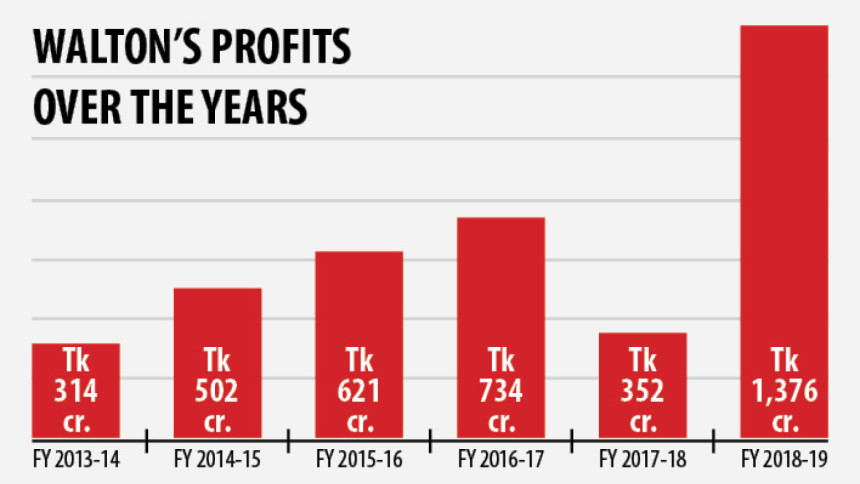 "But, it seems Walton Hi-Tech has done it with an ill intention, which is to get a high premium," Ahmed said, adding that whether the spike in profit came from genuine consumer-driven sales would be clear over the next few years.
The bidding to discover the cut-off price for Walton Hi-Tech's initial public offering began yesterday and will conclude on March 5.
Institutional investors participate in the bidding after analysing a company's financial reports and business prospects.
Walton Hi-Tech is aiming for a hefty premium, which is the amount over the face value of the share.
The company's prospectus shows its turnover rose to Tk 5,177.3 crore in the 2018-19 financial year, which was Tk 2,732.9 crore in the previous year. So, its turnover rose about Tk 2,444.35 crore in a space of 12 months.
Md. Abu Kaiser, a partner at Mahfel & Co. that audited Walton Hi-Tech's financial reports, said the company's aggressive marketing policy influenced its sales in the 2018-19 financial year.
"There was no bad intention -- it was just the marketing strategy. Walton wants to grab both local and foreign market share."
When he was informed that Walton Hi-Tech's peer company Singer Bangladesh, which is listed, did not witness such a pickup in fortunes in the last financial year, he said: "Walton's mindset is to reach the global arena. Singer's plan might be different."
Singer Bangladesh's profits grew just 12.5 per cent in 2019, down from 22 per cent recorded the previous year.
Asked about the high sums of receivables, Kaiser said: "It sold to its dealers so the receivables rose. Now, if it can handle the receivables properly it will not pose a problem."
An official of the Bangladesh Securities and Exchange Commission upon condition of anonymity said if the company sold its products to its distributors the stock market regulator cannot do anything about it.
"But it is true that there is a sudden rise in its sales and that too just before going public. This is concerning."
The company has huge potential but the investors should assess whether the high sales would be achievable in the coming years, he added.
The Daily Star contacted Walton Hi-Tech Industries enquiring about the dramatic rise in profit and turnover in the last financial year.
Partha Protim Das, company secretary of Walton Hi-Tech Industries, gave roundabout answers.
"The high turnover and profits were because of our aggressive marketing policy," he said, adding that the company has introduced many schemes like equal monthly instalments and higher purchase scheme that drew in customers.
Plus, Walton's after-sales services also attracted consumers after sells services attracted consumers.
When probed that EMI and higher purchase schemes were not introduced during the course of the last financial year but before that, he said: "People got attracted to them now because of our aggressive marketing."
The marketing push was in preparation for Walton Hi-Tech's foray into the export market.
"But before that, we need to consolidate our local market share. There is no opportunity to sell forcefully to increase our turnover. It was just our marketing," he said, adding that the total number of Walton Plaza increased to 340 from 302 in the 2018-19 financial year.
Also in the last financial year, Tk 398 crore came from sales of televisions and home and electrical appliances. All three were lumped under Walton Hi-Tech Industries in the 2018-19 financial year, when they were separate entities previously.
The three heads were booked under Walton Hi-Tech in order to ensure long-term sustainability of the company, Das said.
"As we are going to be listed we thought we should have many products so that if one product does not perform the others can pick up the slump. The company's overall performance will not be hampered."
The financial report shows in 2018-19 refrigerator sales alone shot up 72.52 per cent year-on-year to Tk 1,914 crore.
The higher sales lifted the company's profits to Tk 1,376.1 crore for the 2018-19 financial year from Tk 352.32 crore the previous year.
At present, Walton Hi-Tech's short-term and long-term loans stand at Tk 2,256.51 crore.