Vessel carrying cement from Bangladesh reaches Tripura in first ever export trip through inland waterways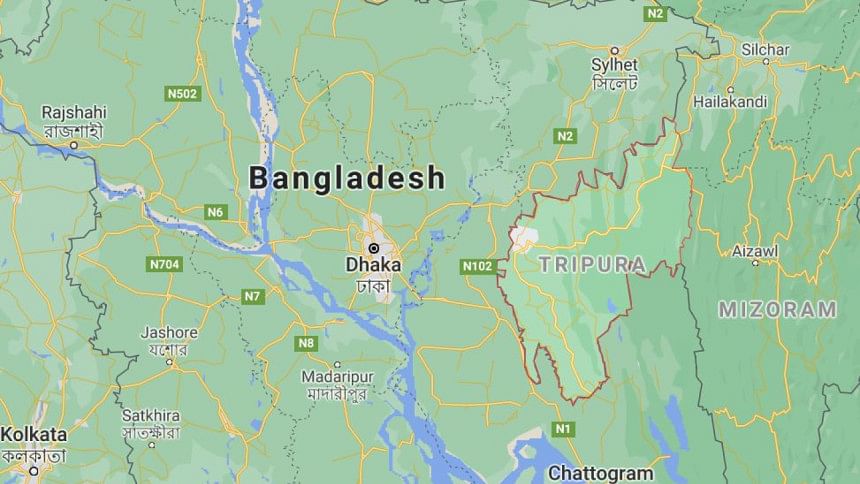 A Bangladeshi barge carrying 50 tonnes of cement reached Sonamura in the north eastern Indian state of Tripura today, two days after setting sail from Daudkandi, opening a new chapter in bilateral connectivity.
The vessel MV Premier reached Sonamura after travelling 93 km along the Meghna-Gomati river route, completing the trial run which began in Daudkandi on September 3.
This was the first-ever export consignment from Bangladesh to Tripura through the inland waterways.
The cargo was received at Sonamura in the presence of the Chief Minister of Tripura Biplab Kumar Deb and India's High Commissioner to Bangladesh Riva Ganguly Das.
With the completion of the trial run, "relations between India and Bangladesh reached another milestone today," the Indian Ministry of External Affairs said.
The operation of this new protocol route, besides further facilitating overall bilateral trade with Bangladesh, will provide an economical, faster, safer and environment friendly mode of transport and will result in substantial economic benefits to local communities on both sides, sources claimed.
The Protocol for Inland Water Trade and Transit (PIWTT) was signed between India and Bangladesh in 1972 to provide inland waterways connectivity between the two countries, particularly with the north eastern region of India and also to enhance bilateral trade.
In the last one year, nearly 3.5 million tonnes of cargo was transported between India and Bangladesh on the protocol routes.
The scope of PIWTT has been further expanded by the signing of the 2nd Addendum to PIWTT on May 20 this year with the inclusion of additional routes and ports of calls. The inclusion of Sonamura - Daudkhandi stretch of Gomati river (93 km) as a new route in the protocol is expected to improve the connectivity of Tripura and the adjoining north-east Indian states with Indian and Bangladeshi economic centres, and help the hinterland of both the countries.
The Tripura chief minister, after receiving the barge, said, "A new horizon opened for us today which is a historic day for Tripura because the state was for the first time connected with Bangladesh through a waterway."
"I congratulate the Prime of India Narendra Modi and his Bangladesh counterpart Sheikh Hasina for making our dream true," Deb said.
"We are standing on a historic day when a vessel loaded with cement from Daudkandi of Bangladesh has reached Gomati. This route would later open till Varanasi of Uttar Pradesh," Deb said. Varanasi is Modi's parliamentary constituency.
Deb also said the Indian High Commissioner to Dhaka, Riva Ganguli Das, informed him that the heights of eight bridges would be made higher for paving the way for smooth movement of the vessels carrying goods from both the countries and work in that direction has already been started.
Deb said that at times more than 200 tonnes of goods could be carried through vessels and boost the trade between the two countries.
According to him, 25-30 percent cost will be saved if the transportation route is shifted to waterways.
He also said construction of the bridge over Feni river in Sabroom in south Tripura district would be completed within December this year.
"90 percent work is almost completed. It's only 70 km away from Chattogram port. Ramgarh road is also being developed with financial assistance from Indian authorities. One Integrated Check Post (ICP), logistics hub, regular goods station are being developed together to facilitate successful export-import of international goods. Sabroom will be the commercial capital of Tripura," Deb said.
Riva Ganguli Das said that with the opening of the new Daudkandi-Sonamura route, products from Tripura would also go to Bangladesh and export and import between the two countries would go up.
Assistant High Commissioner of Bangladesh in Tripura Kiriti Chakma said relations between India and Bangladesh built up during the Liberation War in 1971 has now reached a new height and Bangladesh is always ready to extend its hand of cooperation to India.