Karwan Bazar market relocation
Traders reluctant to move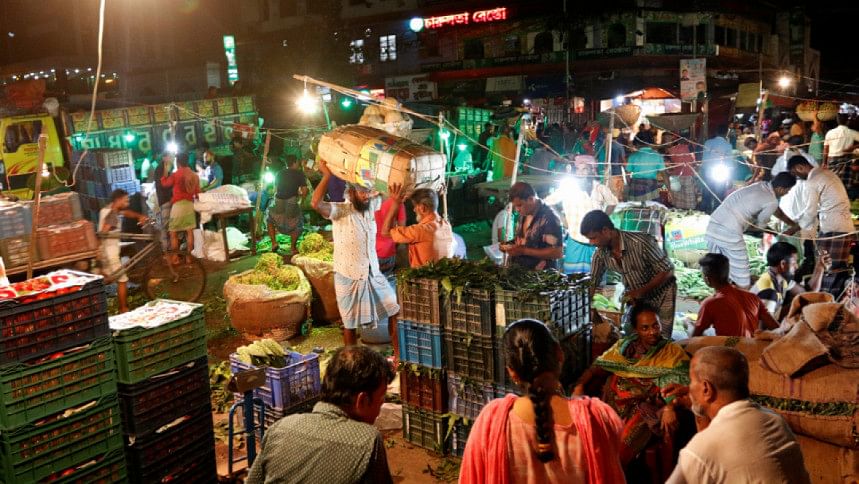 Dhaka North City Corporation has been working for years to relocate the Karwan Bazar wholesale market, which many believe is a major cause of traffic congestion in Dhaka.
But the traders say they were not formally informed about any such project and that they are not interested in moving when there is "uncertainty" over reestablishing their businesses.
In March, the DNCC announced its plan to fully vacate Karwan Bazar before the next national general election slated for late this year or early next year.
At present, DNCC owns four markets at Karwan Bazar on around 24 bighas of land -- with 1,789 permanent and 180 temporary shops.
However, DNCC claimed it has been in talks with the market association leaders for a long time to relocate the shops to Aminbazar and Jatrabari.
In 2006, the Executive Committee of the National Economic Council (Ecnec) approved a Tk 206 crore project to construct three markets in Mohakhali, Aminbazar, and Jatrabari, with an aim to modernise markets and supply system for farm products and reduce traffic congestion in the Karwan Bazar area.
But work on the project remained suspended until 2013 when the Local Government Engineering Department (LGED) and DNCC revised the total budget of the project at Tk 264 crore.
Talking to The Daily Star, Mutakabbir Ahmed, zonal executive officer (zone-5) of DNCC, said over 90 percent construction work of Jatrabari market and 80 percent work of Aminbazar "has been completed".
A total of 814 permanent and 180 temporary shops will be relocated to Aminbazar, which is being built on 13 acres of land and will house 1,165 shops, the DNCC official said.
Similarly, Jatrabari wholesale kitchen market is being built on 5.21 acres of land with 912 shops, and a total of 895 shops from Karwan Bazar will be relocated there, he said.
Meanwhile, the Mohakhali kitchen market was turned into a Covid-19 dedicated hospital during the pandemic, he said.
According to market association leaders, the late mayor of DNCC, Anisul Huq, held a meeting with them on March 29, 2016, but no one sat with them after that. They claim that the new designated markets are not suitable for them and they are not officially informed about the move.
Md Saifur Rahman Chowdhury, general secretary of Karwan Bazar Kachamal Arat Baboshayee Malik Bohumukhi Somobai Samity, stated that the authorities should have consulted with them before making the move.
He said they even do not know what kinds of facilities they are being offered at the new designated markets.
Saifur Rahman said establishing business at a new location takes three to four years. Karwan Bazar market has a long history and it is known to every wholesaler in the country. So, relocation will damage the intricate system.
The trader suggested that a modern, multi-storey market should be built on two to three acres of land in Karwan Bazar area and traders should be relocated there again.
Bablu Patwary, president of Karwan Bazar Khudra Baboshayee Somobai Samity, said the livelihood of a large number of people depends on this market. And the market is also equally dependent on porters, labourers, retailers, and drivers, he said, adding that they all need to be rehabilitated in the new markets.
Asked about the delay in the project, DNCC Chief Executive Office Md Selim Reza said that they have been proceeding with an elaborate plan and that's why it is taking time. "Our preparations have already been completed".
Asked whether they officially sat with the leaders of the market associations, the spokesperson said that they already had discussions with the leaders, and DNCC's local executive officer has met with them on several occasions, he said.
The market association leaders had informed them that they would like to meet with the mayor. Therefore, the DNCC authorities are currently preparing for a meeting with the mayor after making all necessary arrangements, the spokesperson said.
Regarding the market associations' claim that the newly constructed markets are unsuitable for conducting business, the spokesperson said the markets were designed based on the markets of developed countries.