Tourism awaits a fillip from long weekend
Hotels, resorts also offering up to 66% discount for World Tourism Day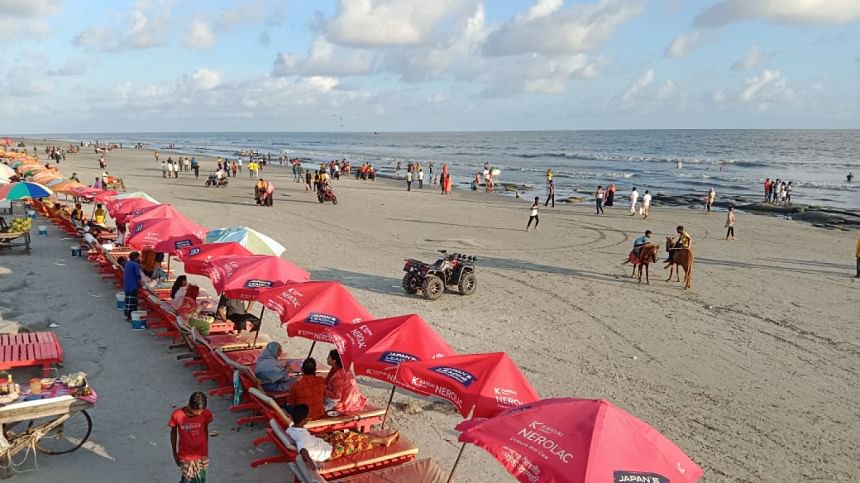 In Bangladesh, the peak season for the tourism and hospitality sector begins in September and continues until March. And the upcoming long weekend is going to provide an initial boost to the sector, with operators in major holiday destinations coming up with various offers.
Thursday is a public holiday on the occasion of Eid-e-Miladunnabi and Friday and Saturday are weekly holidays.
For example, some hotels and resorts are offering up to 66 percent discount on the occasion of World Tourism Day on September 27 to promote tourism in major destinations such as the beachside cities of Cox's Bazar and Kuakata.
Marking the occasion, Royal Tulip, one of the largest upscale hotels in Cox's Bazar, is offering a three-night stay at the price of just one night, around a 66 percent discount on their rack rate.
All 484 of its rooms have already been booked from September 27-29, said Abdul Awal, director marketing and sales, Royal Tulip.
According to Awal, almost all hotels in Cox's Bazar, the nation's prime tourist destination, have come up with offers to attract holiday-makers.
He said there will be a three-day long tourism fair in the beachside city's Kalatali intersection, where hotels and restaurants will take part and provide special offers.
On the other hand, despite offering no discounts, all the rooms at Seagull Hotels Ltd -- the first five-star rated luxury hotel in Cox's Bazar -- have been booked, said Gazi Nasir Uddin, head of marketing of the hotel.
He said they were fully booked for the long weekend beginning on September 28.
Md Emran Hossain, manager of Long Beach Hotel in Cox's Bazar, said they could not introduce any special offers for World Tourism Day as in other years since it fell on a long weekend. Yet, almost all its rooms have been booked.
Hotels and motels in Kuakata, one of the country's top tourist attractions, are offering a 50 percent discount for World Tourism Day.
Tourists can avail this discount within seven days of September 27, said hotel and motel owners.
The Kuakata Beach in Patuakhali is located on the southernmost tip of Bangladesh. About 5,000 people rely on the local tourism sector.
The leaders of the Kuakata Hotel Motel Owners Association said 80 percent of the hotel and motel rooms had already been booked.
Motaleb Sharif, general secretary of the association, said a big event was being organised in Dhaka on the occasion of World Tourism Day.
In Kuakata, hotel and motel owners will hold various programmes, including a colourful procession.
"We are expecting a significant number of tourists in Kuakata compared to previous years as there is a three-day public holiday. Already 80 percent of the rooms in most hotels and motels here have been booked from September 27."
Shah Alam Howladar, president of Kuakata Hotel Motel Owners Association, said tourists were more interested in visiting Kuakata after the opening of the Padma Bridge due to the smooth road connection with the capital.
Hossain Mohammad Shakib, managing director of Hotel South Bengal, said 90 percent of rooms had been booked for September 28 and 29 while 80 percent were booked for September 30.
He expects those figures to reach 100 percent in the coming days.
Tour Operators Association of Kuakata (TOAK) Secretary Zahirul Islam said 70-80 percent of Kuakata's hotels were already booked for September 28-30.
"All thanks to Padma Bridge and seamless transportation system," he said.
Md Shaheen Khan, director of Hotel Banani Palace, said: "We are getting a good response from tourists due to the public holiday and the weekend."
According to the Kuakata Hotel Motel Owners Association, Kuakata has more than 170 hotels -- large and small -- with a total capacity of 15,000-20,000 people.
Md Shohanur Rahman Swapan, director (public relations), Tour Operators Association of Bangladesh, said the number of domestic tourists had been increasing after Covid-19 despite economic vulnerability.
He said the sector would grow rapidly if the economy stabilises.
According to him, there are few vacancies in hotels across Cox's Bazar, Chittagong Hill Tracts, Syhlet and Kuakata.
Swapan said this sector will play an important one in contributing to the country's economy as well as creating employment opportunities.