Time to formalise informal e-waste management in Bangladesh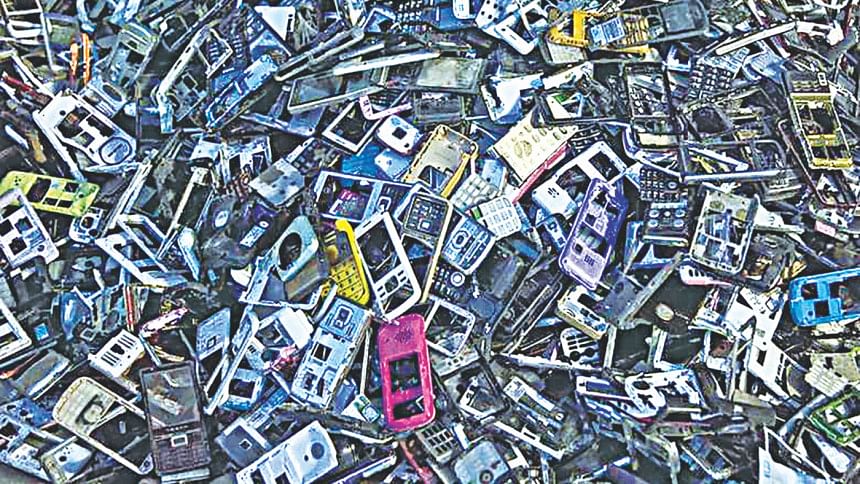 With 4-5 percent annual growth, the global electrical and electronic waste (e-waste) reached up to 44.7 million tonnes in 2016, of which 20 percent, or 8.9 million tonnes, is documented to be collected and recycled properly. According to the UN University, 50 million tonnes of e-waste is discarded by the world inhabitants which is greater than the weight of all commercial airlines the world has seen so far.
E-waste is hazardous, complex and mostly discarded in the general waste stream, especially in developing countries. The unprecedented growth of e-waste is not only contributed by developed countries but also by developing countries like Bangladesh.
In case of Bangladesh a wide range of factors, including rapid globalisation, urbanisation, increased access to modern technology and purchasing power, substantial reduction in new product development cycle, increased frequency of offering new products, and higher use of planned obsolescence strategy by electronic products manufacturers are contributing towards the generation of a huge amount of electronic waste stream.
The growth of such amount of waste in recent years is exponential when compared to even four to five years back. The prediction that in the coming years we would consume even more types and varieties of electronic goods propelled by the increased prosperity of the country. This consumption will eventually lead to even higher growth of electronic waste. Unfortunately, we are yet to know how much we have generated recently and in the recent past, let alone the future e-waste generation data.
A 2009 estimation predicted that Bangladesh generates roughly 2.81 million tonnes of e-waste every year and the lion's share of that waste stream is recycled by an unskilled, deregulated, unstructured and informal recycling sector. This is 2019 and naturally the e-waste volume is 4-5 folds of the amount of 2009 and still the informal sector is primarily handling the recycling process of this huge amount of e-waste. This is posing significant human and environmental health risks and leads the country to lose a significant amount of recoverable precious materials.
China, India, Ghana, the Philippines, Pakistan and Nigeria are the major countries that recycle or reuse more than 80 percent of e-waste generated by developed countries. Of them, China receives and recycles 70 percent alone.
Researches showed that e-waste is not only traded between developed and developing countries but also between developing countries. Upon treatment or recycling of the imported e-waste, China uses the recycled materials in manufacturing various types of electronic and electrical equipment. One of the major destinations of the Chinese refurbished outputs is Southeast Asian countries.
Bangladesh is also becoming an important secondary recipient of e-waste global export due to its substantial trade relationships with China, its exponential growth in internal and regional trade, illegal import by brokers and traders, use of 'waste tourists' and lack of e-waste specific regulations.
According to the MRC report 2017, $2.2 billion worth of consumer electronic products (HS code 84 and 85) were imported to Bangladesh in 2016, where China (69 percent) was the largest exporter. Ceiling fan and other types of fan, air conditioner, refrigerator, washing machine, battery, UPS, microwave woven, television and spare parts are included in the same code. Besides, in 2018, 40 million mobile phones were imported where 30 million imported legally and the rest through grey channels, according to an estimate of the Bangladesh Mobile Phone Importers Association.
With an annual growth rate of 15-20 percent, the laptop market of Bangladesh was worth about $175 million in 2018 and 60 percent of the demand is largely meet by the import of laptops from China, Singapore, the USA, Thailand and Malaysia.
The consumer electronics market is also growing in Bangladesh. With 15 percent yearly growth rate, the market of manufactured and imported consumer electronics was estimated at $4 billion in 2017. Many Bangladeshi companies have also started manufacturing a range of consumer electronics products in recent times to meet the demand of the lower income people. This clearly represents a potential growth trend in the consumer electronics industry. However, this also increases the worry of the exponential growth of e-waste. Bangladesh does not have any preparation whatsoever to treat or manage this huge amount of e-waste in a sustainable way.
Bangladesh currently has no specific environmental policy or act or guidelines to directly manage the e-waste problem. Though a draft regulation on 'E-waste management rules' was developed and amended in 2011 and 2017 respectively under the Environment Conservation Act, 1995, no progress in rules acceptance and implementation has been visible till today.
It is commonly said that the future of e-waste management in developing countries depends not only on the effectiveness of local government and the informal operators of recycling services but also on community participation and private manufacturers together with national and regional initiatives. Integrating the informal sector into the formal could result in reduced pollution and health hazards. In addition, efficient and effective resource management practice may offer the country a lot of reusable resources from the e-waste recycling process. Now-a-days, extended producer responsibility (EPR) is considered as one of the most widely-used formal waste management-related policies that help integrate the informal waste management sector.
EPR requires the producers of electronics goods to take all or partial responsibility for the disposal of their commercialised products. EPR policy requirements can be implemented in many forms.
One of them is 'Product take-back requirements' where at the post-consumption stage the manufacturers take the responsibility of taking back their products in whole or part. The extent to which producers are required to recycle their post-consumption products can be defined in the performance standard requirements.
The raw materials categorised as high environmental risk are often subject to material taxes. The purpose of such taxes is to encourage manufacturers to shift towards more environment-friendly parts or components. In some cases, consumers assume the responsibility of e-waste management by paying a deposit while purchasing a product and then receiving a refund -- known as deposit or refund schemes -- when returning the post-consumption product. Customer responsibility can also be extended by charging consumers advance disposal fees at the point of purchase for the cost of treating and recycling without any refund afterwards.
Landfill taxes, illegal dumping fees, tax benefits and subsidies for eco-friendly design, labeling, products and promotions are other forms of EPR implementation. Taking the various forms of EPR into account, it would be interesting to see the level of urgency from the electrical and electronic products manufacturers and/or resellers of Bangladesh regarding the adoption of EPR.
According to the proposed E-waste Management Rules, 2017, the government is planning to introduce the deposit or refund schemes. Moreover, the proposed rules also set the goal to increase the extent of producer responsibility gradually from 15 percent to 55 percent from the first year to the four year of rules implementation. Although many consumer electronics manufacturers selling home appliances, batteries and bulbs are already taking back their old, close to end of life electronic products through different types of consumer promotions, the intention is not clear – whether it is a strategic initiative motivated by EPR or something else.
There is no doubt that integrating EPR into the informal e-waste recycling sector would be highly challenging for Bangladesh. A research conducted by the authors on the informal sector of e-waste management revealed that there is a lack of coordination among collection units, insufficient data on regular supply and demand of e-waste, no quality control or check on supply, inadequate infrastructure, and dearth of education and skill on separation, dismantling and even recycling.
Factors such as manufacturing of non-branded and counterfeit products, usages of refurbished and repaired second-hand products, the likeliness of original parts being replaced by other brands or generic components are compounding the existing challenges faced by the e-waste management sector.
To mitigate these challenges and integrate with the EPR system, there is a strong need to coordinate the input and output sector of the informal e-waste system with proper institutionalisation and regulation. With adequate public awareness campaign, a basic waste separation and collection infrastructure needs to be developed and the recyclers and recycling centres must be developed with right training and education.
The monitoring process can be streamlined through recycling licensing and certificates. Interface organisations such as third-party private recyclers can be nurtured to mediate between the informal sector and the manufacturer group. The integration is likely to be possible if the informal sector serves as organised collection points for the formal waste sector and after basic sorting is able to divert as much of the e-waste as possible to treatment facilities for recycling and treatment primarily performed by manufacturers or third-party recyclers.
Paying particular attention to the role played by the informal sector of e-waste management and specifying manufacturers responsibilities for such management with the integration of right environmental policy and capacity-based regulatory enforcement can pave the pathway to develop a formalised end-of life products waste management system. This is a dying need for Bangladesh if we are to enjoy the technology-mediated development with its full potential.
The authors are professors in the Department of Marketing at the University of Dhaka.