Thirst for cultures changing consumption patterns: study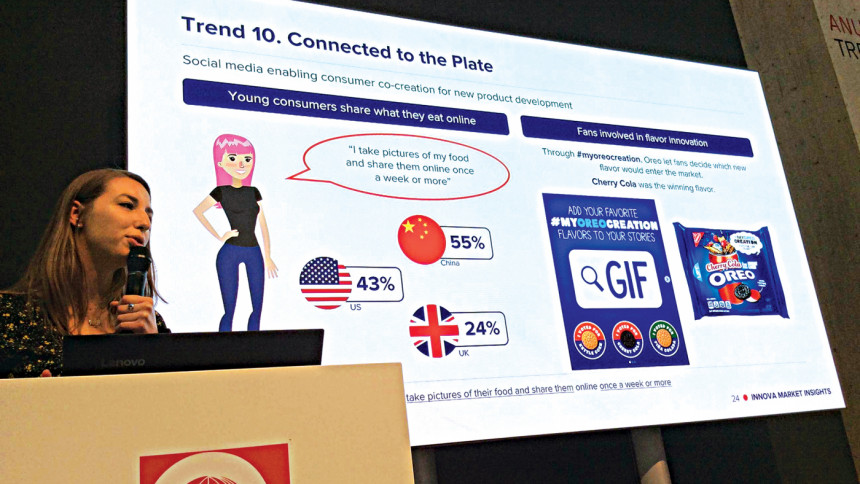 Consumers are on a big and broad journey of discovery, moving out of their comfort zones to explore bolder flavours and multi-sensory food experiences, according to Innova Market Insights, a global knowledge leader in the food and beverage industry.
The desire of consumers to gain knowledge of other cultures has contributed to a 17 percent average annual growth in new food and beverages launched with a "discovery" claim between 2014 and 2018.
The Netherlands-based research firm also found in 2018 that 61 percent of consumers in the United Kingdom love to discover new flavours. It is four percentage points higher for food and beverages launched with an ethnic flavour.
"Globalisation is making consumers interested about new food and drinks," said a top official of the research firm while presenting the "Top 10 trends for 2019" on the sidelines of the Anuga trade fair on food and beverages yesterday.
"Discovery: The Adventurous Consumer" leads the list of the trends followed by the plant kingdom (eating plant-based food), alternatives to all (alternative dairy, proteins etc.), green appeal and snacking.
Consumption of plant-based foods, meaning alternatives to meats, is also fast increasing riding on consumers' health consciousness.
According to Innova's survey in 2018, 54 percent of Chinese consumers say they have increased their consumption of fruits and vegetables to be healthier.
That's the reason, the research found, food and beverages launched with a plant-based claim have grown at over 60 percent a year between 2014 and 2018.
The market for alternative dairy, proteins and sweeteners is also on a rapid rise.
Many companies attending the fair said they were changing both products and packaging to answer consumers' call to sustainability.
The Innova's survey also found that two out of three UK consumers expect companies to invest in sustainability and half of German consumers consider waste and pollution to be their biggest environmental concern.
PRAN-RFL Group, which has two stalls at this year's fair, said they make and export food items based on changing demands from consumers around the world.
"We participate in different trade fairs across the world to understand global trends and consumers behaviour," said Md Mizanur Rahman, chief operating officer for exports of the group.
PRAN has exported $347 million worth of food and beverage items to 141 countries, including 20 European countries, in fiscal 2018-19. The Bangladeshi company has more than 800 food and beverage products.
Sajeeb Corporation, another Bangladeshi company, is also taking part in the fair.