Tangail's lemon growers cash in on Covid-19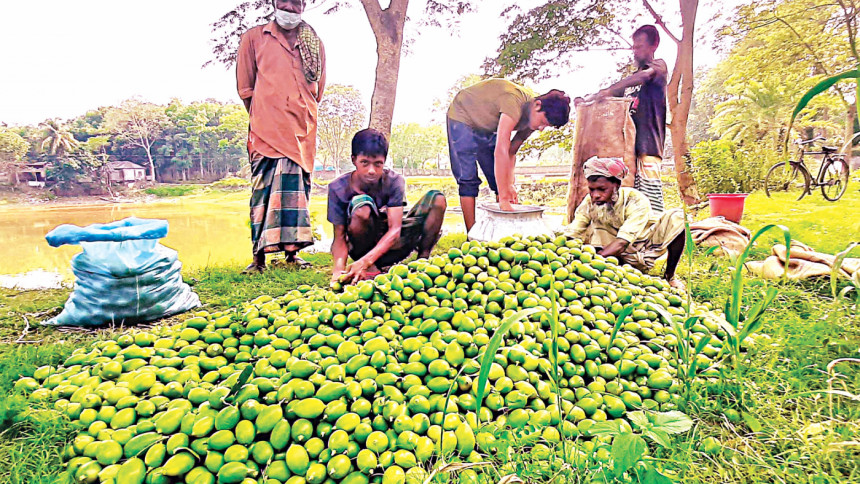 Lemon growers in Tangail are very pleased by the huge demand and increased prices for their crop this season.
According to traders, the demand for citrus fruits increased following the coronavirus outbreak in March last year as people believed foods with vitamin C would help stave off the serious illness.
And now, amid a second wave of infections, both the demand and price for lemons reached an all-time high.
Tangail is known for producing copious amounts of lemon, including the seedless, elachi and Colombo varieties.
The district's Delduar upazila is the main hub for lemon growers and orchards in the area.
As per data from the Department of Agricultural Extension (DAE) office in Tangail, lemon was cultivated on 2,157 hectares of land in the district this season.
Delduar upazila was the most heavily cultivated as 800 hectares of land was used while it was 615 hectares in Mirzapur, 130 hectares in Sakhipur and 71 hectares in Madhupur.
The district grew around 42,287 tonnes of lemon in total this year with each hectare producing about 20 tonnes of the fruit.
The lemons grown in Tangail are sold across the country while measures to begin export are underway, DAE officials said.
After speaking to several traders in Delduar's Laohati market, it was learned that a 120-kilogramme (kg) sack of lemon normally sells for about Tk 3,000.
But considering the current demand, the same amount is now being sold for Tk 4,500 to Tk 5,000. Tofayel Ahmed, a lemon farmer of Laohati village, told The Daily Star that wholesalers from all over the country come to local markets to buy the fruit at good prices.
Although the Bangla months of Falgun and Chaitra (February-April) is a dull period for lemon production, the 120-kg sacks sold for a record Tk 12,000 at local markets.
"However, prices eventually fell after other seasonal fruits packed with vitamin C, such as mango and pineapple, came to the market," said Nurul Islam, a lemon trader of Fazilhati village in Delduar.
Moslem Uddin, a lemon grower in Sakhipur upazila, said that his orchards on four acres of land can house about 300 to 350 saplings per acre at a cost of about Tk 70,000.
Lemons can be harvested three years after a sapling is planted. The price per hali (four pieces) of lemon was Tk 40-50 in March this year but eventually fell to Tk 20 to Tk 25.
"I have already sold lemons for Tk 10 lakh this year and hope to sell another Tk 5 lakh worth in the next one month," Uddin added.
Marfat Ali, a farmer of Kalianpara village, said the coronavirus pandemic and Ramadan came as a blessing for local lemon growers as they enjoyed double benefits this year.
"I have already sold lemons worth Tk 5 lakh from my three orchards on two aces of land and besides, I have sold 12,000 saplings for Tk 2.4 lakh earlier," he added.    
DAE officials in Sakhipur say that around 100 people in the upazila are growing lemons on a commercial basis. Considering this year's success, many farmers are now thinking about expanding lemon cultivation in place of other crops, they said.