USD 1 now Tk 96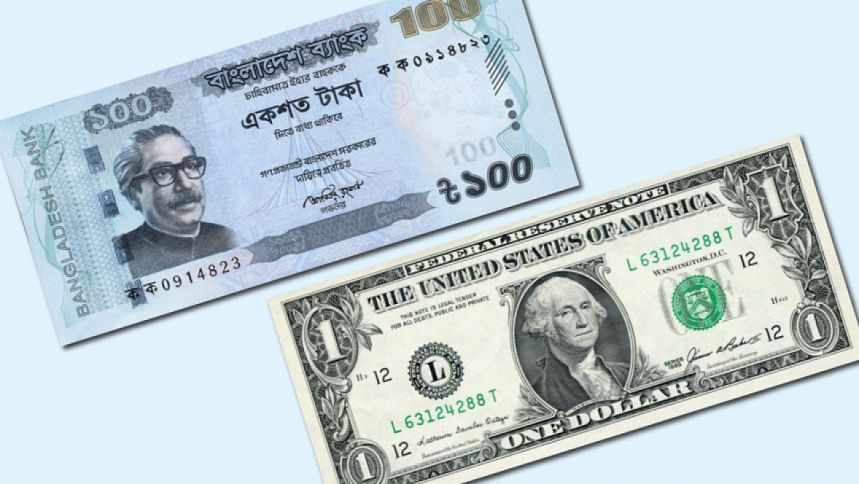 The Bangladeshi taka today depreciated against the US dollar, hitting Tk 96 on the interbank platform after the Bangladesh Bank had decided last week to allow the market forces to set the exchange rate of the local currency.
The central bank sold $65 million to some banks at Tk 96 for a dollar, up from the September 11's rate of Tk 95.
The taka has faced the latest round of the depreciation after more than one month since it had lost its value by Tk 0.30 to Tk 95 for each dollar on August 8.
A Bangladesh Bank official, on the condition of anonymity, said the latest depreciation was a primary step to adjust the exchange rate based on the demand and supply of the dollar in the market. 
The central bank arranged a meeting with banks on September 9 where it decided that it would allow the market to fix the exchange rate of the US dollar against the local currency.
The leaders of the Association of Bankers, Bangladesh (ABB), a platform of managing directors of banks in Bangladesh, and the Bangladesh Foreign Exchange Dealers' Association (Bafeda), a platform of banks, took part in the meeting.
Both the Bafeda and ABB jointly organised another meeting at the Sonali Bank head office on September 11 for fixing the buying and selling rates of the US dollar in order to contain the volatility in the foreign exchange market.
The country's foreign exchange market has been facing a volatile situation soon after the Russia-Ukraine war had started.
The war has created an extreme level of global supply chain disruption, swelling the country's import payments to a large extent.
Under such a situation, the foreign exchange reserves in Bangladesh plummeted to below $38 billion last week compared to more than $46 billion a year ago.
The central bank has been supplying dollars to the market on a regular basis for months with a view to helping importers to clear their bills.
The BB injected $2.82 billion into the market this financial year, after it had supplied a record of $7.62 billion in the last financial year.