Stock turnover hits decade high
Index drops on profit booking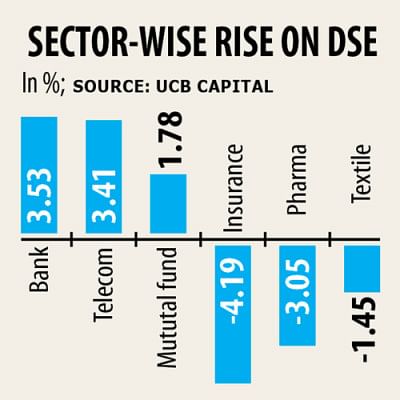 Stock prices dropped yesterday as investors were more inclined towards profit booking but turnover rose to Tk 2,546 crore, a decade high, led by trade of Robi, Grameenphone, Beximco Pharmaceuticals and banking shares.
The DSEX, the benchmark index of Dhaka Stock Exchange, fell 42 points, or 0.56 per cent, to 5,609.
The telecom and banking sectors saved the day in preventing a deep fall although the first half hour of trade made gains of around 140 points. Banking stocks normally rise in the December-January period because it marks the end of their financial year, said a merchant banker.
But this year banking stocks stayed nearly dormant because investors' trust on their assets' quality has waned, he said, adding that the pandemic intensified the tension.
Investors poured some funds into banking stocks yesterday considering the fact that the sector remains at a very low level, he said.
Of 30 listed banks, 27 witnessed a rise, one a drop and two stayed as they were.
Banking stocks rose 3.53 per cent while telecom 3.41 per cent, according to UCB Capital Management.
If banks can return to good business then stock investors will again invest here and the stock market will also be benefitted because this is still a large sector in terms of capital, added the merchant banker.
Grameenphone alone added 12 points to the DSEX yesterday while the Investment Corporation of Bangladesh, Eastern Bank, National Bank, Dutch-Bangla Bank, Islami Bank and Prime Bank jointly contributed 20 points, according to Amarstock.com.
Robi's stocks rose 9.75 per cent but this had little impact on the index as it is still comparatively a new company in the market.
Turnover, another important indicator of the market, rose 16 per cent to Tk 2,546 crore yesterday, the highest in the past decade.
On June 28 last year, the DSE witnessed a turnover of Tk 2,543 crore due to share transfers of GlaxoSmithKline to Unilever. But yesterday the market propelled the turnover beyond that point.
Stocks of Robi Axiata topped the turnover list yesterday, with a trade of Tk 256 crore, followed by Beximco Pharmaceuticals, Beximco, IFIC Bank and LafargeHolcim Bangladesh.
Stocks of Beximco Pharmaceuticals, however, fell 7.33 per cent, which analysts reasoned was for trepidations over the company's plans to deliver vaccines developed by AstraZeneca and the Oxford University.
The banking sector dominated the turnover chart, accounting for 18.6 per cent, followed by pharmaceuticals with 13.23 per cent, according to UCB Capital Management.
The market had been rising in the past eight trading days so yesterday's fall was within expectations, said stock investor Abdur Rahim.
As the investors are taking in profits, it will enhance the depth of the market, he said.
If the investors continue to pour money, confidence will grow taking the market along, Rahim added.
The port city bourse also fell yesterday. The general index of Chattogram Stock Exchange dropped 134 points, or 0.82 per cent, to 16,237 yesterday.
Among 298 stocks traded, 115 rose, 149 fell and 34 remained unchanged.