Stock profit booking continues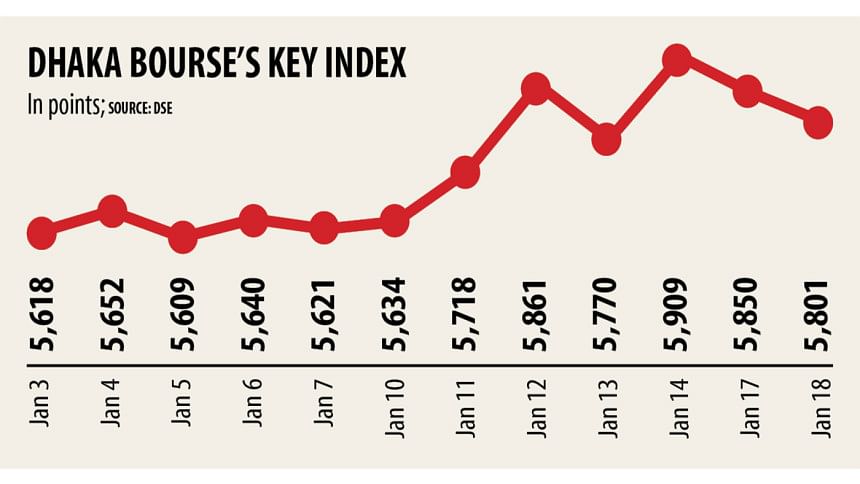 A tendency to take out profits continued to prevail in the stock market yesterday as had been in the last couple of days.
The DSEX, the Dhaka Stock Exchange's (DSE) benchmark index, dropped 48.71 points, or 0.83 per cent, to 5,801.72 yesterday.
"The index rose over 15 per cent in the last one month, so this profit booking tendency should be of no surprise," said Mir Ariful Islam, head of research of Prime Finance Asset Management Company.
On the bright side, buyers continue to stay engaged in the market, he said, adding that investors regained their confidence and so fresh funds were coming in.
Institutional investors are also pouring in their funds, he added. Turnover, an important indicator of the stock market, plunged 36 per cent to Tk 1,519 crore.
The currency is cheaper in the money market now but investment opportunities are still not that supportive, so the money is being diverted to the stock market, said a merchant banker.
In the run up, some stocks have already become overvalued although a number of well performing stocks have remained lucrative, he said.
"So investors can invest considering companies' potential and profitability," he said, recommending to be cautious and paying heed to no rumours if hard-earned money was to be saved.
If small investors incur losses in the market, it will leave a dent in the long run, the merchant banker added.
ADN Telecom topped the gainers' list, rising 9.82 per cent, followed by Associated Oxygen, New Line Clothings, National Feed Mills and Asia Insurance.
Beximco topped the turnover list with trade worth Tk 249 crore followed by Robi Axiata, LankaBangla Finance, Beximco Pharmaceuticals and Summit Power.
Savar Refractories shed the most, dropping 9.61 per cent, followed by Alltex Industry, Robi Axiata, Alif Manufacturing and Union Capital.
The Chattogram bourse also fell yesterday. The general index of Chittagong Stock Exchange (CSE), the CASPI, dropped 173.58 points, or 1.01 per cent.
Among the 255 stocks witnessing trade, 43 advanced, 162 fell and 50 remained unchanged.