StanChart betting big on Shariah-based banking
Bangladesh is a key focus for its large Muslim population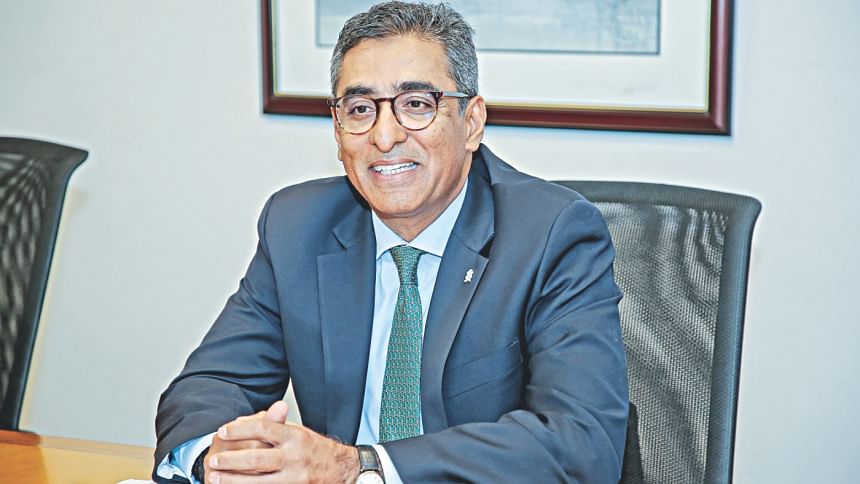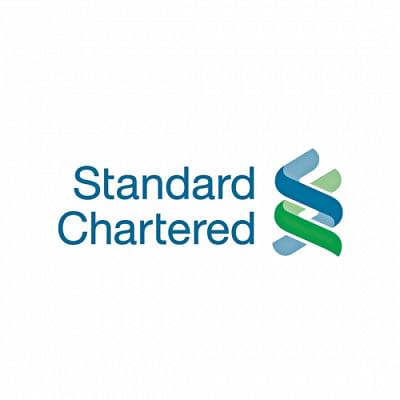 Standard Chartered is bullish about the fortunes of its Islamic banking business, Saadiq, in the country, seeing the religious bent of the Bangladeshis and the economy's tremendous growth momentum, said the global head of the lender's Shariah-based arm.
"For the country, we have lots of expectations," Rehan M Shaikh, chief executive officer of Standard Chartered Saadiq, told The Daily Star in an interview on his last trip to Dhaka.
Shaikh is based in Dubai, where Standard Chartered Saadiq's headquarters are located.
There are not many countries in the globe where the majority of the population is Muslim. But Bangladesh has the third largest number of Muslim population in the world.
The global lender introduced Islamic banking in Bangladesh 15 years ago and has been a trendsetter since.
It was the first to introduce Islamic credit card in Bangladesh in 2007 and arrange Sukuk transaction in 2019.
In 2017, the lender arranged a $32 million Diminishing Musharakah Facility for Noman Terry Towel Mills and Ismail Spinning Mills, two concerns of Noman Group, in what was the first Islamic syndication.
Its achievements have caught the attention of different global entities in recent years. For instance, in 2019 Global Finance, a New York-based monthly financial magazine, recognised it as the best Islamic financial institute in Bangladesh for 2019.
"We will open up this market more within the next 4-5 years both for retail and corporate clients," said Shaikh, the global head of standard chartered Saadiq.
Standard Chartered is putting in huge time, effort and resources to take its Shariah-based financial services forward and the brand to the next stage in Bangladesh, where it has been since 1905.
It has introduced a product, Saadiq Hajj Savers, to provide its customers a one-stop solution for Hajj and Umrah. This account will enable customers to deposit a fixed amount every month and earn profit on their monthly average balance at an attractive rate.
It has another one-of-its-kind savings product in the works: the Saadiq Graduate account targeting fresh university leavers.
The overall market size of Islamic banking in Bangladesh is about 23-24 per cent and it is expected to grow further as clients are gradually becoming aware of the Shariah-based financial services, said Shaikh, who has a business administration degree from an American university.  
Given the religious bent of Bangladeshis, the lender is finding the Bangladesh market more receptive towards Islamic products.
A lot of conventional banks are turning in to Islamic ones and some of them are opening Islamic banking windows, he said. "This means the space of Islamic banking is growing at a faster pace."
In Bangladesh, two conventional banks -- Standard and NRB Global -- have recently managed approval from the central bank to become full-fledged Shariah-based lenders.
This will take the total number of Islamic banks operating in the country to 10.
The Islamic banking window of the lender is also intent on helping Bangladesh achieve its growth ambitions.
"We are increasing our investment in line with the expectation of the country. We want to be part of the journey that Bangladesh is going through."
Ensuring the Shariah-based products are in front of the clients when they need them is becoming a challenge for Standard Chartered given its remarkable growth, Shaikh said. 
Besides Bangladesh, Islamic banking has seen tremendous progress across the globe in the last two decades thanks to regulatory support.
Financial regulators of Malaysia, Pakistan, the UAE and some other countries, where Islamic banking has managed popularity, are very active in promote Shariah-based finance.
Similarly, the Bangladesh Bank is also coming up with time-befitting regulations, which have helped the lender to promote Shariah-based banking here.
"The initiatives have helped banks like Standard Chartered. And Islamic finance has become an integral part of our business," he said, adding that the British lender is expanding its services to new markets like African countries given the tremendous growth opportunity.
Shaikh, who has more than 30 years of banking and management experience, said that Islamic banking has yet to get the shape that conventional bank has.
Shariah-based banking started its journey 35-40 years ago in a structured manner and Standard Chartered embraced it in 2003.
"We are quite hopeful that our Islamic banking window will get boost in a tremendous way as 70 per cent of the Muslim population in the world are living in 70 countries where Standard Chartered has active presence."
Besides, the lender is operating the Shariah-based financing services in some countries from its head office.
The bank is trying to make sure that the customer demand for Islamic banking products are fulfilled whether they are retail or corporate banking customers and government agencies.
"As part of our commitment, the bank is bringing in a lots of events globally to push up the Islamic finance base."
One such event is the "Living Islam" series, which draws in Islamic scholars and experts to talk about topics that are part of Muslims' everyday life. The lender has taken a decision to organise the event in its different core markets, including Bangladesh.
Standard Chartered held the event in Bangladesh on February 3 in Dhaka.
"Bangladesh is the second country where we have organised the event. We discuss specific issues about business ethics in light of the profits. It is my desire to spread it globally."
The lender will arrange the event in Bahrain and Malaysia next.
"So we want to institutionalise the event as our job is just not restricted to offering products."
He also touched upon some issues – such as uniformity among Islamic scholars' thinking -- that have held back Islamic banking in the global market.
"The challenges of Islamic banking is not different between Bangladesh and the global market."
Human capital is a big challenge for Islamic banking.
"I have also come from conventional banking, but I have been doing my job in Islamic banking for the last 15 years. But there is hope as many universities are running Islamic programmes."
Pakistan, Malaysia, Indonesia and some other countries are running different courses on Islamic banking.
All stakeholders, ranging from regulators to Shariah scholars, have to work in tandem to make sure that products and services are in the line with the expectations of clients and growth.
Some markets have successfully set up the appropriate infrastructure given their liquidity framework and corporate governance, he said, adding that Shariah-based banking has reached a uniform platform in the last 5-7 years among some countries.
"In Bangladesh, we are working closely with the central bank and it has given all-out support to promoting our business," he said, adding that the required regulation for Islamic financing services for Bangladesh are being well met from the global Shariah board.
The lender is completely prepared to set up Shariah board in Bangladesh if the central bank provides any such condition.
"We are the only bank with four Shariah boards. One is the global Shariah board and the three others are for the UAE, Pakistan and Malaysia."
Shaikh said Islamic banking can be embraced by non-Muslims too.
"It is a wrong concept that Islamic banking is only applicable for Muslims. It is an alternative banking form paralleling the conventional ones."
It is true that Muslims prefer Shariah-based banking. But some of Standard Chartered's key markets have a lot of non-Muslims who are taking Shariah products.
"It is because, they are getting benefits from the Shariah products that the bank has offered."