Social distancing in garment factories out of the question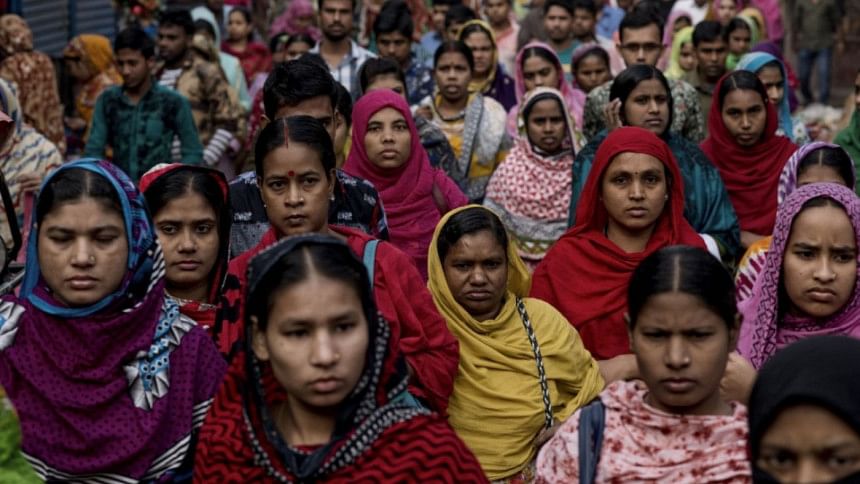 Social distancing has proven to be one of the most effective ways to contain the spread of the lethal coronavirus but the safeguard remains largely elusive in Bangladesh's garment factories that employ about 4.1 million people.
Stakeholders blame it on three factors: most factories pay wages in cash for which workers have to gather in a place and form long queues; many garment units with dense seating arrangement are still open; and workers often take to the streets in droves demanding arrears.
As many as 76 per cent of the factories still pay wages in cash, 9 per cent via mobile financial services, 4 per cent through banks and 11 per cent through other means, according to a survey by the Bangladesh Garment Manufacturers and Exporters Association (BGMEA). 
 The BGMEA and the Bangladesh Knitwear Manufacturers and Exporters Association (BKMEA) in a joint statement urged the factory owners to clear the wages of March as soon as possible.
Factory owners have also been asked to maintain social distancing among workers during salary disbursement.
A factory owner at Ashulia, an industrial belt on the outskirts of Dhaka, said he paid 70 per cent of his 12,000 workers in cash and the rest via MFS or bank accounts on April 9.
"I tried to enforce social distancing while disbursing salaries, but it's not always possible," he said asking not to be named.
So, he has already opened MFS accounts for all his workers so that he can pay them digitally from the next month.
The industrial police always try to ensure that workers maintain social distancing in the factories, said Md Farhad Hossain Khan, additional superintendent of police at the industrial police headquarters in Uttara.
"But the number of workers is so high that it's not always possible," he added.
As of yesterday, some 87 per cent of the garment workers were paid their salaries for March, according to the BGMEA, while BKMEA said 477 of their members out of the total 833 have cleared wages so far.
"Social distancing is hard to maintain in the garment sector as workers are coming to factories every day," said Nazma Akter, president of Sammilito Garment Sramik Federation, a platform for apparel sector workers.
She called upon factory owners and retailers to take a united stand to this end.
"We have requested every member of our association to pay wages as soon as possible, preferably by April 16," said BGMEA President Rubana Huq.
Though most factories pay salaries in cash, MFS would be a better option, she said, adding that they have requested the owners who are still paying in cash to help their workers maintain social distancing.
So far, 300 factories paid salaries for March through bank transfers or MFS accounts, said Shibnath Roy, inspector general of the Department of Inspection for Factories and Establishments, adding that social distancing is difficult to maintain in the labour-intensive factories.