Silver lining for the banking sector as loan recovery soars in 2019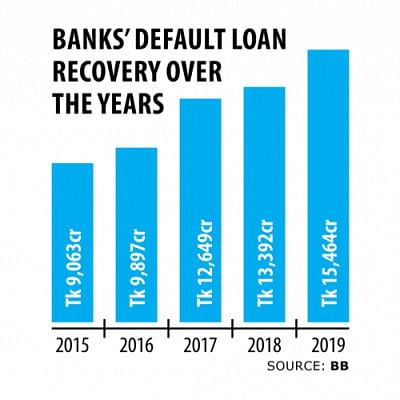 Pushed into a tight corner banks put up a spirited fight against the mounting default loans last year, as their loan recovery went up 15.46 per cent.
Banks retrieved Tk 15,465 crore from defaulters in 2019, according to data from the Bangladesh Bank. 
The positive news comes at a time when the majority of the banks are mired in problems, including a lack of corporate governance and an upward trend of defaulted loans.
"Banks are suffocating under the burden of the defaulted loans and they have no way other than to give all-out efforts to recover the delinquent loans," said Md Arfan Ali, managing director of Bank Asia.
There was no scope for banks but to adopt a strong loan recovery programme to run their operations.
"Our recovery team is monitoring defaulters round the clock to realise the bad loans. The monitoring has paid off as we have recovered a handsome amount," Ali added.
But another managing director of a bank said the recovery of defaulted loans would have been much better had the central bank not offered the relaxed rescheduling facility.
The facility allows defaulters to reschedule classified loans by making a down payment of only 2 per cent of their outstanding amount instead of the existing 10-50 per cent.
The defaulters also got a year's grace period.
But only Tk 536 crore were recovered as down payment, a tiny amount given the total rescheduling amount of Tk 19,119 crore.
Many habitual defaulters have unclassified their loans by just giving a small amount of money, creating a barrier for banks to recovering their defaulted loans smoothly, the MD said.
Despite the relaxed rescheduling facility and a strong recovery effort, default loans stood at Tk 94,313 crore at the end of 2019, up 0.42 per cent year-on-year.
Dhaka Bank has recently got travel restriction on a good number of habitual defaulters from the courts, which helped in containing the default loans, said its MD Emranul Huq.
The bank also filed cases against the defaulters under the Negotiable Instruments Act, 1881 as part of its effort to expedite the recovery of defaulted loans, he said.
Large borrowers usually take prompt measures to repay loans when they face embargoes on going abroad, he said.
"Many habitual borrowers of my bank had faced the consequence last year, which forced them to pay back the money hurriedly. We will continue the effort this year as this is a good tool to bring down the default loans," Huq said.
Pubali Bank gives awards to its officials based on their performance of recovering defaulted loans, said its MD MA Halim Chowdhury.
Loan recovery would have been increased manifold had lenders settled the pending cases with the money loan courts in a quick manner.
He fears that banks would face a tough situation in recovering the defaulted loans this year as a large number of borrowers had managed the one-year grace period.
Besides, many businesses are going through a tough time because of the outbreak of coronavirus across the globe, he said.
"Banks may be hit hard by the situation and this will have an adverse impact on their recovery programme," Chowdhury added.
Default loans recovered by state-run banks rose 1.40 per cent year-on-year to Tk 4,110.56 crore in 2019. It rose 22.66 per cent to Tk 11,267 crore for private banks.
Recovery at foreign banks, however, dropped 42 per cent to Tk 87.52 crore.