Sheba.xyz with a2i to bring govt services at doorsteps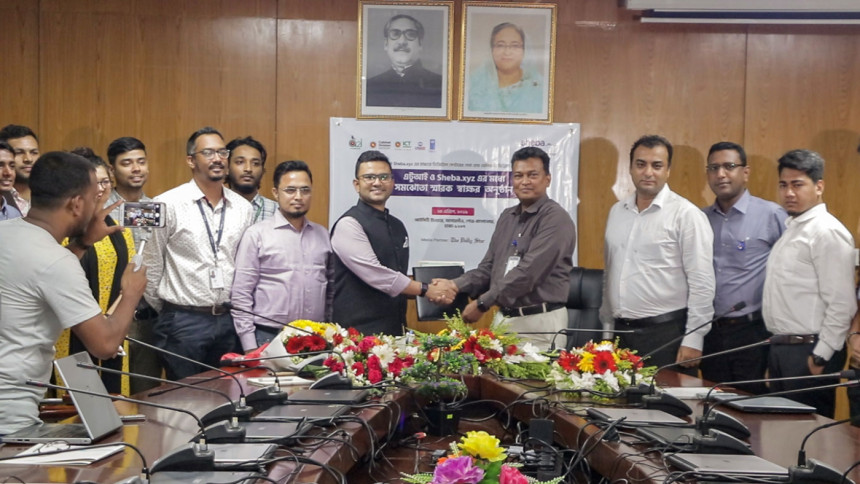 A MoU Signing and Inaugural ceremony was held today between the country's first and largest service marketplace, Sheba.xyz and Access to Information (a2i) at the ICT Tower, Agargaon.
As a result of this collaboration, for the first time in Bangladesh, more than 150 government services (i.e. Passport, NID, Birth Certificate) will be available at people's doorsteps on the Sheba.xyz platform through Union Digital Centers across the country, according to a press release issued in this regard.
Through this, Sheba.xyz will be enabling more than 10,000 entrepreneurs to new working scopes by onboarding all the Digital Centers in Divisional Cities by June 2019 and all Digital Centers across the country by the end 2019. These Digital Centers will be the main hub to provide government services even to the people of several unions of the country.
Additionally, all services of Sheba.xyz like Appliance Repair, Plumbing, Car Rental etc. will also be available through the national helpline number 333 along with the government services.
"This is a tremendous initiative! The initiative of delivering government services right at people's doorsteps will be an ideal model not only for Bangladesh but also for many other countries of the world", said Mostafizur Rahman, Project Director of a2i, also the chief guest of the event, while delivering speech at the event.
Chief Operations Officer of Sheba.xyz Ilmul Haque Sajib said in his speech, "We aim to make sure that every citizen of the country can avail their needed government services without going through any kind of hassles"
Other special guests at the event included Mohammad Ashraful Amin, a2i's e-service specialist; Jahir Uddin, head of human resources, Sheba.xyz, Debashis Howlader, head of marketing, Sheba.xyz & Isa Abrar Head of business, Sheba.xyz.