Set aside fund for young entrepreneurs
Analysts urge govt at a roundtable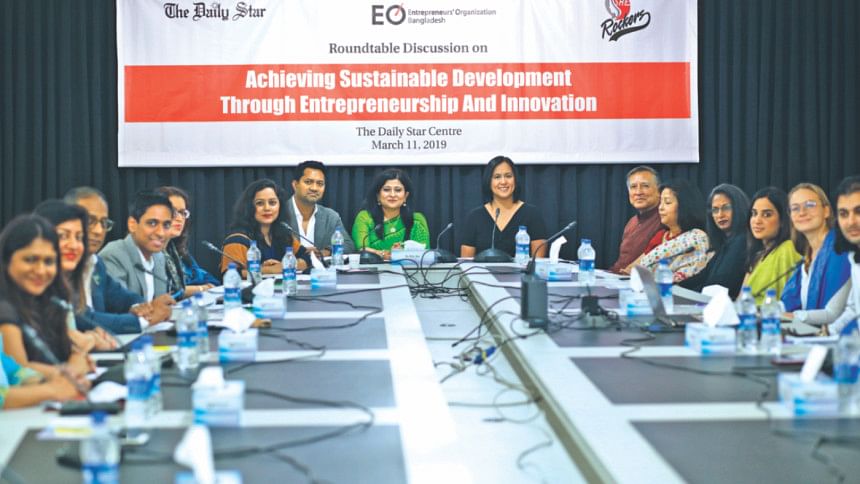 The government should put in a place a special fund to promote young entrepreneurs with a view to enabling them to create businesses and jobs, analysts said yesterday.
They said generating millions of jobs is a gigantic task but a special fund for young entrepreneurs can address unemployment.
Their comments came at a roundtable styled "Achieving Sustainable Development Through Entrepreneurship And Innovation" at The Daily Star Centre in Dhaka.
The Daily Star organised the event jointly with the Entrepreneurs' Organization (EO).  
Mindset is important to develop entrepreneurship, said Farzana Chowdhury, president of EO's Bangladesh chapter.
"People who come from a non-business background family are not interested in entrepreneurship. So, a positive mindset will have to be created for women entrepreneurship."
The EO is working to empower women by creating platform, she said.
Founded in 1987, the EO is a global business network of more than 13,000 leading entrepreneurs in 186 chapters and 58 countries.
EO enables business owners to learn from each other, leading to greater business success and an enriched personal life.
"Creating millions of job is a huge task but youth entrepreneurs can generate jobs for themselves and for others as well," said Mahfuz Anam, editor and publisher of The Daily Star. "We will create job as much we can. At the same time we will have to create entrepreneurship" he said.
The editor said funding is a must to promote youth entrepreneurship. Banks can have a special window to come up with funds for the youth.
At the same time, the government can have a special fund to create youth and women entrepreneurs, Anam said. 
He urged authorities concerned to think in an innovative way on how to bankroll the youth.
Bangladesh has a large number of entrepreneurs but the failure rate is also high, said Feisal Hussain, team leader of the Business Finance for the Poor in Bangladesh, a facility that helps to create economic opportunities for small businesses. "In the rural areas, more than 90 percent entrepreneurs fail in their business for not having business development plan."
He said there is also huge funding gap between urban and rural entrepreneurs. "So, public and private partnership is needed to bankroll the young entrepreneurs."
Lack of access to finance is still a big challenge for the women entrepreneurs, said Shahamin S Zaman, CEO of the CSR Centre. "There are many policies but challenges are not addressed," she said, calling on the government to take gender-focused policies to create more women leaders.
The EO is working to increase the number of women in the organisation, said Bubu Andres, global chair of the initiative. "It is because a woman can help a woman in an organisation."
Many NGOs are working to bankroll small entrepreneurs in the rural areas but their success rate is very low, said Tahsin Aman, vice chairman of Aman Group of Companies.
"It is because NGOs do not have any business plan."
Speakers at the event blamed the education system for the rising unemployment in the country, saying the existing system is not relevant to the job market. Investment is needed to create young entrepreneurs, they suggested.