Sacked Bata workers want job back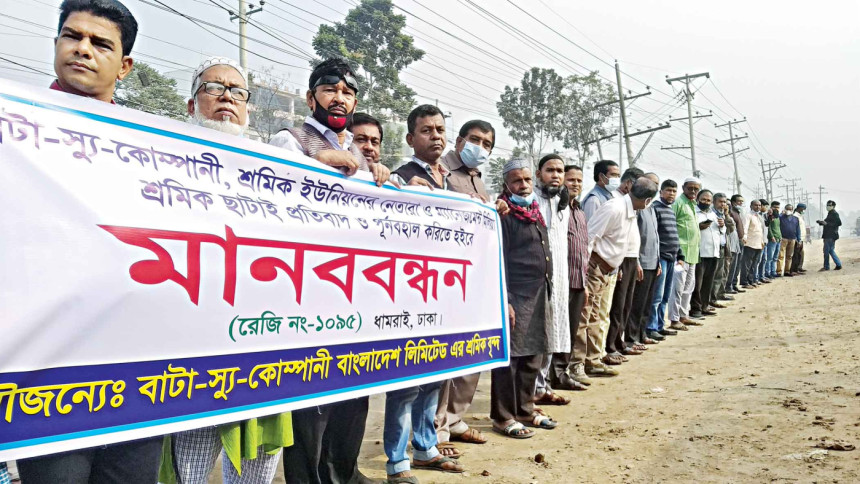 Workers of Bata Shoe Company's Dhamrai manufacturing plant yesterday formed a human chain in front of Dhamrai Press Club beside the Dhaka-Aricha highway claiming that they had been forced to resign on September 24 last year.
They also brought several allegations against the company management as well as leaders of the collective bargaining agent (CBA) of Bata.
Around 100 workers along with their family members staged the demonstration demanding reinstatement.
One worker, Mahbubur Rahman, claimed that he along with around 210 workers of Bata's Dhamrai and Tongi manufacturing plants were forced to resign although they had 10 years to 24 years to go before the retirement age.
The management had cited losses for having them to leave, he said.
When they denied signing the resignation papers, the management and union leaders had threatened depriving them of benefits, he added.
The company had a policy of replacing a retiree with a family member but the management did not do so, said another worker, Kamal Hossain, who claimed to have 13 years to go.
"I would have received around Tk 40 lakh in retirement but was given only Tk 10 lakh. The benefits we got were not in line with the labour law," he said.
"We want either our job back or our children in the same post," he added.
His peer, Jakir Hossain, told The Daily Star that the family members of the sacked workers were also worried sick due to the current situation.
"I appeal to the prime minster to intervene and solve the matter," he added.
A total of 11 workers filed 11 cases with the labour court accusing Bata, the management and CBA leaders of carrying out the sacking ignoring the labour act 2006, said Supreme Court advocate Fahad Mahmood Khan who is representing the workers. 
On being contacted, Iftekhar Mallick, Bata marketing manager, suggested talking to Malik Kabir, head of Bata human resources (HR).
The Daily Star could not reach Kabir for comment despite repeated calls on his mobile phone. A text message was also sent but there was no response.
The same occurred when this newspaper attempted to reach Assistant Manager (HR) Enamur Rahman and Ahmed Ali, president of Bata workers' union.