S Korea keen to boost investment in Bangladesh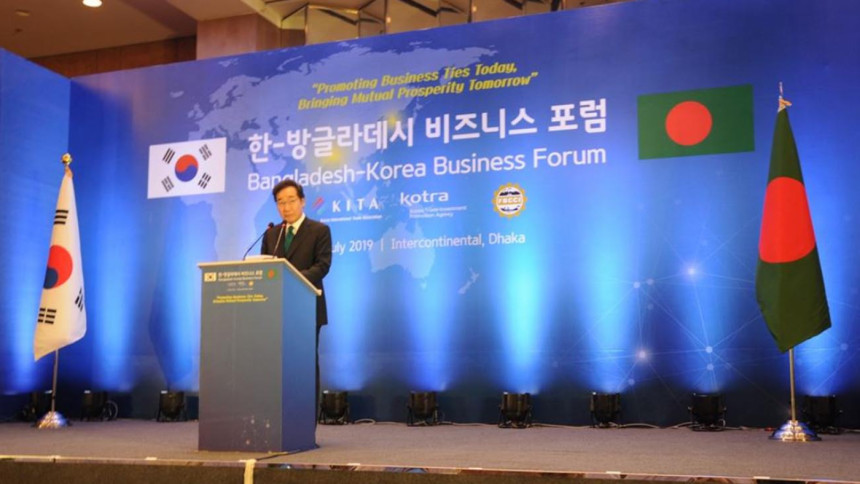 South Korean Prime Minister Lee Nak-yon today expressed his government's interest to invest in some emerging sectors of Bangladesh like infrastructure, power, information and communication technology, construction, ship building and energy for boosting business volume of the two countries.
The trade between Bangladesh and Korea needs to be increased beyond textile and garment sectors, Nak-yon said the Korea - Bangladesh Business Forum.
The Federation of Bangladesh Chambers of Commerce and Industry (FBCCI) and Korea International Trade Association (KITA) jointly organised the forum on the occasion of the three days' visit of Nak-yon in Bangladesh at a hotel in Dhaka.
Businesses from both the countries, ministers, diplomats, exporters, importers and trade body leaders attended the forum to explore the business opportunities between the two countries.
The visiting prime minister also said some big Korean companies have already invested in Bangladesh, but there is a scope for further business expansion here.
Apart from textile and garment sectors, he particularly expressed interest in helping construction of 10,000 ICT centres across Bangladesh, in energy and construction.
Claiming that some Korean companies have been working in the construction sector, he said there is a lot of opportunity to invest in the only private Korean Export Processing Zone in Chittagong.
The Korean Daewoo Company helped a lot to train up manpower in the garment sector in Bangladesh in 1979.
Later, the Korean multinational company YoungOne invested in garment sector in Bangladesh and employed thousands of workers in the sector.
Currently, the size of the total investment by Korean companies in Bangladesh is $1.12billion mainly in textiles, leather and banking sectors, he said.
While addressing the businesses of the both countries, Sheikh Fazle Fahim, FBCCI president said, as an important trade partner the bilateral trade between Bangladesh and Korea stood at $1.5 billion in the last fiscal year with export from Bangladesh worth $0.25billion and imports worth $ 1.27billion.
"With duty free market access to 90.4 percent of our tariff line to Korea, bilateral trade prospects are promising," Fahim said.
The FBCCI chief mentioned that to attract foreign direct investment (FDI), Bangladesh has one of the most liberal flexible investment regimes in South Asia and Ease of Doing business measures is being addressed at the highest policy level.
Recently, the South Korean Super Petrochemical has proposed investments worth $2.38billion in petrochemicals, which will positively contribute towards the bilateral investment relations, he said.
Fahim proposed Korean investment through the mergers and acquisition in electronics, automobiles, telecommunications, shipbuilding, chemicals and steel.
He also proposed investment in, development and innovation joint venture on light, medium and heavy industries, knowledge transfer to transition from 3rd IR to 4th industrial revolution including service sector cooperation in ICT, nanotechnology, robotics, IOT, cyber security, AI, quantum computing, quantum internet among others.