Robi subsidiary brings the future of video entertainment to Bangladesh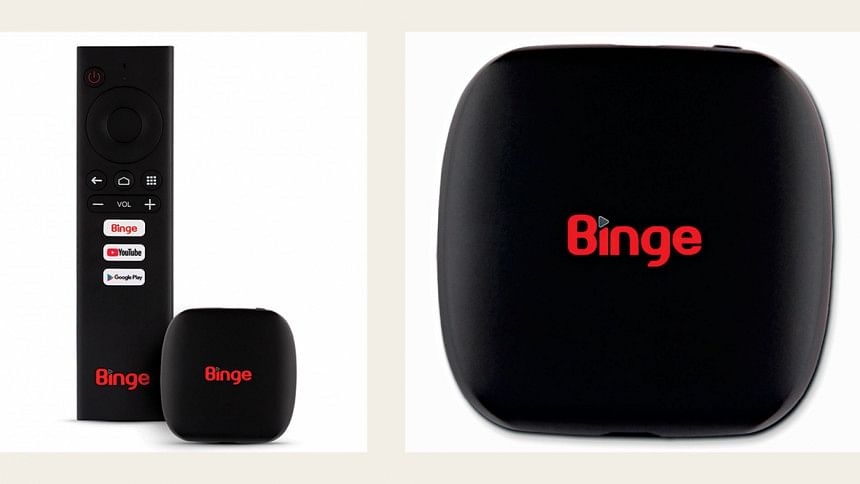 Red Dot Digital, a subsidiary of Robi Axiata, the country's second-largest mobile operator, is set to roll a device on Friday that can possibly change the way Bangladeshis consume video content.
Called the Binge, it is a mixture of internet protocol TV, which is rather popular in the US, and online streaming platform.
By way of a set-top box one would be able to play one of the widest entertainment catalogues, including more than 100 live HD TV channels, both local and international, web series, latest web films, exclusive originals -- but over the internet.
With cable or satellite TV, broadcasters send out signals and viewers receive them, meaning one is only able to watch what's being broadcasted. Unless there is some sort of recording device, one does not get to dictate what's on when. You just tune in when you can and watch what's available.
IPTV is different. Instead of transmitting content via light pulses in fibre-optic cable or radio waves from a satellite, IPTV sends shows and movies through the standard internet connection.
Instead of broadcasting a range of shows on a specific schedule, most IPTV uses video on demand (VOD) or time-shifted media.
The service comes at a time when the demand for video content has hit the roof as people stay at home to flatten the curve on coronavirus that is tearing through the country at a breakneck speed.
Yesterday, the country saw 21 more deaths from the novel virus and 1,251 new cases of infection to take the death toll from the deadly virus to 370 and caseload to 25,121.
"A viewer can watch any type of content through Binge. There is something for everyone: thriller, drama, comedy, romance, action and what not," said Ahmed Armaan Siddiqui, director of Red Dot Digital, which owns the service.
The digital generation has entered into a new era of entertainment where viewers would decide what they watch. In this era, they won't need to wait for a particular TV channel to watch a movie or series.
The service would be available both on Android smartphones and big screens and would change the way people in Bangladesh consume entertainment contents,
"Binge is Bangladesh's first Google-certified online video-streaming service along with an android device that offers endless entertainment," he added.
Red Dot Digital, an associate company of Robi Axiata, the second-largest mobile phone operator in Bangladesh, has other businesses in the digital service segment in the country.
Binge has been developed by Genex Infosys, a local business process outsourcing company.
"With the largest number of content, Binge is going to bring in a revolution in the Bangladeshi entertainment media," Siddiqui said.
Subscribers can enjoy the service both on small and big screens with higher definition. They can access Binge directly on their Android smartphones as well as by purchasing a Binge-branded Android smart device.
Even if there is no smart TV at home, customers can still have full HD TV experience using Binge, Siddiqui said.
The price of the Binge-branded Android smart device is Tk 3,499.
Users can avail the service for Tk 399 in subscription charge if they already have a broadband internet connection.
Red Dot Digital is currently importing the devices and plans to assemble them locally in partnership with Genex Infosys, said a senior executive of the project.
The company is partnering with an internet service provider, which will ensure broadband connectivity if a consumer does not have internet connections.
Using the connection for Tk 1,099 per month, customers can also get Wi-Fi service at home and multiple device access.
To enjoy the content of Binge through smartphones, three packages are available. Users will be charged Tk 10 for a daily package, Tk 30 for a weekly package and Tk 99 for a monthly package, excluding value-added tax, supplementary duty and surcharge.
Customers will have to download the Binge mobile app from Google Play store to enjoy the service on smartphones.
For all the plans, Red Dot Digital will offer a one-month free trial period.