RMG workers to get salary, Eid bonus by June 2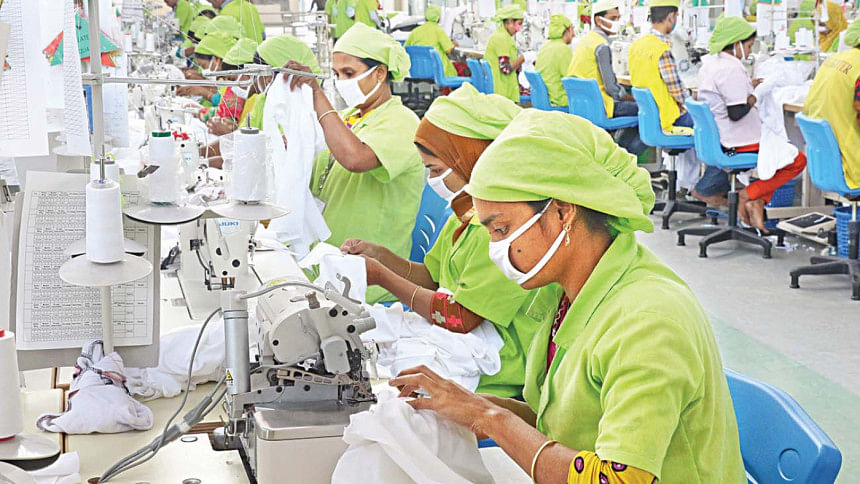 Garment workers can expect to receive their Eid bonus by the end of this month and two-third the salaries for May by June 2 as the government looks to avoid any labour unrest that invariably flares up before the festival.
If the factory owners want they can pay the salary for the whole month as opposed to 20 days, said Begum Monnujan Sufian, state minister for labour and employment, at the meeting of the government's core committee for crisis management that she chaired yesterday.
At the meeting, leaders of the Bangladesh Garment Manufacturers and Exporters Association (BGMEA), Bangladesh Knitwear Manufacturers and Exporters Association, and Bangladesh Textile Mills Association (BTMA) agreed to stick to the payment schedule.
Rubana Huq, president of the BGMEA, suggested paying the salaries of the remaining 10 days of the month when the workers return from their Eid vacation.
 "They come back from their village homes with empty hands, so if they receive the salary for 10 days after joining their workplaces they will benefit," she added.
The factory owners will announce Eid holidays from June 4 to 10.
Until Wednesday, some 14 factories were found to be at risk of not being able to pay their workers before Eid, according to Huq.
But Abdus Salam, director general of Industrial Police, said 215 factories in Ashulia, Savar, Narayanganj, Gazipur and Chattogram were yet to pay the salaries for the month of April and they are unlikely to be able to pay May's salary and festival bonus as well before Eid.
Of the factories, 89 are BGMEA members, 24 BKMEA and 11 BTMA, he added.
Juthika Sarker, additional district magistrate of the office of the deputy commissioner of Narayanganj district, said 615 workers, some officials and employees of Paradise Cables in Narayanganj were not getting their salaries since January.
"This might create a problem," she said.
The core committee has also asked Bangladesh Bank to instruct banks to keep open their branches in areas like Savar, Ashulia, Narayanganj, Mirpur, Narsingdi and Chattogram on May 31 and June 1, both of which are bank holidays, for facilitating the garment workers' salary and bonus disbursement.
The workers of the factories under Bangladesh Export Processing Zones will be paid by May 28, a representative of Dhaka Export Processing Zone Authority informed the meeting.
Delwar Hossain Khan, general secretary to Bangladesh Labour Federation, suggested the owners to visit their own factories at least once a month to establish a warm relationship with the workers.
In response, Huq said the BGMEA has been working on a programme called "Setu" along these lines.
Under the programme every factory owner will visit his/her factory at least once a month to speak with workers such that different problems can be solved through discussions, she said.
Trade union leaders, industrial police and government higher ups from different ministries and districts were present at the meeting held at the labour ministry.