Rising imports choking port with containers
Authority to double storage charge from March 8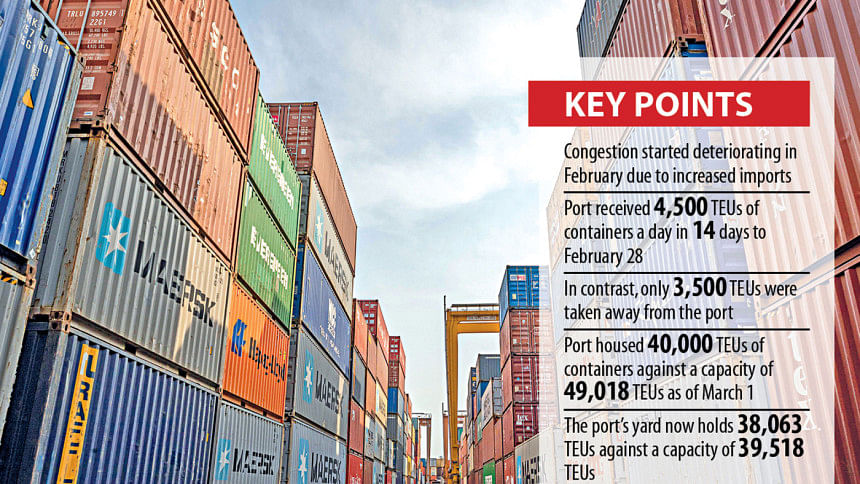 As commodities start to be imported in increasing quantities ahead of Ramadan, containers have started piling up at the Chattogram port as traders are not promptly receiving consignments.   
Apprehending a congestion in the coming days, the Chattogram Port Authority (CPA) on February 25 requested importers to take their goods away fast.
It threatened that storage charges will otherwise be doubled from the 12th day of containers being unloaded from vessels.
The warning apparently had no effect, prompting the CPA yesterday to decide on bringing the rate change from March 8.
Slow deliveries are causing a rise in the number of containers at the port, confirmed CPA Secretary Md Omar Faruk.
The situation has started deteriorating since early February when the port experienced a massive influx of imports.
Port users say commodities like chickpea, lentil, edible oil, and sugar started arriving in substantial quantities marking the holy month starting around mid-April.
According to the CPA traffic department, the port received 4,500 TEUs (twenty-foot equivalent units) of import-laden containers from vessels on an average every day in the 14 days to February 28.
In contrast, only 3,500 TEUs of containers were taken away from the port on an average every day.
As of March 1, some 40,000 TEUs of containers were inside the port, meaning some 82 per cent of its capacity to store 49,018 TEUs had been used up.
The yard dedicated to storing import-laden containers was holding 38,063 TEUs against a capacity of 39,518 TEUs.