Remittance hits all-time high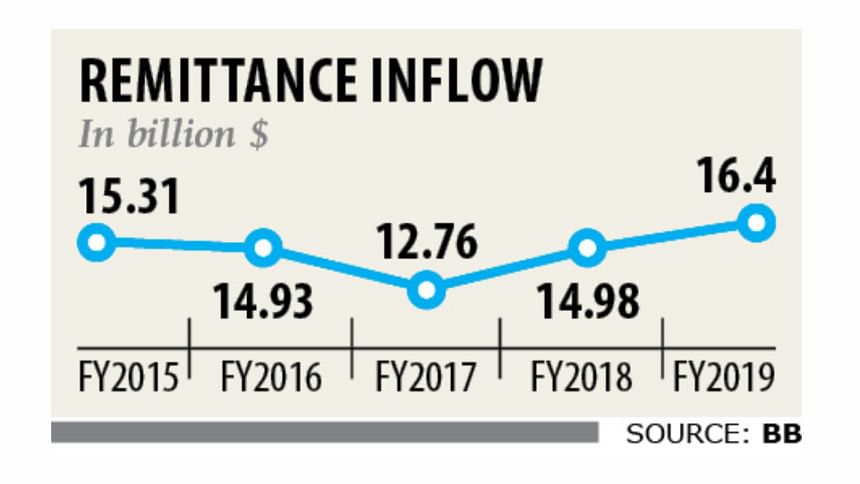 Remittance hit an all-time high of $16.40 billion in the just concluded fiscal year, lending some breathing space to the central bank as it continues to sell US dollars to maintain the exchange rate.
The inflows were 9.47 percent higher than in fiscal 2017-18, according to data from the central bank.
A competitive commission offered by private banks to attract remitters and a depreciating trend of the local currency taka against the US dollar are the main reasons behind the record receipts, said Kazi Sayedur Rahman, executive director of the Bangladesh Bank.
The interbank exchange rate was Tk 84.50 for a dollar yesterday, up nearly 1 percent from a year earlier.
Strengthening the central bank's monitoring on the foreign exchange market to tackle 'hundi', an illegal way to transfer money between nations, also helped, Rahman said.
Remittance crossed the milestone of $15 billion in fiscal 2014-15, but after that the figures hovered between $12 billion and $14 billion until last fiscal year.
Some banks have given a good commission to remitters, which mainly helped bag the record, said M Kamal Hossain, managing director of Southeast Bank. Banks should continue the trend in the interest of the country's foreign exchange volume, he said.
"Our officials have observed that the expatriate Bangladeshi workers go from one exchange house to another in search of better commission. In many cases, they even take leave for the day just to send remittance," he said.
He went on to express hope that the upward trend of remittance would continue this fiscal year as the government has announced 2 percent cash incentives for remitters.
The rising trend of remittance has recently cooled down the volatility in the foreign exchange market, said MA Halim Chowdhury, managing director of Pubali Bank. Banks have also extended good service to the near and dear ones of the remitters, which also gave a boost to the inflow.
The beneficiaries are now getting the funds within 24 hours from banks, he added.
"Crossing the $16-billion mark is a good sign for the economy, but it is nothing to get excited about," said Ahsan H Mansur, executive director of the Policy Research Institute.
It took four years to cross this milestone, so it is a rather belated achievement given the volume of the economy.
"The actual inflow of remittance has decreased if we compare the remittance to GDP ratio."  The remittance to GDP ratio was much higher in fiscal 2014-15, said Mansur, also a former economist of the International Monetary Fund.