Remittance up 10.28pc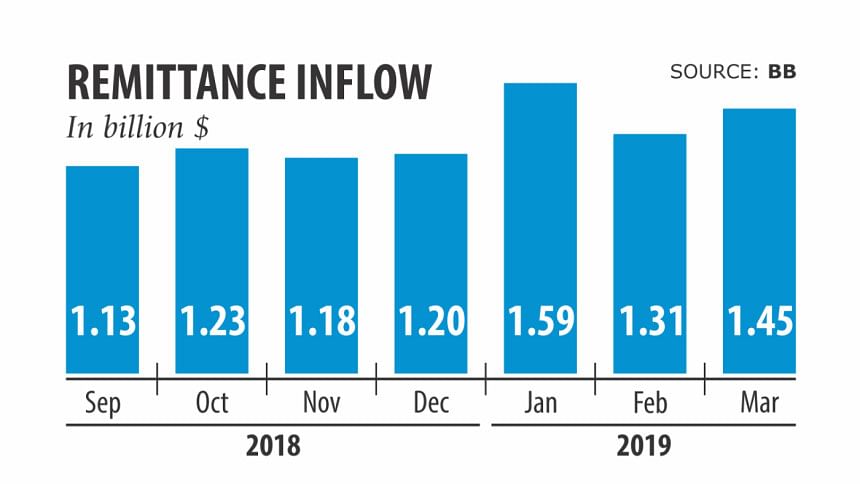 Inward remittances edged up 10.28 percent year-on-year to $11.87 billion in nine months to March this year thanks to the steady depreciation of the taka against the US dollar.
Majority of the banks have taken steps to boost foreign exchanges because of their higher import payments than export earnings, bankers said.
"Many lenders have been forced to offer remitters a lucrative rate amid foreign currency shortage in the banking sector," said Syed Mahbubur Rahman, chairman of the Association of Bankers, Bangladesh.
The large deficit in the country's current account is an indication of the existing scarcity of the greenback in the banking sector, he said.
Many banks are being compelled to give higher rates than the average bills for collection (BC) selling rate, said Rahman, also the managing director of Dhaka Bank.
In recent months, many banks offered between Tk 86 and Tk 87 per dollar to encourage remitters to send money through foreign exchange houses, an official of a commercial bank said.
The BC selling rate, which is used for import payments and has put a positive impact on the inflow, hovered between Tk 84.20 and Tk 84.30 per dollar last month. One year ago, the rate was between Tk 82.95 and Tk 83. The inter-bank exchange rate stood at Tk 84.25 on March 30, up from Tk 82.96 a year earlier.
The central bank has recently taken a number of initiatives to prevent transaction through the 'hundi', an illegal cross-border channel to settle transaction among clients, Rahman said.
"This has also given a boost to the remittance inflow," he said. But, the informal channel is still strong and the central bank should ratchet up its monitoring, he said.
In March, remittances increased 12.17 percent year-on-year to $1.45 billion.