Recovery still slow in leather sector
Domestic, international demand yet to pick up, say market players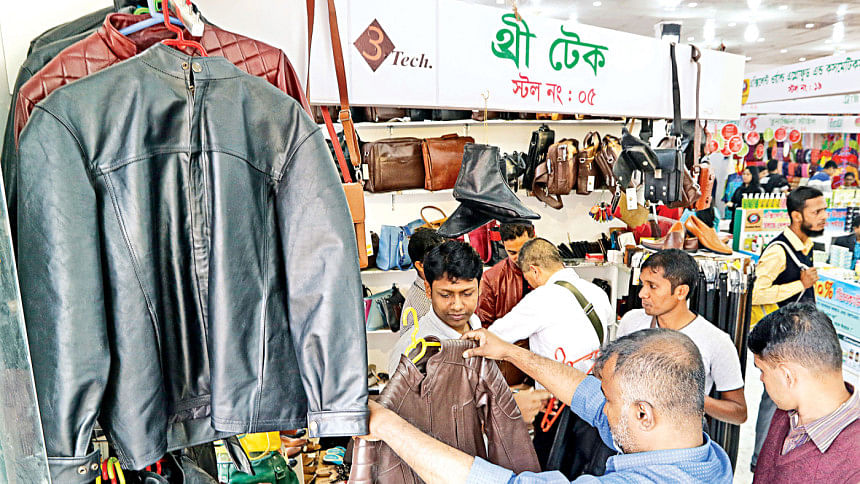 A return to normalcy is still a far off reality for Bangladesh's leather sector as the ongoing coronavirus pandemic has led to low domestic demand and a decline in exports, according to industry insiders.
Since leather goods are considered to be semi-luxury products, customers are uninterested in purchasing those during times of crisis such as the ongoing one, they said.
According to the latest export figures, the sector's earnings between July and September totalled $225.15 million, down 11.49 per cent from that in the corresponding period the previous year, when it was $254.3 million.
During the July-September period of the ongoing fiscal, leather shipments declined by 22.45 per cent year-on-year while that of leather goods 17.49 per cent and of leather footwear 6.83 per cent.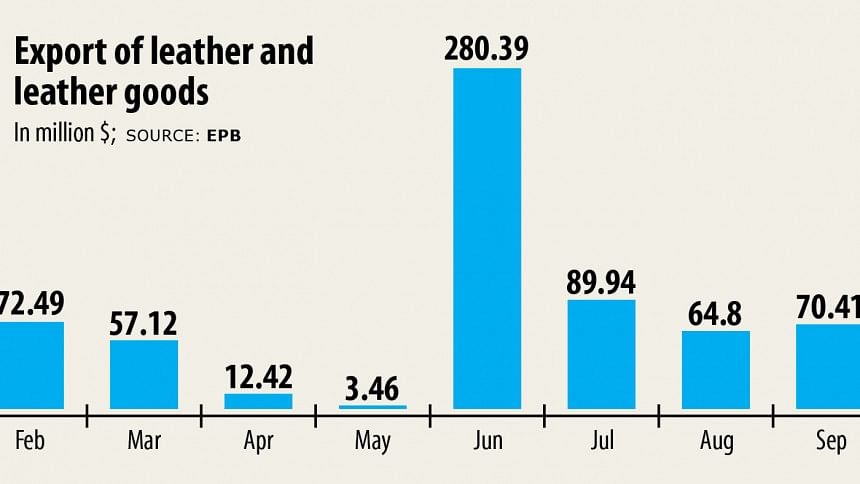 "The leather industry is still in a vulnerable position as domestic demand has yet to rebound," said Nasir Khan, chairman and managing director of Jennys Shoes, a local pioneer in the manufacture and export of leather footwear.
"I closed 40 out of 65 outlets across different districts and divisional cities where operational costs exceeded revenue," he added.
Besides, most entrepreneurs related to the industry were unable to avail any financial support from the government's stimulus packages, which has led to a shortage of working capital in the sector.
"I applied for funds from the stimulus package but the banks demanded a lot of documents against my request for a loan. They seemed uninterested to help me," Khan said, adding that lenders often claim to have insufficient funds to make disbursements.
Meanwhile, exporters lost their winter orders as the coronavirus pandemic was at its peak worldwide during the production season earlier this year.
Still though, Khan is hopeful of recouping by attaining orders for next summer, which usually starts coming from January.
Arfanul Hoque, head of retail at Bata Shoe Company, said they were offering various discounts and offers in a bid to survive amidst the Covid-19 fallouts.
Bata Shoe, which leads the local market with a 48 per cent share, saw its sales in September decline by 25 per cent year-on-year.
Till August though, the company's sales deficit reached about 90 per cent compared to the corresponding figures a year before.
"We decided to close 25 outlets out of 260 across the country due to low revenue," he said.
Despite the decrease in revenue, Bata still had to pay high amounts of rent for showrooms, the owners of which did not consider the pandemic's many complexities.
The government should issue tax exemptions for the sector to ensure a quicker rebound, Hoque added.
Mohammed Nazmul Hassan, managing director of Leatherex Footwear Fashion, said he was forced to postpone his outlet expansion plans due to the coronavirus outbreak.
"I had a plan to open 20 new outlets in Dhaka, Chattogram and other cities but I took a U-turn from the plan," he added.
But despite these adversities alongside financial liabilities such as repaying loans, Hassan said he did not lay-off or terminate any employee.
According to the managing director, around 60 per cent of the previously placed work orders for this year were cancelled since the Covid-19's outbreak.
However, buyers have started to take back these cancelled or deferred work orders as international retailers and brands are reopening their doors following prolonged lockdowns aimed at curbing the spread of coronavirus.
There are about 60 local firms, including Apex Footwear, Jennys Shoes and Bay Footwear, which export various leather goods mainly to Japan, European Union and to some extent, the US.
But if the approximately 165 footwear and leather factories currently operating in Bangladesh were compliant and used modern technology, they could fetch up to $5 billion in export receipts, according to the Leathergoods and Footwear Manufacturers & Exporters Association of Bangladesh.
Bangladesh's leather sector is failing to make it big internationally even though the country has an abundance of rawhide and a skilled workforce.
Of the country's total production, only 30 per cent of finished leather is consumed locally while the remaining 70 per cent is exported, mostly to China.