Record tea production last year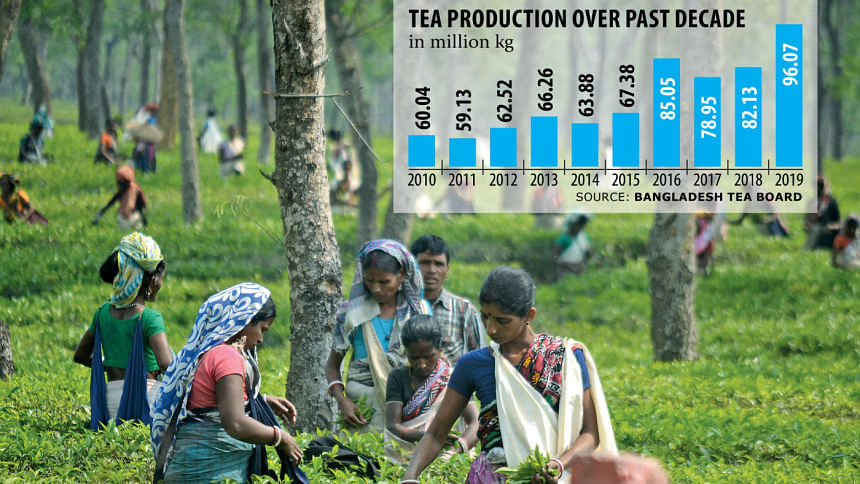 Bangladesh produced 96.07 million kilogrammes of tea last year, its highest in 166 years, on the back of favourable weather round-the-year and supportive measures.
Continuous expansion and replantation by growers in the last several years as well as favourable weather, adequate rains and steps aimed at keeping diseases under control helped the country set the new record.
"The good yield was the outcome of some initiatives taken in the last few years," said Munir Ahmed, deputy director for planning of the Bangladesh Tea Board.
There was also no major natural calamities like floods, said Mohammad Ali, director of the Bangladesh Tea Research Institute, adding that steps taken to keep diseases under control through regular monitoring of the gardens were also a factor.
"Whenever we got information about disease outbreak in any garden, we sent our teams and the producers also followed our guidelines," Ahmed said.
In 2019, yield grew 17 per cent from a year earlier, when 167 tea gardens across the country produced 82.13 million kilograms of tea, according to state-run Bangladesh Tea Board, which released the data yesterday.
The output also comfortably exceeded the annual production target of 80 million kg.
Before the latest spell of increased production, annual output had actually declined compared to local demand, prompting the country to turn to imports in 2010.
Production started increasing in 2016, when yields hit a record high of 85.05 million kg thanks to favourable weather. However, it fell to 78.95 million kg the following year.
The government took a roadmap in 2016 for the development of the tea sector, setting a target to produce 140 million kg by 2025.
Some steps like expanding tea production area and replantation were taken as per the roadmap. Garden owners went for investment and took up expansion projects on the back of good prices.
For the last one decade, tea growers have been investing a lot to expand production areas in their gardens and replant in old areas replacing years-old plants, said Md Shah Alam, chairman of the Bangladesh Tea Association.
"This has been yielding positive results for the last couple of years," he added.
read more on beTea production on this soil started in Malnichhara tea garden in Sylhet in 1854.