Pilot kicks off for digital payment with QR code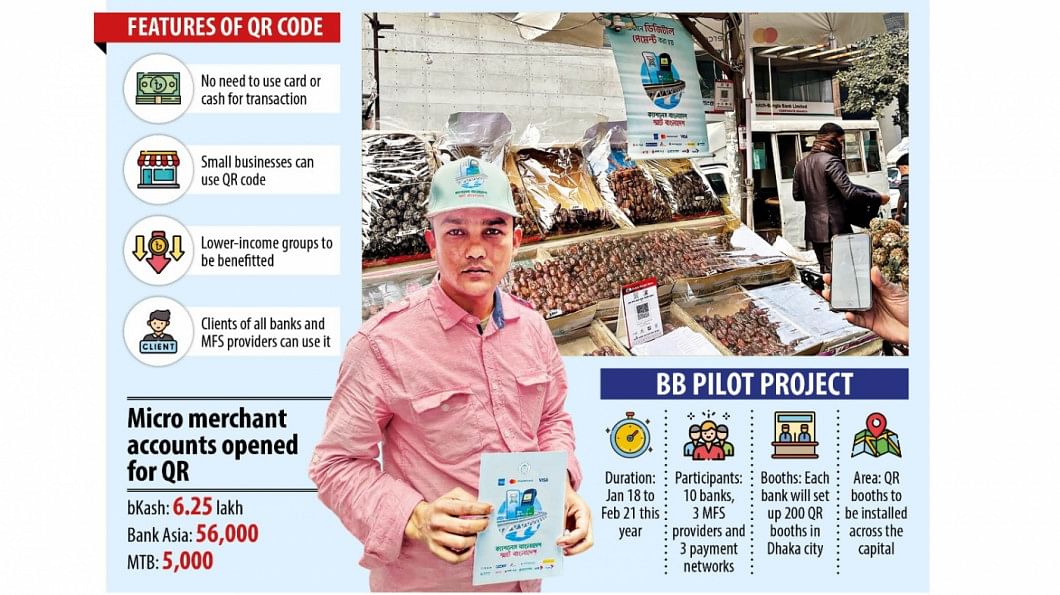 The Bangladesh Bank will commence a campaign tomorrow to popularise an interoperable QR code across the capital city in a move to bring millions of small businesses such as street vendors and lower-income groups under the digital transaction system.
The uniform digital payment method, Bangla QR, will help clients pay bills for goods and services through mobile banking applications, mobile financial service (MFS), and payment service providers (PSPs).
The central bank's initiative styled "Cashless Bangladesh" is cost-effective, secured, and card-less and will help promote digital transactions to a large extent in an economy that relies almost entirely on paper currencies and notes to function.
Ten banks, three MFS providers and three card-based payment gateways will take part in a pilot project of the central bank that will run between January 18 and February 21. Abdur Rouf Talukder, the governor of the central bank, is expected to inaugurate the campaign at the BB headquarters today.
A BB official says that the BB plans to install QR code booths across the city massively in the quickest possible time before moving to the divisional cities with a view to helping small businesses accept digital payments.
The central bank's initiative comes at a time when a growing number of people have started carrying out transactions digitally because of convenience.
For instance, transactions through MFS rose 17.23 per cent year-on-year to Tk 92,125 crore in November.
The issuance of credit cards stood at 20.87 lakh as of November, up 15.76 per cent year-on-year. Debit cards grew 18.2 per cent to 2.95 crore.
The QR code-based payment will quickly gain popularity in remote areas as the central bank has relaxed the rules for opening personal retail accounts for micro and underprivileged businesses in November 2020. Clients will also be encouraged to use the QR code as well, said the official.
Clients already can pay bills by scanning a QR code using their smartphones at major outlets if there is an agreement between the outlet and the entity that holds the customer account. However, the latest move will help the account-holders of any bank, MFS operators, or PSPs to make the payments if Bangla QR is available at an outlet.
A quick response (QR) code is a type of barcode that stores information as a series of pixels in a square grid and can easily be read by smartphones. Clients have to scan the code to make the payments.
Some banks and MFS operators have already introduced QR codes.
Kamal Quadir, chief executive officer of bKash, says that the MFS provider has been working to raise awareness about QR technology, the additional security it provides to customers and merchants, and the ease of using it since 2018.
"Many of them are small merchants who can't afford costly devices."
The largest MFS operator in Bangladesh has already deployed more than half a million QRs across the country, particularly to small merchants who earlier didn't have ways to accept any means of digital payments.
BKash has designed the solution in a way that allows any bank or MFS providers to use it, Quadir said.
"In addition, bKash's app can also read banks and MFS providers' QRs or Bangla QR."
Syed Mahbubur Rahman, managing director of Mutual Trust Bank, describes the central bank move as impressive.
Mutual Trust Bank has already opened 5,000 micro merchant accounts.
The BB earlier introduced personal retail accounts for micro and underprivileged businesses, which are expected to give a boost to Bangla QR in rural areas.
In Bangladesh, point of sales (PoS) terminals are now available at a large number of shops in urban areas, allowing clients to purchase goods and services using credit or debit cards. But the growing popularity of QR codes would gradually phase out the PoS devices.
Bank Asia has opened 56,000 micro merchant accounts that will be integrated with the Bangla QR code.
"We have a plan to increase the number of such accounts to 1 lakh by this year," said Ziaul Hasan, deputy managing director of Bank Asia.
Syed Mohammad Kamal, country manager of Mastercard Bangladesh, says that the government has already made significant progress towards a less-cash society.
"The Cashless Bangladesh programme is yet another milestone in that line, through which we commit to achieving this vision and fostering inclusive growth."
"We believe we can only achieve the objective of becoming a cashless Bangladesh by providing micro-merchants with safe, simple and streamlined payment options."