Pandemic leaves Tangail's sari industry in tatters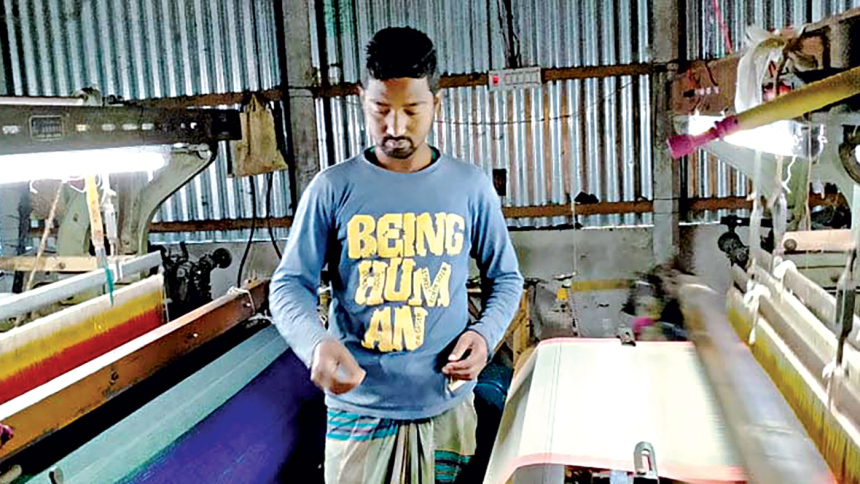 Refaz Uddin, a traditional sari weaver based in Nagarpur upazila of Tangail, has been struggling to maintain his business for a few years now due to a fall in demand.
Uddin has continued operations at his factory, featuring nine handlooms and two power looms, by availing loans from both official and unofficial channels in hopes of better days to come.
His sufferings were compounded by the two-month "general holiday" starting March 26 last year declared by the government to shut down all economic activities in a bid to curb the spread of Covid-19.
Although the lockdown eventually came to an end on May 30, Uddin's factory in Mamudnagar stayed shut for three more months due to a lack of working capital amid low sales.
Uddin eventually reopened the factory by taking on more debt but still, sales have not reached adequate levels.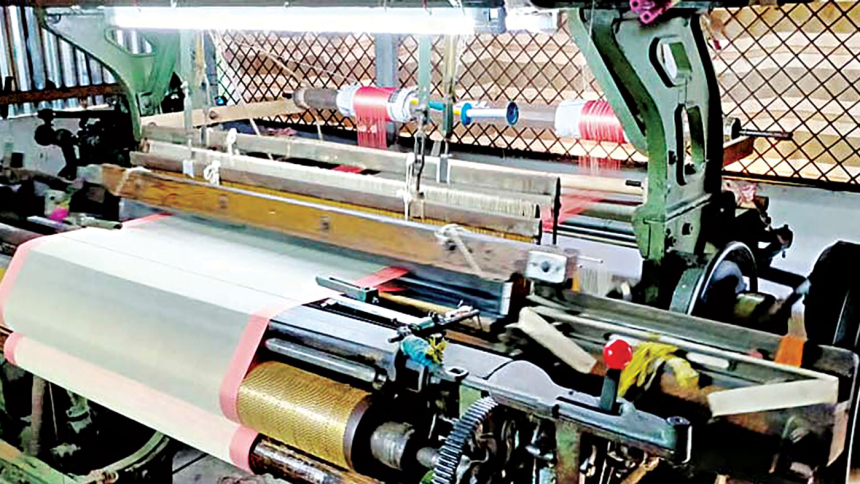 "I sell saris to markets at different places, including the capital, and also sari traders based on orders but both sales dropped abnormally due to the coronavirus situation," he said.
In order to help cover operating expenses, Uddin reduced the prices and also decreased his workers' wages. However, these measures were not enough.
"I have taken loans totalling about Tk 8 lakh from different banks, NGOs and loan sharks and am also in debt to the yarn traders and for the two power looms in my factory," he said.
"Now how can I repay the loans, I am helpless as I do not have any skill other than that of my ancestral profession," Uddin added.
He went on to say that he had heard about a government loan being provided to weavers at nominal interest in order to help them survive the Covid-19 fallouts.
"But what can I do by taking more loans? Even if I produce saris again where shall I sell them? Besides, getting a loan from the government was never an easy matter for poor people like me," Uddin said.
Like Uddin, several other sari factory owners and weavers in the village and adjacent areas are suffering the same fate.
There were at least 1,500 handlooms and 3,000 weavers in the area just 15 years ago but now, the number of handlooms is no more than 60, according to locals.
As a result, many skilled weavers are leaving this ancestral profession for other occupations.
The industry as a whole has declined not just in the upazila, but across the district, they said.
According to local officials of Bangladesh Handloom Board (BHB), there are about 25,500 registered handlooms in the district's 12 upazilas. Another 25,000 power looms are affiliated with the Ministry of Textiles and Jute.
Currently, some 1.5 lakh workers are engaged in the handloom and power loom factories. About half of them are locals while the rest hail from other districts, including Sirajganj, Pabna, Kurigram and Rangpur.
However, the number of the handlooms were around 75,000 and more than 2 lakh workers were engaged in the industries about a decade ago, local weavers said.
The number of handlooms deceased due to different reasons, including the declining demand for saris and an increase in the number of power looms, they added.
Kalachad Basak, a weaver as well as one of the top sari traders of Delduar's Pathrail, known as the "capital of Tangail saris", said Tangail saris are still the first preference for many women.
Weavers in the district produce saris of different types and qualities, such as suti (cotton), Jamdani, silk, half-silk, Benaroshi, khaddar and so on.
They produce casual handloom saris as well as more expensive ones with prices ranging from Tk 300 to Tk 20,000. "The product meets the demand of people from all classes and backgrounds," Basak said.
It is necessary to bring about changes in design every season to keep up with changing trends.
So, the local sari weavers offer something new every year on the occasion of different festivals, such as Eid.
"Weavers of other parts of the country have tried to emulate the style of Tangail weavers in the past but cannot match the quality and variety," Basak added.
Raghunath Basak, president of the Sari Traders Association in Tangail, said traditional sari weavers in the district were going through a difficult time as sales of saris made using handlooms and power looms have dropped drastically in the last few years.
"The price hike of raw materials, women's dwindling interest in saris and the availability of Indian products were the major reasons behind the fall of the sales of local products," he added.
"The saris produced by local weavers are mainly sold during big festivals like Eid, Puja and Pahela Baishakh (the first day of the Bangla calendar)," said Nilkomol Basak, former general secretary of the sari traders association.
"But this time they missed those occasions due to the pandemic," he said, adding that several lakh saris which were produced last year have remained unsold.
Talking to this correspondent, Mofakhharul Islam, president of the Balla Handloom Owners' Association in Kalihati, said numerous factories remain shut at different places, including includes Balla, Rampur and Chhatihati.
Meanwhile, devastating and prolonged flooding during the July-September period badly damaged many factories in the area.
"I also kept shut my factory, comprising 30 handlooms, for the last few months due to the situation," Islam said.
"Most local factory owners were already deep in debt but later, the coronavirus and floods made the situation even more complicated for them," he added.
The government should give attention to these industries and also take steps to stop import of Indian saris through illegal channels.
Contacted, Radha Sham Roy, liaison officer of the Balla Basic Center of Bangladesh Tant Board, said sales of Tangail saris fell in local markets while exports to India were suspended due to the coronavirus situation.
"The traditional sari industries as well as people engaged with these in the district now need urgent support to survive," he said.
Besides, new and modern designs will have to be introduced in Tangail to attract the buyers and increase sales.
Moreover, the prices of raw materials, especially yarn, the main ingredient to produce saris, will have to be reduced as well, Roy added.