NGO aid rises on Rohingya crisis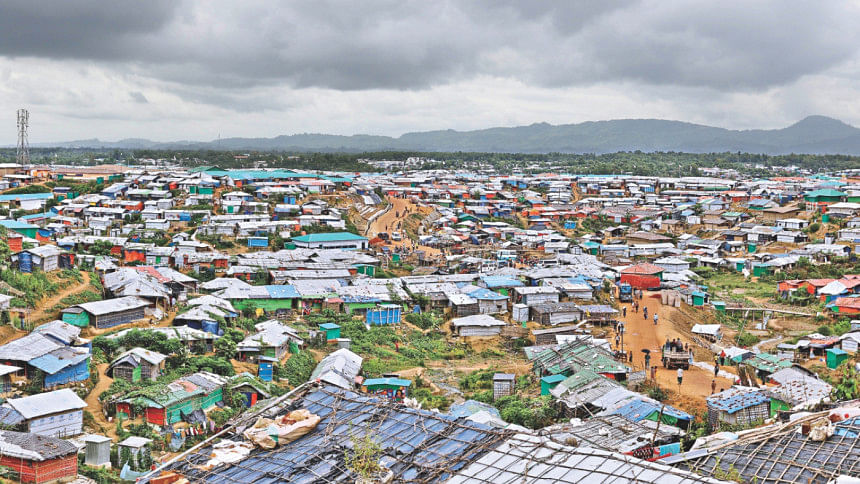 Foreign donations through the NGO Affairs Bureau soared 19.85 percent year-on-year to Tk 7,929.43 crore in fiscal 2018-19 on the back of rising humanitarian assistance for the Rohingyas. 
Of the sum, about Tk 2,600 crore were for Rohingya assistance mostly from Europe, said Md Shahadat Hossain, acting director general of NGO Affairs Bureau.
The funds were received by different non-governmental organisations (NGOs) through the Bangladesh Bank upon getting clearance from the NGO Affairs Bureau.
The assistance for Rohingyas might be more as the funding received from UN agencies are not included into the bureau's report.
Almost all the fund for Rohingyas were spent for making shelters, ensuring food, providing medical assistance and other essentials.
"We are closely monitoring the funds and found they are being spent in line with that," Hossain said.
Of the sum, Brac spent Tk 183 crore against 26 projects.
Action Contre La Faim spent Tk 170 crore, Oxfam Bangladesh Tk 165 core and Caritas Bangladesh Tk 103 crore last fiscal year for the development of Rohingyas who flee from Myanmar, according to bureau.
A senior official of the related desk said to support the sheer number of Rohingyas large sums are needed and the aid received thus far is not sufficient.
"The Bangladesh government is also spending a huge amount," he added.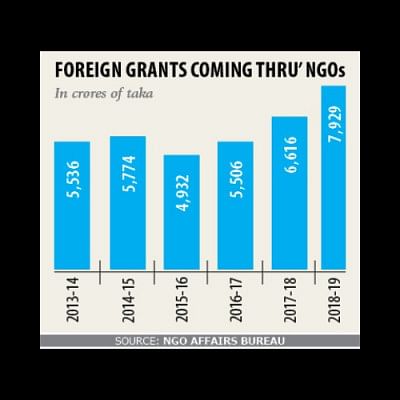 Previously, most of the funds that came to Bangladesh were for river erosion, skills development and to ensure quality education.
But in the last two years donors' focus has changed as the Bangladesh government has registered more than 10 lakh Rohingyas arrival in the country's southern district between 2017 and 2018.
To keep record of the Rohingyas, the bureau also assigned a senior official to check the project proposals and take initiative to release the funds as early as possible, Hossain said.
The projects, whose implementation either began in fiscal 2018-19 or were under implementation, were scheduled to get another Tk 9,118.42 crore as committed by the donors, which is also the highest in a fiscal year, according to the bureau.
Currently, there are 2,476 registered NGOs in the country, 253 of which are foreign ones.
About 1,600 NGOs are now in operation, according to the bureau.
Bangladesh has improved a lot in different socio-economic indicators, causing donors to reconsider funding for the country's issues, according to a sector insider.
Insiders said the amount of donation received by the NGOs has been waning in the past couple of years as the government took punitive measures against some for non-compliance to regulations while strengthening monitoring and passing an act on the issue.
The National Board of Revenue recently took steps over compliance after discovering that more than half of the NGOs do not have tax files.
Some NGOs were also banned from providing humanitarian assistance to Rohingyas because of non-compliance issues, such as not getting registered with the bureau.