Moody's sounds alarm on Bangladeshi banks
US ratings agency gives negative outlook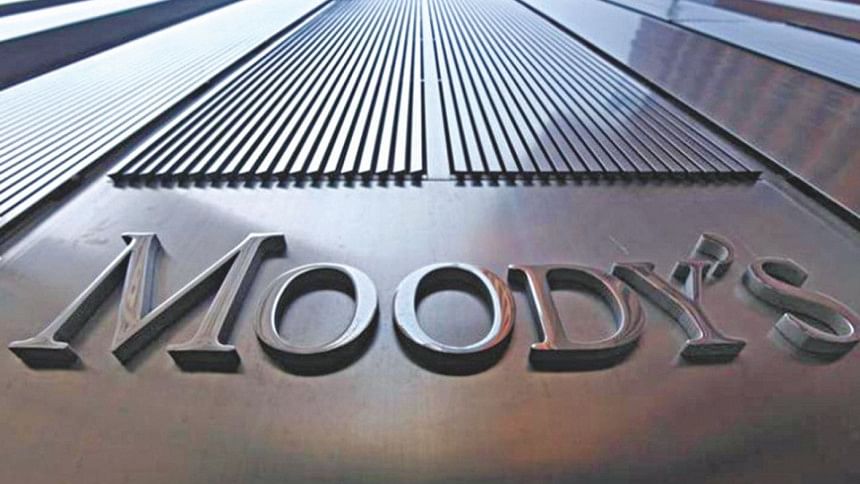 Global credit ratings giant Moody's put Bangladesh's banking system on 'negative watch' despite the country's robust economy, as pressure mounts on the Bangladesh Bank and the government to take drastic actions to fix the sector.
The reason for the negative outlook is the worsening asset quality, said Tengfu Li, a Moody's analyst.
Underlying weaknesses in corporate governance, especially at state-owned banks, has led to nonperforming loan ratios rising to 10.4 percent as of June.
And the growing stock of unclassified rescheduled loans poses further risk to asset quality, said the report 'Banking System Outlook - Bangladeshi banks: High asset risks drive negative outlook despite robust economy'.
At the end of June, the state banks' total NPL stood at 28.24 percent, according to data from the Bangladesh Bank.
In fact, of the total Tk 89,340 crore of NPL of the banking sector, the state banks accounted for Tk 42,852 crore.
The outlook expresses Moody's expectation of how bank creditworthiness will evolve in this system over the next 12 to 18 months.
Moody's outlook is based on six key drivers. Specifically, Moody's assesses the banks' operating environment as stable; asset risk as deteriorating; capital as deteriorating; profitability and efficiency as deteriorating; funding and liquidity as stable; and government support as stable.
Credit costs will increase in tandem with the deterioration in asset quality, said the report, which was unveiled on November 29. Such a situation will lead to an erosion of the banks' profitability, especially when the expansion of net interest margins will also be limited under regulatory pressure.
Capitalisation will moderate because of weaker capital generation despite earnings retention by the private sector banks to meet the higher capital requirements beginning in 2019.
State-owned banks will remain undercapitalised and dependent on capital infusions from the government, the report said.
Banks in Bangladesh though will continue to maintain adequate funding and liquidity.
While financial conditions tightened during the first half of 2018, the situation has stabilised after monetary easing measures were implemented.
The lowering of the ceiling for bank's loan-deposit ratio from March next year will further mitigate funding risks, the report said.
Moody's expects the Bangladesh government to remain supportive of the banking system, given the government's track record of taking pre-emptive measures against banking failures.
"The government also has the capacity -- as reflected in the country's modest general and external debt burden -- to support the banks in times of need."
In its last credit outlook in March, Moody's gave Bangladesh a stable rating of Ba3, as in the past several years.
"Bangladesh's economy will continue to grow because of its globally competitive garments industry. Steady credit growth and the rebound in remittance inflows will also support domestic consumption," Li added.