MFS transactions hit record high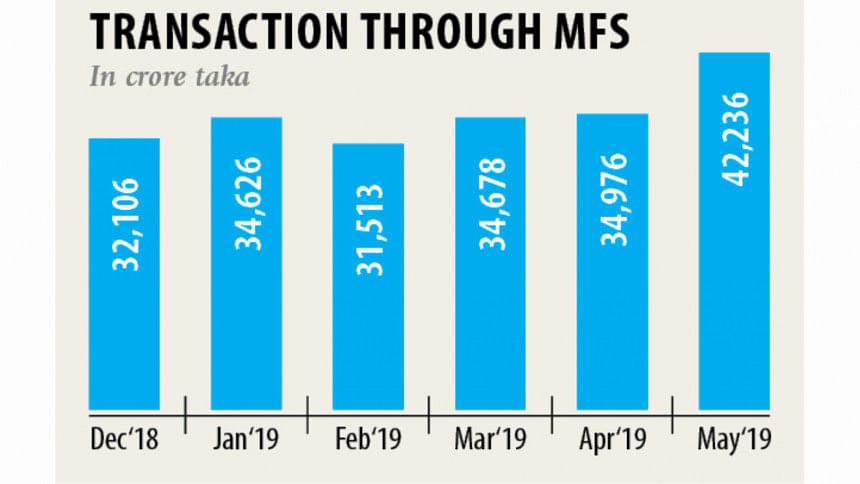 Transactions through the mobile financial service platform hit a record Tk 42,236.23 crore in May as discounts offered by the major MFS providers to tempt Eid shoppers to pay through their channel appear to have worked.
The amount is an increase of 20.8 percent from the previous month, according to data from the Bangladesh Bank.
"Eid has surely been a big factor behind the spike in transactions but there were few other factors as well," said Sheikh Md Monirul Islam, chief external and corporate affairs officer at bKash.
The central bank's move in May to increase the MFS transaction limits also seemed to have helped log in the highest number for a single month, said Md Serajul Islam, spokesperson of the BB.
The move to introduce more options to top-up MFS wallets other than through agents contributed to the higher transactions, Monirul Islam said.  Customers can now add money to their wallet by making a direct transfer from the bank account through internet banking and through foreign inward remittance.
"We are hoping the process of financial inclusion will accelerate and we would witness further increase in transactions in the coming days," he added.
At the end of May, the total number of registered MFS accounts reached 7.05 crore, of which 3.21 crore are actively using the service, according to the BB report. At the end of April there were only 2.91 crore active accounts.
"We found people were using MFS to do their regular shopping and pay tuition fees and bills. And in some cases, salaries were also disbursed through the platform," the BB spokesperson said.
Salary disbursement through the platform crossed the landmark of Tk 1,000 crore in May, when Tk 1,243.67 crore was sent.
Government's payments soared 53.9 percent month-on-month to Tk 322.52 crore and utility bill payments 32.1 percent to Tk 482.91 crore.
Some MFS operators are collecting foreign remittance: in May Tk 26.71 core was received, up 74.9 percent from the previous month.
The average daily transaction in May stood at Tk 1,362.46 crore, up 16.86 percent from April.
"Actually, the amount transacted through the platform is much higher as the postal department's MFS service Nagad is enjoying great popularity," Islam of the BB said.
But Nagad's numbers are not reflected in the central bank's data.
Nagad currently has about 30 lakh active users, according to one of its high officials. Businesspeople mostly use Nagad for its higher ceiling.
A Nagad customer can deposit Tk 2.5 lakh every day into his/her account, which is way higher than the Tk 30,000 allowed by the other MFS operators.
However, the Nagad officials could not confirm the monthly transaction volume.