Meghna Group setting up Tk 400cr ceramics factory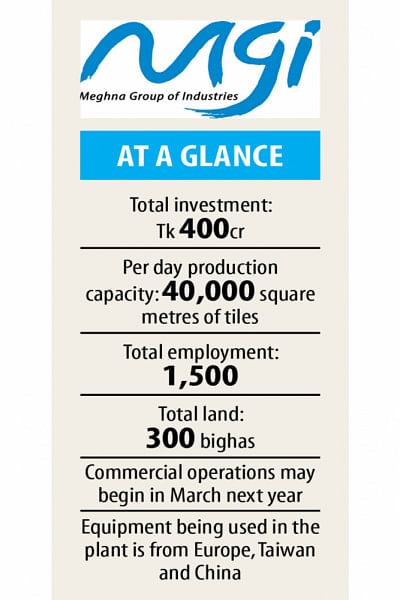 Meghna Group of Industries (MGI) is investing Tk 400 crore to set up a ceramics factory at the Meghna Economic Zone in Narayanganj as the conglomerate looks to establish its footprint in the country's burgeoning sector.
"We are installing the required machinery at the new unit, which is expected to go into commercial production by next March or April," said Mostafa Kamal, chairman and managing director of MGI.
The factory was supposed to begin operations in July but there were delays in developing physical infrastructure and installing equipment as the project's technical experts from Europe, Taiwan and China returned homes following the coronavirus outbreak.
Since most of the experts have come back now, the development work of the new unit has resumed.
Another impediment that delayed the implementation of the project is the lack of gas connection even though MGI has deposited all the necessary fees.
"Industrialists suffer to secure gas and power connections on time and this slows the rate of investment and production," Kamal said.
The new factory will generate at least 1,500 jobs, the entrepreneur said. The unit will have the capacity to produce 40,000 square metres of ceramic tiles per day.
Through the investment, MGI plans to produce world-class tiles that will cater to the country's ever-increasing demand for standard construction materials.
Kamal said the ceramics sector is rapidly rising in Bangladesh as people from both urban and rural areas use tiles.
The domestic demand for tiles, which is currently about 200 million square metres per year, has increased by 10 to 12 per cent annually in the last 10 years, according to the Bangladesh Ceramic Manufacturers and Exporters Association (BCMEA).
The market value for ceramic products was around Tk 35,000 crore in 2019, BCMEA data showed.
Ceramics is a capital-intensive product and setting up of a factory takes about Tk 150 crore to Tk 200 crore.
The industry's total production capacity has tripled in the last 11 years and Bangladesh currently holds 0.14 per cent of the global market for ceramic products. Local suppliers cater to around 80 per cent of the domestic demand.
Ceramic manufacturers in Bangladesh mainly produce three types of products: tiles, tableware and sanitary ware.
Of the 68 ceramic manufacturers currently operating in the country, 20 produce tableware, 32 make tiles and the remaining 16 produce sanitary ware.
More than a dozen new companies are preparing to make a foray into the market.
So far, around Tk 9,000 crore has been invested in the sector, which employs about five lakh workers, including two lakh women.
More than 25 crore pieces of tableware, 20 crore square metres of tiles and 83 lakh units of sanitaryware items were produced in Bangladesh in fiscal 2017-18, according to the BCMEA.
In February, MGI flagged off nine industrial units at its economic zone in a bid to meet the country's growing demand for consumer products and industrial raw materials.
The units are Meghna Sugar Refinery, Sonargaon Seeds Crushing Mills, Meghna Ball Pen and Accessories MFG, Meghna Noodles and Biscuit Factory, Sonargaon Printing and Packaging Industries, Fresh Welding Electrodes and Wire, Meghna Fresh LPG, Sonargaon Ship Builders and Dockyard, and the second unit of Fresh Cement.
MGI invested about Tk 4,000 crore to set up the new manufacturing facilities, which directly employ about 8,400 workers.
The group, which grew out of a trading company set up in 1976, has 48 operational industrial units. Currently, it has 35,000 employees.
MGI's annual turnover stood at $2.5 billion, according to the group's website. It exports products to 25 countries.
"I have a dream that MGI's Fresh-branded products will be found in every household of Bangladesh. MGI is committed to ensuring product quality," Kamal said.