Logistics companies grinning
e- and f-commerce to credit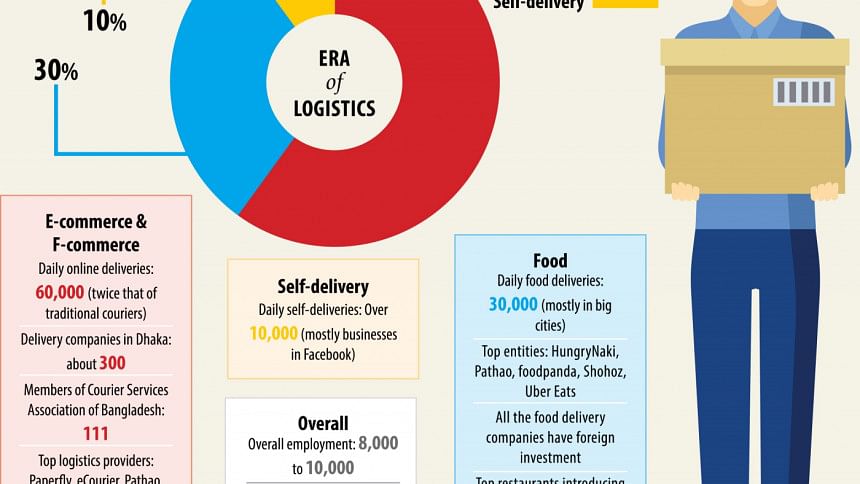 People's voracious appetite for shopping and consuming food and beverage from the convenience of one's home is giving oversize boost to logistics companies, with as many as one lakh deliveries taking place a day.
The number sees a spike, going as high as a couple of lakhs, during times of sales and before any big festival, according to industry insiders.
"Delivering products into the doorsteps was a hidden market and no one thought of exploring it even a few years back," said Biplob Ghosh Rahul, chief executive officer of eCourier, a leading logistic provider.
The logistics companies are altogether earning about Tk 50 lakh a day and hiring 10,000 to deliver products, according to industry leaders.
On a regular day, the delivery number is about 60,000 per day for the online commerce segment, said AKM Fahim Mashroor, managing director of Ajkerdeal.com, one of the leading e-commerce commerce platforms in Bangladesh.
"Besides, we can see thousands of neighbourhood-based ventures that do home deliveries. Those should not be excluded while considering the overall logistics market," said Mashroor, also a former president of Bangladesh Association of Software & Information Services (BASIS).
In recent times, Facebook-based commerce is sprouting all over the country and this segment of commerce is also helping to boost the delivery numbers every day, Rahul said.
However, some of the industry insiders say one lakh could be an overestimated number: that number could be reached only in the lead-up to festivals or during sales.
Abdul Wahed Tomal, general secretary of e-Commerce Association of Bangladesh (e-CAB), belongs to this group.
Online orders could be about 40,000 and food delivery would be another 30,000 per day, according to Tomal.
"We have no study but I think only during sales would the total number of deliveries reach one lakh."
However, the e-CAB general secretary is also very optimistic that the number of deliveries will hit few lakhs a day within the next couple of years.
Rahath Ahmed, director and chief marketing officer of the country's top delivery solution company Paperfly, echoed the same as Tamal.
On a good day the delivery number might be more than one lakh, but on an average the number would be about 80,000.
Of the total number, the traditional courier companies are delivering a big chunk, with SA Paribahan Courier and Sundarban Courier leading the pack.
Some other courier companies like Karatoa and Dreamland are also carrying products from Dhaka to other cities and towns.
The Post Office too has started carrying products of online business orders and handling more than thousand orders a day. Previously, they just delivered individual parcels between friends and families.
Thanks to mushrooming of e-commerce and f-commerce businesses, about 300 logistic companies have set up shop. But a few such as Paperfly, e-courier, Pathao and Biddyut have cornered about 90 percent of the market.
Paperfly is new to logistics but has already become the market leader, according to Ahmed. The company processes more than 20,000 orders a day.
Currently, the company employs about 1,000, but it estimates more than 8,000 would be earning from the industry at present through full- or part-time arrangements.
e-Courier, which has a few hundred employees, also has experience of handling more than 10,000 orders, but its average delivery number is little less than that, according to Rahul. 
Online grocery store Chaldal is delivering orders through their own logistic channel.
Normally, the company delivers about 3,000 orders a day.
"When we run offers on the site, we have to hire other companies," said Omer Sharif Ibney Hai, head of growth at Chaldal.
Chaldal has partnership with obhai, a ridesharing platform, for delivery of their products during sales, when the order number crosses 5,000 a day, he added.
Daraz, the country's top e-commerce company, is delivering its orders in cities by itself, said an insider. The number might be more than 10,000 a day, he said requesting anonymity as he is not authorised to speak to the media.
The industry just started to roll and it has huge potential, said AD Ahmad, CEO and co-founder of HungryNaki, a leading online food delivery company.
"Personally, I will not be surprised if this market grows 50 times more from the current situation in five years," he added.
Apart from Dhaka and Chattogram, HungryNaki has wider service range in Narayanganj, Sylhet, Cox's Bazar, Khulna and Barisal.
Within a short time it will introduce food delivery service in Rajshahi and some other cities, Ahmad said.
Apart from HungryNaki there are also a good number of global and local companies -- Uber Eats, Foodpanda and Shohoz -- engaged in food delivery.
At the same time, brands like Pizza Hut, Pizza Inn, KFC and some others have their own delivery systems and their numbers are also huge.
A Facebook-based entrepreneur Kakoli Tanvir is running her Saverie's Clothing Line for the last three years without enlisting the services of any logistic company.
"I have appointed a delivery person and at the same time my driver also delivers products when needed," said Kakoli, who is quite happy with the arrangement.
Logistics companies are also deploying technology in the delivery channel so that partners can easily monitor their products though mobile apps.
Different Logistics companies are now offering same day delivery in the capital and next day in the adjacent part of the city. It takes two to three days to deliver to the district level and four to five days at the union level.