Locally assembled electric cars to hit streets soon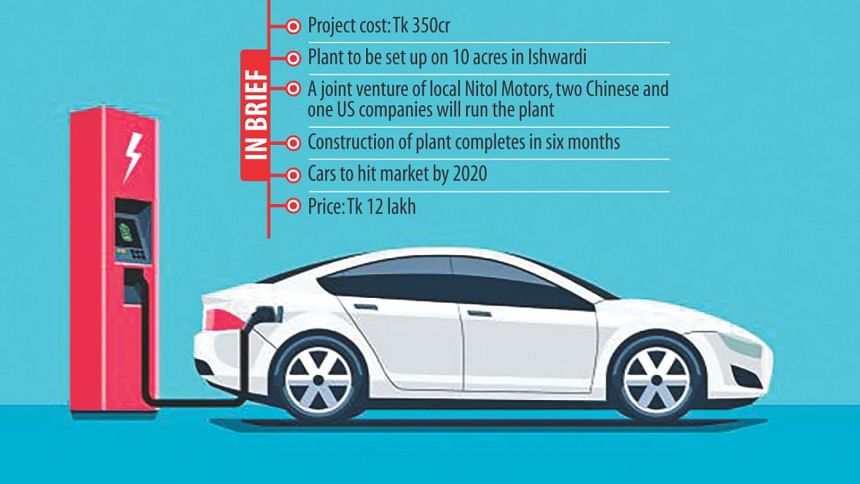 Nitol Motors is set to come with a locally-assembled electric vehicle by next year, in yet another big stride for Bangladesh's fledgling automotive industry.
An electric vehicle uses chemical energy stored in rechargeable battery packs instead of fossil fuel to propel it.
Globally, electric car market share is on the rise: at the end of 2018 it stood at 4.6 percent, almost double from what it was in 2017, according to the Centre of Automotive Management (CAM), a German research and consultancy institute.
China has the leading position in electric car use, followed by the US, Norway, Japan and the UK. By 2025, one-fourth of all new registrations will be made of electric cars, according to CAM.
Nitol's model, which will be called Suvare, will be the size and feel of regular cars and will cost about Tk 12 lakh, said Abdul Matlub Ahmad, chairman of Nitol-Niloy Group. The maximum speed of the car will be 150 kilometres (km) per hour.
"I have set a target to bring the car to market by March 2020," he said, adding that the venture is in partnership with one American and two Chinese companies.
He, however, declined to name his foreign partners. The vehicles will be assembled at a plant spanning 10 acres in Pabna, the construction for which has already started. Soon, capital machinery will be imported.
The plant, which will cost Tk 350 crore, will have the capacity to assemble 20,000 units per year. Initially, about 5,000 units of only one model will be assembled.
Nitol Motors follows the lead of state-run Pragati Industries, PHP Family and Hyundai Motors in setting up assembly plants in Bangladesh.
The company has set up a research and development centre in the capital's Uttara, where designs for the car and other components are being developed with the mechanical department of the Dhaka University of Engineering & Technology.
"We will import components of the cars, so it will not take us long to bring the car to market."
The major bottleneck would be to get the EVs registered with the Bangladesh Road Transport Authority (BRTA) as there is no rule or policy for this new form of vehicle.
At present, BRTA gives registration on the basis of the engine of a car. Since EVs derive all power from battery packs they do not have any internal combustion engine, fuel cell or fuel tank.
With half an hour's charge Suvare can run 200 km, according to Ahmad.
The battery capacity will be 25 kilowatt per hour and it will cost only Tk 170 to fully charge it each time as per present power tariff.
"So, Suvare will be very cost-effective and environmentally friendly," Ahmad said, adding that the car can be charged at home with a fast-charging plug system.
The battery's lifetime will be at least six years. In the near future EV owners can go for long drives as fast-charging stations will be set up at refilling stations along the highway.
In 2017, the car market size in Bangladesh hit Tk 5,000 crore, according to industry insiders.