'Better education-industry collaboration needed to lower youth unemployment'
Speakers at a roundtable discussion say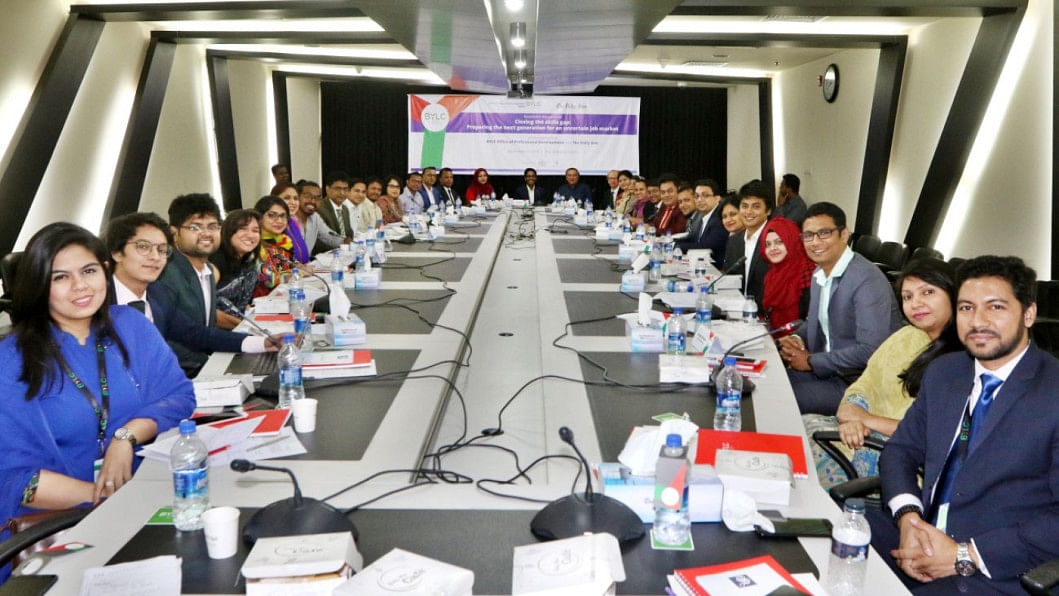 Bangladesh Youth Leadership Center's Office of Professional Development, in partnership with The Daily Star, organised a roundtable discussion on 'Closing the skills gap: Preparing the next generation for an uncertain job market' with HR professionals from nineteen of Bangladesh's leading companies.
Supported by the Aga Khan Foundation (Bangladesh) and Rizwan Adatia Foundation, this roundtable was organised on Tuesday, September 11, 2018,  to shed light on the challenges in recruitment and talent acquisition in the current job market and how it is affecting youth unemployment.
The guests at the roundtable represented diverse sectors such as banking, insurance, telecommunications, development, manufacturing, tech start-ups, and pharmaceuticals. They shared their insights on the skills required to excel in the 21st century workplace and the collective role of education institutions and industries to close the skills gap.
"It is imperative that Bangladesh diversifies its economy to develop new comparative advantage. In order to establish an active labor market, there must be heavy investment in human capital through expansion of vocational training and higher education so that there is constant acquisition of new skills," said Ragnar Gudmundsson, resident representative, International Monetary Fund.
Discussants talked about the set of skills that the youth in Bangladesh need to build as they prepare to enter the job market such as critical thinking, effective communication, and creative problem solving. They also stressed on the importance of continuous learning and emotional intelligence. The roundtable also focused on how organisations have a corresponding responsibility to adapt to the learning needs and interests of the youth.      
"53% of the workforce in our company comprises of millennials who have access to information. However, in many cases they don't know how to process this information and implement it in their work, so training programs or internships for fresh graduates should be tailored to build such capabilities," said Fatema Rizwana, human resource director, Nestle Bangladesh Ltd.
"We should beopen to adaptingthe job environment so that a young workforce is motivated and productive," said Munmun Salma Chowdhury, Chief People Officer, BRAC International.
Bangladesh currently has an excess of university degree holders where millions of students stemming from Madrasas, Bangla and English mediums of education are competing for a limited number of jobs, making it highly competitive. In addition, the absence of quality education makes it even harder for these graduates to meet the skills required for the competitive job market.
BYLC's Office of Professional Development (OPD), launched in 2016, has been working to create opportunities for continuous leadership and career development for university students and young professionals. Furthermore, the OPD seeks to develop thought partnerships with leading employers across Bangladesh on areas such as curriculum development and talent acquisition.
The discussion was moderated by Ejaj Ahmad, founder and president, Bangladesh Youth Leadership Center and Homayara Ahmed, assistant professor, IBA.
Guests included Fatema Rizwana from Nestle Bangladesh Ltd, Monzula Morshed from Banglalink, Ragnar Gudmundsson from International Monetary Fund (IMF), Zehra Simeen Rahim from CARE Bangladesh, Farhana Afreen Mahmood from United Group, Munmun Salma Chowdhury from BRAC International, Marcus Gomes from Mutual Trust Bank Ltd, Md Ahsanul Haque from Godrej Household BD private Ltd, Md Mahbubur Rahman from DHL Global Forwarding, Nisbat Anwar from Renata Ltd, Sadia Afrin from Green Delta Insurance Ltd, Shaila Parveen from The City Bank Ltd, Sifat Hasan from Pathao, Chowdhury Abd-Allah Quaseed from Gweeberra Bakery Industries Ltd, Md Mosfiqul Azam from Apollo Hospitals Dhaka, Monjurul Alam from Eastern Bank Ltd, Aflatun Kaisar from Daraz BD, Dipa Reza from Adcomm, and Rupak M Nasrullah Zaidi from Power Grid Company of Bangladesh Ltd.